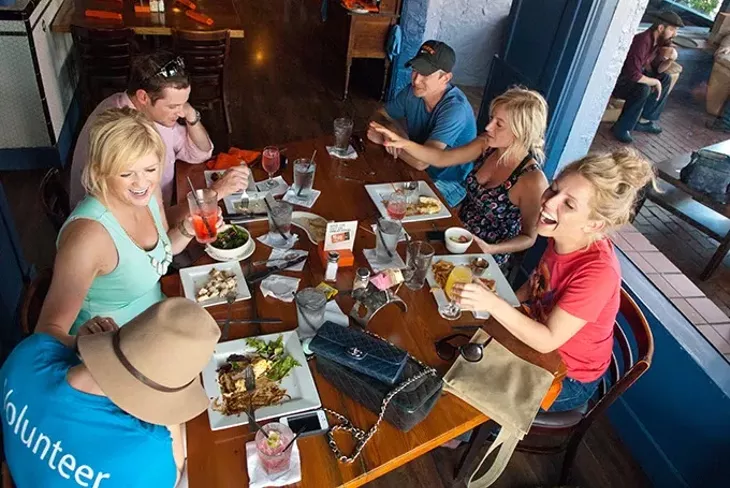 A late lunch party enjoys themselves in the colorfull atmosphere of the Picasso Cafe on the Paseo recently. (Mark Hancock
As Picasso Cafe approaches its fifth anniversary on Dec. 4, co-owners Shaun Fiaccone and Kim Dansereau are preparing to expand the business with several new ventures, including a tweaked menu, a food truck and a new location.
The changes inside Picasso, 3009 Paseo St., are going to be very limited, Fiaccone said.
"We like our menu, and our guests like our menu," he said, "but that doesn't mean we can't improve."
To help with the new food-based endeavors, the duo hired veteran chef Ryan Parrott to lend his expertise, both in the kitchen and with helping conceptualize two of the new endeavors: a food truck and a new fixed location just down the street from Picasso.
Mark Hancock
From left with team t-shirts, Sherle Marrs, Jo Ann Stanfill, Kristina Tanksley and Taylor Vance.
Parrot is helping executive chef John Madore tweak recipes as they prepare a fall menu, and both are cooking up ideas for the Ciao Wagon, the new food truck. The tentative roll-out date for the Ciao Wagon is Nov. 1.
"The concept for the truck is going to be meatballs," Madore said. "We wanted something that made sense for the Picasso concept and that we could serve easily and well. Meatballs make sense because the prep is done before the truck rolls out, and we can experiment with meats, blends and sauces."
Not only does Ciao Wagon give them a chance to capitalize on the food truck craze, it also gives them a mobile, experimental kitchen. Once up and running, popular items from Ciao Wagon could be converted to Picasso features and, if popular enough, graduate to the full-time menu.
The truck also will be used to increase Picasso's presence in the catering world. Madore said he's developing a new catering menu, and the restaurant will eventually offer lunch deliveries, catering events and mobile service with Ciao Wagon.
"We chose the worst time of the year to roll out a food truck," Fiaccone said with a laugh, "but it will give us time to perfect our concept, and it will be available for catering, something we really intend to emphasize in the coming year."
As for the new location, Via Paseo will be across the street from Sauced on Paseo. Fiaccone partnered with experienced property management professional Jeremy Foraker for its home in the two-story, 9,000-square-foot, multi-use development. The facility will have a restaurant, a coffee and tea shop and office space for rent upstairs.
The 3,800-square-foot restaurant is as yet unnamed, and Fiaccone says they do not have a concept in mind yet.
"The team is working on ideas, and we like the team we've assembled. Our strengths complement each other's weaknesses," he said.
A 2,200-square-foot coffee shop and teahouse will be downstairs. That concept is also unnamed, and since, according to Fiaccone, groundbreaking won't occur until after the first of the year, the team is not in a hurry to choose names.
The 3,000-square-foot office space upstairs will come complete with a shared receptionist, a shared conference room and shared business equipment. Fiaccone called it ideal for people who need a space but want to save on overhead.
Fiaccone and Dansereau have spent years building brands, including The Other Room, and Fiaccone said their five- year anniversary marks a turning point.
"We learned a lot these past few years. We rebuilt a restaurant, worked without pay, learned management the hard way and built a team," Fiaccone said. "We think that John and Ryan were the missing pieces, and we believe adding them means we now have the ability to execute our goals. That their goals align with ours means we have everything we need to move forward."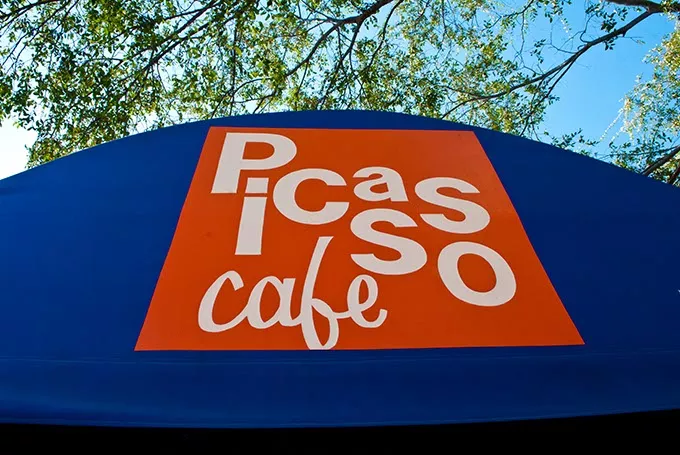 Print headline:
Artful endeavors: Picasso Cafe plans a menu update, a food truck and a new location.