provided
Dale Spoonemore, his wife Carrie and their four children
A desire to help himself has allowed Moore native Dale Spoonemore to create a popular mobile app that is helping people across the country grow their own produce.
Spoonemore has found that working in his home garden is the best way he can fight off anxiety and depression, but it is his love of gardening that led him to create the app From Seed to Spoon, which is averaging 3,000 downloads per week and is the No. 1 rated application in the iTunes store when you search "growing food" and No. 3 for "vegetable gardening."
Launched in January, the application links with the nearest National Oceanic and Atmospheric Administration (NOAA) weather station to determine planting seasons for your area based on freeze dates. Fruits, vegetables and herbs are listed on a centralized section of the app. Each piece of produce includes details on the plant from ideal indoor and outdoor harvest times and sun and water requirements to tips for harvesting. Each produce item has tabs for companion plants that promote growth and ward away pests for organic gardening. There is also a separate section for pests and how to treat them.
The application has embedded videos for tips and tools to creating the user's own home garden.
There are links to items in the Amazon store that facilitate growth, and Spoonemore receives 8 percent commission for each sale directed to Amazon from his application, but he did not design the app to be a money-making venture. He was inspired after the death of his grandfather, who said he regretted not doing more with his life to help others.
Spoonemore wanted to share how his journey with gardening helped him and provide a blueprint for how it could help everyone.
Jacob Threadgill
Seed to Spoon is one of the most popular gardening apps in the iTunes store.
Curbing depression
He started a garden at home in 2015 as means to eat healthier and save on food costs for his family of six that includes four children and his wife Carrie. What started as two simple 4-foot-by-4-foot plots in the backyard is now an elaborate setup of at least 20 plots growing a variety of produce.
For most of Spoonemore's life, he was controlled by depression and anxiety. During his first marriage, he kept his feelings bottled up, which resulted in panic attacks and severe depression. His battle with depression is an ongoing issue, but the peace and mindfulness he has found in the backyard allow him to mitigate the symptoms.
"My mental health issues are able to be managed out here," Spoonemore said. "Mindfulness is a huge thing for me, which means only focusing on the current moment and not worrying about the past or future. I'll spend a lot of time worrying about what could happen or thinking about what I could've done differently. Nothing useful comes out it. The garden helps me out because there is always something new sprouting that keeps me in the moment."
Spoonemore works from home for an independent software company not connected to the From Seed to Spoon app. He has found that by working for an hour at the computer and then spending 30 minutes tending to the garden, he's able to clear his mind and more easily troubleshoot problems he runs into with work.
"In the past, if I had a problem on the computer, I would spend all day, and if I couldn't get it done by the end of the day, you did not want to be around me. I was cranky and it would consume me," he said.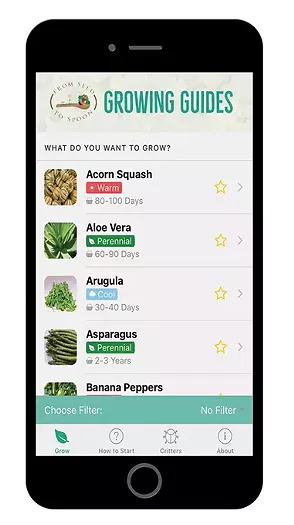 Jacob Threadgill
Seed to Spoon provides gardening tips, including planting dates in the United States based on the user's location.
He said that bouts of depression can get worse when he's not eating well, which is why he likes to garden. His own relationship with food is one wrapped into many feelings. He was featured on the Rachael Ray Show alongside 10 other Oklahomans to highlight how residents lost a combined 1 million pounds as part of The Million Pound Challenge program. He lost over 120 pounds in nine months by changing his diet and exercising, but it was largely through fad diets. He ended up gaining 50 of those pounds back before meeting his second wife.
"Yes I lost weight, but my head wasn't any better," he said. "It didn't get better until I started eating real stuff. When you eat something out of your garden or something grown locally at a farmer's market, it is going to taste differently.
"The things you buy at the store are grown for mass production, and they're grown to produce faster than the plant is designed to grow in some cases. The first time I tasted spinach out of the garden, it had this almost rough texture and crispness to it. There are different varieties [of spinach] that have nutty or sweet tastes."
Although Spoonemore has worked for software companies for more than a decade, he didn't learn the full set of skills required to fully code his application until last summer, when co-workers encouraged him to pursue it himself. He obsessively watched coding training videos on Pluralsight.com to learn the basics and got the beta version of the application up and running by December 2017.
Now, his wife and two of his children help update the app.
"As a software developer, at a click of a button, you can be in front of the entire world," he said. "All of us are working on the app together. It's one of the most amazing moments of my life. I'm on the couch with my wife and two daughters creating software in Moore, Oklahoma."
Visit seedtospoon.net.