After being one of the first industries to collapse last spring, live music is roaring back.
Show promoters and venues are reporting some dates later this year are already ten bids deep. The 2022 calendars are filling up with concerts. The wheels on the buses are finally going round and round once more.
Nowhere has the building excitement more apparent than the Tower Theatre.
The first two nights of its Don't Call It A Comeback concert series were packed, with younger and older audiences flocking in and out of the venue, spilling over into Ponyboy, its adjacent bar and second, smaller stage.
The lines for drinks were back. The "pardon mes" and "excuses mes" were next, protecting the earned beverage with their bodies as they passed through the hundreds of others inside the venue.
And, finally, the ringing ears are back too.
When the reality of the COVID-19 pandemic finally began to set in for Americans, it was the concert venues and performance centers that were the very first to see nationwide cancellations and closures, in many cases even before there were official mandates to shutter them.
On March 13, 2020, two days after Rudy Gobert and the Utah Jazz turned OKC into ground zero for the NBA shutdown, Chad Whitehead helped make the decision to close the doors of the Tower Theatre for the near future. As the talent buyer and operating partner of the historic theater, he had already overseen the booking of a potentially massive spring and summer concert season that evaporated almost overnight.
Twelve days later, Governor Kevin Stitt officially shut down all bars, clubs, and venues in the state.
Just a few blocks east of the Tower, Jon Jackson was only about a month into his new residency as the booking manager for the hard rock hotspot Blue Note, where it was business, as relatively usual until word of the shutdown came from the governor's desk.
"It seemed like almost every venue in the country had already come to a halt," Jackson said. "Blue Note got shut down shortly after and I was there to clean up the mess. We knew there was no way to safely book because we didn't clearly understand the situation. No one did."
When the Governor's Office decided to begin reopening just a few weeks after it forced closures, Blue Note was happy to open its doors and resume bar duties, even under the initially strict distancing and curfew orders.
As summer approached and lobbying intensified to extend bar hours, and with both patrons and music fans feeling impatient and thirsty for distraction, Jackson and the Blue Note management agreed to resume booking and hosting live bands.
"I was incredibly nervous for the safety of our staff and patrons. Something I needed to consider was part of my staff had been without work for nearly four months and they were ineligible for unemployment benefits as contractors. With the majority of every business shut down and no one hiring, where were my staff to turn? … We required masks on during shows and temperature checks at the door to enter. We also made musicians bring their own vocal microphones. We were very fortunate to not have to shut down because of an outbreak the entire time. I didn't really advertise much at all during this period because we didn't want to be a super spreader event."
With the Tower's entire slate postponed, and Ponyboy's doors shuttered just two days later, the question quickly became how to stay relevant and productive in a community that had just had the wind knocked out of it. By the following week, "Live from Ponyboy" became one of the state's first real platforms for legitimate virtual concerts.
"I think that was a really significant run, because all of us, in OKC at least, were pretty much in a state of shock," Chad Whitehead, talent buyer for the Tower Theatre, said. "Everything was closed, everybody didn't know what they could do or what they couldn't do, and so we saw really good numbers there."
As many in the music world would soon learn, however, attempting to keep up that level of interest in online-streamed virtual concerts eventually proved difficult as the isolation wore on. Subsequent runs of virtual events from Ponyboy were done largely just to provide work for the theater staff that Whitehead glowingly calls "the best techs in the business."
"That was not a cash-positive series at all," he says, "but our techs work on a show-by-show basis. If there's no shows, there's no work, and that was pretty painful."
It was in that same spirit of consolation that Whitehead also launched "Scene Skeleton" in the autumn of 2020. Conceived as a way to impart ever-valuable insider industry advice directly to up-and-coming artists, the online video series helped to serve as a bridge between the long, quiet pandemic period and the bustling, renewed activity that Whitehead always knew would be just around the corner.

"There's always a lot of information about the music business that you don't know until you learn it, and you learn it the hard way."
On the road to its full-capacity shows beginning again in August, Ponyboy also now hosts in person events once more like the Load Inn, a music industry insiders night hosted once a month.
Next door, the stage lights and soundboard are also already back in action.
After the Tiger King madness died down, Luke Dick entertained Oklahoma City with his documentary on the Red Dog Cafe streaming through Hulu, so it's only fitting that his band Hey Steve was the first headliner to hit the stage for Tower's comeback series.
But it's also fitting that lofi beach rock Oklahoma City band Husbands rounded out the first night on stage.
Waiting in the wings for more than a year, local bands are also setting practice schedules and show dates once more.
Speak, Memory played its EP release show on July 16, more than a year after the record was completed, guitarist Tim Miller said.
The recordings were made in December 2019. Speak, Memory played its last pre-pandemic show at the Blue Note in late January, a benefit for friend and fellow musician Jake Stinson, whose band Giant Stride also played the release show at 89th Street Collective. The EP release show took place at the same time as the Tower show, bringing in a crowd of about 100 people.
"We got a decent crowd that came out, and all the bands did well. Couldn't ask for anything more," Miller said. "It felt pretty good just being able to play with the guys as well as feeling the energy from the crowd. Just hearing everyone clap and yell. They were super excited to see us. It was a really good feeling. It's nice to feel that again."
They'll be doing more local dates as the year goes on but they are ready to hit the road with the new EP.
"Chad from Tower and I, we talked a couple of months ago and he was telling me, if we ever wanted to play Ponyboy to hit him up, so I like to think maybe sometime this fall we'll probably play there, but I think at the moment, we're kind of focusing on trying to play more out-of-state shows just because I think we played Oklahoma to the ground at this point," Miller said.
Likewise, other touring acts regional and national are setting road dates, DCF Concerts co-owner Jamie Fitzgerald said.
DCF produces live music in Oklahoma and Kansas.
"We love Tulsa, but Oklahoma City is definitely where the heart is and where we are. We do Tulsa and we also have a stake in The Cotillion in Wichita," she said.
Notable venues in which they hold concerts are Diamond Ballroom, Chesapeake Arena and Zoo Amphitheatre in Oklahoma City and the BOK Center and Tulsa (formerly Brady) Theater.
The day after the Oklahoma City Thunder game, DCF held its last full-capacity show at the Tulsa Theater. The rest of the year they held some distanced red dirt band shows at the Diamond Ballroom, Fitzgerald said.
DCF was not among the 8,141 small venues and operators as of Friday afternoon that had been approved for grants, she said, but they have been in close contact with the Small Business Administration and expect to receive some fiscal relief.
"What's beautiful about the small venue operator grants for promoters and venues is that all that money pretty much immediately goes right back into the community. It has to be spent on music, for staff, for improvements for the greater good … We can put in offers on artists that we might not have been able to."
In the meantime, DCF is preparing for its growing slate of concerts for 2021 and 2022, among them the sold-out Foo Fighters performance at the Zoo Amp.
But Fitzgerald knows that the future is still risky.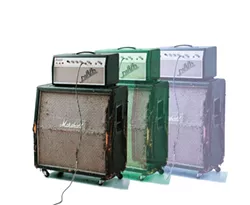 On the same night Foo Fighters are scheduled for Oklahoma City, DCF is also putting on Lil Baby at the BOK Center in Tulsa, but most of the big arena shows, of which DCF does 10 to 15 a year, are slated for next year. For now.
"I do feel it's imperative to know that this could happen again if we can't get to a high vax rate. Foo Fighters canceled their L.A. gig for the 17th and we have Foo Fighters here on August 6. That was COVID. The reason they canceled were people in their camp testing positive," she said.
But at present, the live music business is booming once more. Saturday night at Tower Theatre was just a little less hectic than Friday, Stephen Tyler, manager partner, said.
Since the shows were not ticketed, attendance numbers were not available.
"It's completely because we have those sponsors coming on board, some of them with actual dollars, which is essentially how we built the budget for the musicians. So to not have to cover that whole thing on our own to make their fee allows us a little bit of peace of mind to know that as long as some people show up and have a good time, we're gonna make some money and do decently well.
"We've theorized that all of this lack of things to do, with people being cooped up for the last couple of years, would have resulted in some excitement, pent up desires to get out there and experience that sort of energy again. I would say we underestimated that a little bit. People were definitely interested in getting out and getting back to that world of live music. There was an energy in that building the other night, and I got multiple people, including yourself, commenting about it, that it was something they haven't felt or experienced in a while and they've kind of forgotten that it was so such a strong, strong energy coming out of a room like that, when you're actually there with a bunch of other people and you're listening to that music and you're feeling it in your chest," Tyler said.
The series continues until it culminates with the Tower's anniversary show on Aug. 7. Tickets are still available for its first full-capacity show on Aug. 12 with Shakey Graves.
In the meantime, Tyler is continuing to plug along with Beer City Music Hall, a live event that is expected to have its first shows in December. Whitehead has hinted that Hey Steve may be returning for one of the first performances there.
"We've got a whole month of music left in front of us leading up to our anniversary party, so really, it's kind of scary to think that it might only go up from here," Tyler said.