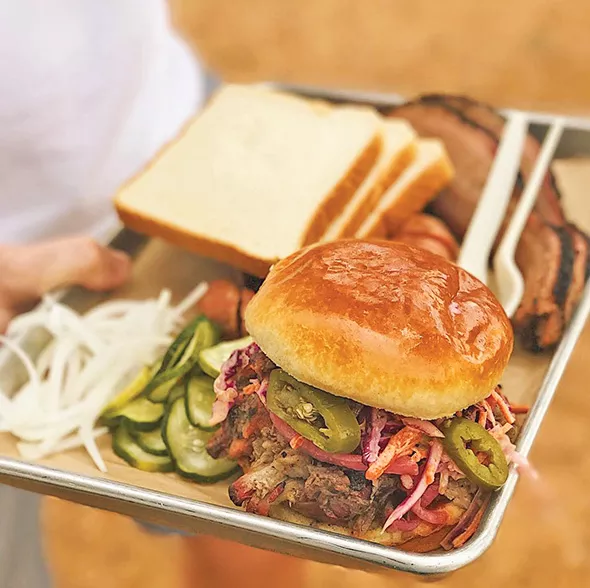 provided
A brisket sandwich topped with coleslaw from Maples Barbecue
The metal cage sitting outside at the corner of 16th Street and Indiana Avenue filled with post oak wood lets the Plaza District know that Maples Barbecue is serious about Texas-style barbecue.
A journey that started two years ago with the Maples Barbecue food trailer comes to fruition Dec. 4 with the opening of the brick-and-mortar location at 1800 NW 16th St. in the former Chiltepe's Latin Cuisine location.
The same 1,000-gallon, 3,500-pound smoker that produced Maples' beef brisket and pork ribs was lifted by crane along with a brand-new identical smoker into the restaurant's new smoker room that operators want to be a sight to behold for guests.
"We want to make the pitroom a showpiece. We want people to come back here and see and get a connection on where their food is coming from, who is cooking it and how it is being prepared," said Maples pit master Zach Edge, noting that the room will be staffed 20 hours a day to monitor the 14-hour smoking process for brisket. "In the summertime, they're going to see how hot it gets in here. We're going to have people sweating in here just to make sure you have good barbecue."
Edge joined the Day One Concepts team (Waffle Champion, Nonesuch, Buttermilk) as Maples got its start in the food trailer. Edge said he was looking for a job that would help him embrace his family's roots in southeast Texas after working as a sous chef in fine dining.
"As a kid, I always went down and my grandfather cooked brisket for family get-togethers," Edge said. "I've been around barbecue my whole life. I was looking to get into barbecue, and this worked out perfect."
Maples fashions itself as a Texas-style meat market where customers order from a selection of beef brisket, pork ribs, chicken and local sausage by weight. It is sliced in front of them at the counter and sides are brought to the table by wait staff.
All of the meat used at Maples is prime-grade, and Creekstone Farms in Kansas supplies Angus beef for brisket and beef ribs and Duroc pork, and Stilwell's Mountain View Meat Company supplies fresh sausage for the smoker. Manager Shane Biggers said the staff is looking for an Oklahoma brisket supplier and will incorporate more items as specials and menu expansion come into play.
There are three sauces: a sweet house sauce, a spicy version and an undecided third sauce. Edge was playing around with the idea of an espresso barbecue sauce to balance the sweet and spicy versions.
Pie Junkie supplies fresh pies, and kitchen staff makes banana pudding in-house. Sides include brisket burnt end baked beans, lemon coleslaw, potato salad and custard macaroni and cheese. The custard version differentiates from the béchamel-based sauce version by using egg and milk base with cheese to bind the noodles together for an end result that rises and firms up in the oven.
Maples will feature an alcohol selection that includes local craft beer and a cocktail program that will have a few berry-flavored mixed drinks that pair with the barbecue, but Biggers said it will be primarily whisky-based. In March, Stonecloud Brewing Company — with whom Maples partnered to host pop-up dinners leading up to the brick-and-mortar location — will unveil a beer exclusive for the restaurant.
Biggers looks forward to seeing Maples' large family-style picnic tables in the dining room and on the covered patio filled with happy patrons.
"The hospitality and to have some comfort food like this that will make a lot of people's day," Biggers said. "Having a room full of people all eating really good barbecue and having good drinks is what gets me excited."
There are no specialty spice rubs on the meat. Edge prefers to let high-quality meat be showcased with a slow cooking time derived from indirect heat, a subtle wood flavor and standard salt and pepper.
Edge, like many people, used the Franklin Barbecue book from Austin's famous location as a guide for his brisket.
"One person is not going to get the same results the next person gets," Edge said. "I'll tell them exactly what we do — time, temperature, every step — but for them to recreate that is almost impossible. That's what's so cool about barbecue; every pit master has their own unique touch and every smoker is different."
provided
Beef brisket and pork ribs from Maples Barbecue
Edge takes pride in the progress he has made in perfecting brisket since taking over the Maples food truck two years ago, noting that it takes a year to develop the identity of the smoker.
"That's not to say what we were doing before wasn't any good, but we were learning how to be better," Edge said. "The only way to do that is by constantly trying and messing up. The best processes are to overcook a brisket and undercook a brisket and find that middle ground."
He tested the cooker for cold spots by lining the inside with raw biscuit dough, closing the lid and checking an hour later. He found that it cooked evenly and a smoked biscuit is actually pretty good.
"It was like cowboy cooking," Edge said, laughing. "I was surprised that it wasn't overwhelmed with smokiness."
The test with the biscuit is an example of why Edge uses white oak as opposed to mesquite, which burns quickly at a high temperature, or an overpowering fruit wood like cherry.
"[The opening has] been a long time coming. In the summer out there [on the food trailer], dealing with Oklahoma weather was pretty tough on us," Edge said. "This is justification to know that we want something great and it's something Oklahoma City wants."
Visit maplesbarbecue.com.
Editor's note:
This story originally said Maples Barbecue opened Nov. 20, but the opening has been pushed back to Dec. 4.