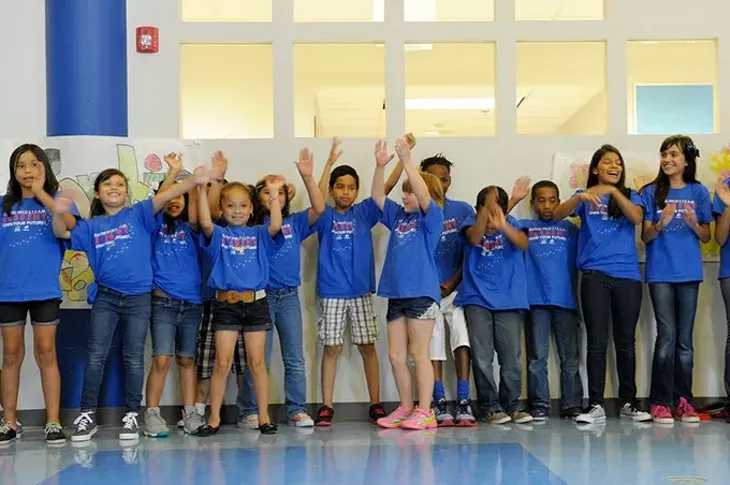 Garett Fisbeck
Children perform as a celebration of the last of the STEAM program at Eugene Field Elementary in Oklahoma City, Thursday, July 9, 2015.
Gatewood Elementary Principal Gayla Goff isn't a fan of her school's charcoal gray walls.
"We need some color," she said.
A nine-minute walk south of Gatewood is the Plaza District, one of Oklahoma City's artistic hubs, which Goff believes is home to an artist or two who could bring some neighborhood style to her building.
"I want to take from the Plaza District and bring it in here," Goff said. "I want to bring in some of the artists and brighten it up a little bit."
Outside downtown, there might be no other urban community in Oklahoma City that has embodied a spirit of rebirth like the Plaza District. Empty storefronts and decrepit sidewalks along 16th Street have been transformed into a thriving business community that features monthly festivals, a wide selection of local cuisine and a spirit that has attracted young residents eager to live within walking and biking distance to one of their favorite hangouts.
But as those young adults turn into families with children, the local schools become just as important as Sunday's brunch menu.
"When we bought our house, we knew we wanted to have kids someday, but we didn't think we had to know if this was the best school right now for our imaginary child," said Jennifer Monies, who moved to the Gatewood community in 2009 with her husband Paul; they've had their first child since then. "Six years later, it's obviously something we consider a lot."
Monies volunteered sporadically at Gatewood even before her first child, but she became active in the school's community advisory board (CAB) a few years ago. Gatewood is considered an F school by the state and has a 93 percent poverty rate. But Monies said she wanted a diverse environment for her son and believed her involvement could help the school improve its academic performance.
"I felt really passionate about getting engaged so we could see the school grow and be a better place when we have a son in the school," she said. "There are a lot of other young couples in the neighborhood that feel the same way."
Despite a low letter grade, Monies and her fellow volunteers point to success in getting a grant for a new school playground, hosting a string art exhibit and the community advisory board's role in helping select a new principal this year.
"The difference in children from affluent homes and ones in poverty is sometimes just a difference in vocabulary and experiences," Goff said, "so the school has to build that slack up, and with the community involvement, we can."
The Gatewood community north of the Plaza District remains diverse in economic levels, but many streets have seen property values steadily rise in recent years. However, some residents say many families in the neighborhood send their kids to a charter or private school, such as Rosary Catholic Elementary School, which is two blocks from Gatewood Elementary.
With a peak enrollment of 229 in 2014, Gatewood Elementary has room to grow by another 125 students, Goff said.
"We still have room to grow, but I know some other schools I have been in are bursting," Goff said.
On the other side of the Plaza District is Eugene Field Elementary with an enrollment nearly three times larger than Gatewood. Principal Paige Bressman has been at Eugene Field for five years and said the makeup of the neighborhood is slowly changing.
"We have had more people moving into the area," Bressman said. "Previous to that, it was families who had been in the neighborhood for years and years and years. There has been a Eugene Field on this site for over 100 years. Parents of students went here, grandparents went here, but we have had more move-ins over the past couple years."
Growth in the Plaza District, along with the growth of Classen Ten Penn, the residential community school, has impacted Eugene Field, Bressman said.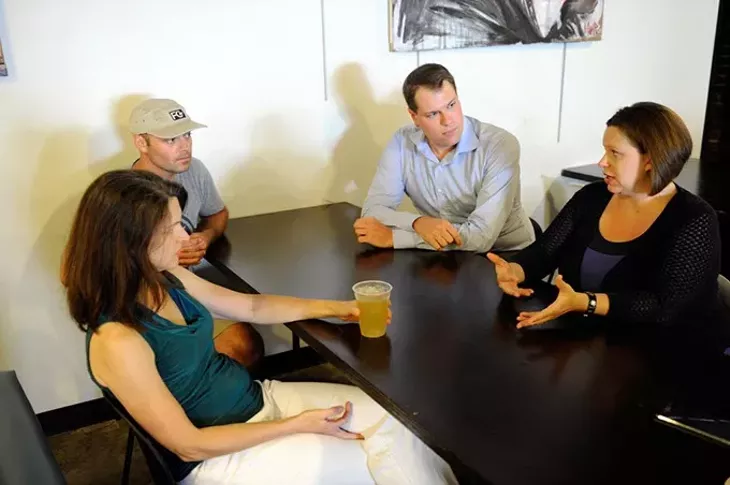 Garett Fisbeck
Julie Serven, Daniel McKinney, Matt Tilly and Jennifer Monies talk at District House in Oklahoma City, Tuesday, June 29, 2015.
Neighborhood growth
Matt Tilly moved to the Gatewood neighborhood a few years ago because it offered an affordable option for urban living.
"When we first moved in, not even three years ago, I think Saint's was the only restaurant open [in the Plaza District]. But now, I can't even count all the restaurants and shops that are here," Tilly said.
Tilly, who serves as president of the Gatewood Neighborhood Association, said he doesn't have kids yet but sees the value in a strong school.
"The school is extremely important to everyone in the neighborhood, regardless if you have kids or plan to send your kids to the school or not," Tilly said. "You see a lot of people moving in with kids, or they are people that will be thinking of having kids in the next few years. For me, not having kids yet, a big part of it is you want to keep those people in the neighborhood instead of moving into the 'burbs because of the schools."
In the same way that the Plaza District has grown in recent years through a collaborative effort of entrepreneurs and community leaders, Monies said Gatewood Elementary appears poised for its own revival thanks to the effort of residents and school staff.
"There is this synergy where we all want to make the Plaza District better, we want to make the schools better," Monies said. "How can we work together to make this all better?"
Daniel McKinney, Gatewood PTA president and CAB member, said community engagement is an important part of school improvement. He and his wife regularly open the Gatewood playground on Sundays to give kids a place to play, and he has also organized student bike rides through the community.
"It's important to find ways to serve these kids outside of the school day," McKinney said.
Eugene Field also has an active CAB that school leaders say is making a difference in moving the school forward.
"I think there is some real old-school community engagement in the inner city that the district could really tap into," Monies said.
Demographics
Both Eugene Field and Gatewood elementaries are high-poverty and diverse schools. At Eugene Field, 65 percent of the student body is Hispanic, according to the most recent district data.
"We have an amazing volunteer program at Eugene Field, and we are always looking for bilingual volunteers because so many of our kids speak Spanish," Bressman said.
Bressman said two of her office staff members and several other school employees speak Spanish.
"There is always somebody here who can translate," Bressman said.
Eugene Field is also located in one of the city's three Strategic Neighborhood Investment districts, which means Oklahoma City planners are making a concentrated effort to improve all aspects of quality of life in the surrounding community. The SNI program is also active in Eugene Field with its STEAM Summer Academy program that recently completed its first run.
At Gatewood, the student demographics are 32 percent Hispanic, 19 percent African-American and 16 percent Asian.
Low grades
Both Eugene Field and Gatewood have low letter grades from the state. (Eugene Field's grade is a D+.) The school letter grade system has been controversial almost since its inception, but parents in the community say they hope to see the grade improve, if for no other reason than to have another visible sign of school improvement.
Even if that F grade remains at Gatewood, current and future parents of Gatewood students say their involvement in the school gives them a perspective beyond a letter grade.
"You can't judge the staff off that grade because that staff is just as good as any other in Oklahoma City, in my opinion," McKinney said. "You have a large group of kids that probably aren't going to have much parental involvement regardless of what you do in the neighborhood, so there is going to be a lot of classroom time spent towards helping them out, which doesn't mean that it sacrifices education or quality of work."
Monies said her own involvement in the school gives her confidence in her son's education.
"Paul and I are going to be very engaged no matter what," she said. "I would hope that we would teach our son to help others. He has an advantage that some of the kids he is around won't have. If he sees a friend that is struggling with a math problem, he should help him with it."
Both principals say they are often asked about the low letter grade, and while they believe it will improve in the coming years, they invite prospective parents to tour the schools and see the work that takes place.
"I tell them to come in and we will take a tour of the school," Bressman said. "You can see how the kids are working, how the teachers are working. This is a great school."
In the same way the Plaza District invited the community to believe in better days and get involved in the process of revival, parents and staff at Eugene Field and Gatewood say that same spirit is what will make a difference inside the schools.
"Most of the people who are moving into this part of town have so much energy and excitement when they move down here, and they want to be part of the revitalization, they want to be part of something," Tilly said. "I think living here is not just about living here and going to work and doing your own thing. It seems like so many people are taking an active role in getting involved in the community and the schools, and that's what is great about this place."
Print headline: Plaza schooling, Residents are working to ensure the quality of their schools reflect the rest of the district's splendor.