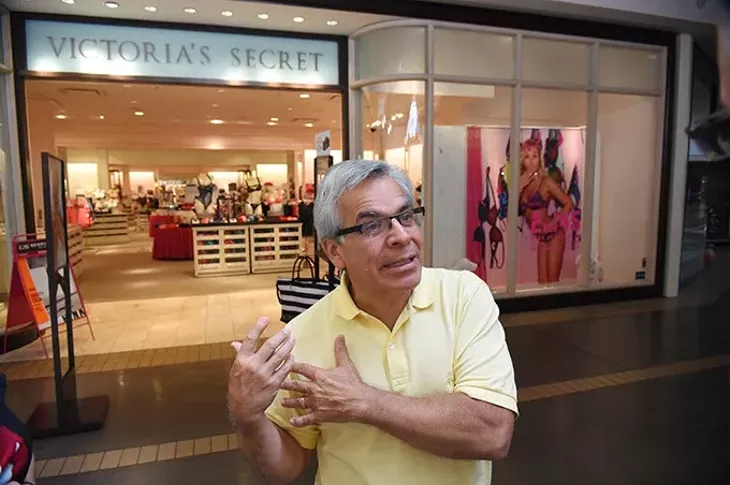 Mall co-owner Jose Legaspi, outside Victoria's Secret, a staple store for many years, at Plaza Major at the Crossroads Mall. mh
Plaza Mayor at the Crossroads is the new name for the former Crossroads Mall property at Interstate 35 and Interstate 240. But there is more to the transformation than a name change.
The mall is growing into its new concept of a business incubator and cultural hub, targeting a rapidly expanding Hispanic population in Oklahoma City and across the state.
According to Robert Ruiz, Plaza Mayor's marketing manager, the center has shown steady growth since the concept launched in 2013.
That year, it had only 17 percent occupancy compared to 45 percent today.
Average sales have grown 11 percent in that time, Ruiz said, and mall traffic has doubled.
Tested concept
The man with the ideas and plans behind Plaza Mayor's vision and purpose is José de Jesús Legaspi. His wisdom from decades of retail development experience is now focused on the regional-sized mall in southeast Oklahoma City, which is owned by Legaspi and local investors.
The better part of his business career has involved taking older retail areas that had been abandoned and turning them into financially successful enterprises.
Legaspi said his early experience with helping the southern California city of Santa Ana was formative to what he is doing now with older malls that have lost their way in a constantly changing business environment.
That city is over 90 percent Hispanic, and he drew people back into the once-dead downtown of Santa Ana that lost its verve many years before.
Fort Worth success
About 11 years ago, Legaspi took a chance on redeveloping Fort Worth's lifeless, 1.2 million-square-foot Seminary South Shopping Center.
It was the first mall in Fort Worth, originally launched as an open-air retail venue that was later enclosed.
It slowly died as the neighborhood around it started to degrade.
"In Fort Worth, we took all of what we learned," Legaspi said. "It was a dead mall. It was like 10 percent occupied. South Fort Worth had a really bad reputation. It was poor. There was a lot of criminal activity."
He transformed Seminary South into La Gran Plaza de Fort Worth, which today hovers at just over 90 percent occupancy, a far cry from the 10 percent occupancy when Legaspi first invested in the property.
"There are a lot of people who want to be in the urban areas, but not the national tenants," Legaspi said. "There was a big stigma about that. They didn't think that anybody had enough money to buy food and clothing."
La Gran Plaza provided a model for Legaspi on how to successfully redevelop the Plaza Mayor property.
Business incubator
Following the success of the business incubation model he used in Fort Worth, Legaspi applied it to Oklahoma City. Both locations are part of a larger project of the Small Business Administration (SBA). The symbiotic partnership adds strength and momentum to his original concept.
"In Fort Worth we really began this concept. We had a large former Dillard's store," Legaspi said. "We thought it would be great to bring in small tenants that we could help and then incubate them into the mall itself."
For new and startup companies, retail stalls are made to be easily rearranged into larger spaces, and eventually, a growing business can expand out into a full store space in the mall where return customers can easily find them.
One Plaza Mayor merchant, Victor Leal, is a good example of the incubator model that Legaspi has used with so much success.
In 2013, Leal launched his business from a small section of counter in the mall. Today, he runs five different stores there and just signed the lease on a sixth, scheduled to open in September.
Oklahoma Gazette interviewed Leal as Ruiz acted as translator.
"I visited La Gran Plaza and saw how this could work," Leal said, "and so that's why I decided to come to Plaza Mayor in the first place. It was a good decision."
Hispanic culture
But businesses cannot grow without Plaza Mayor's support of the Hispanic community, which is enriched by the cultural events that it holds in the large, open area in the mall's core.
Since the venue also enjoys a prime location at the junction of I-35 and I-240, Legaspi said that Plaza Mayor can now draw Hispanics from "just around the corner, or 20, 30, 50 miles away, just to visit [it]."
Just as in other locations where he has drawn area residents to places that traditional retailers fled, he uses cultural events to create something similar "to a small-town center in Mexico" where music, community and religious events and shopping occur simultaneously.
Once people are there, Legaspi said, the venue welcomes multiple generations of guests.
"[Unlike American culture, where family is defined primarily as parents and their children], in the Hispanic community, it is parents, children, cousins, first cousins, best friends, grandparents," he said. "Everybody is part of a nuclear family."
The long-term
Legaspi said that he is in this for the long haul and won't be selling Plaza Mayor anytime soon.
"We don't buy malls or run malls on the basis that we are going to get it, build it up and then sell it now. We're hoping that we can run it for five, 10, 20 years from now," he said. "And that's a long-term investment. It's not easy. It takes a lot of time, a lot of effort, a lot of money to make it happen."
Print headline: Community, service; Plaza Mayor's business incubator concept turned an almost-abandoned mall into a vibrant cultural hub.