Provided
Featuring local art, food trucks, music and more, the 21st annual Plaza District Festival is 11 a.m.-10 p.m. Saturday in the 1700 block of NW 16th Street.
Plaza District Festival
11 a.m.-10 p.m. Saturday
16th Street Plaza District
1700 block of NW 16th Street
405-578-5718
Free
Now in its third decade, Plaza District Festival is "only gaining steam," said festival co-chair Leah Roper.
"The Plaza District, I think everybody knows now, it's trying to be a cultural and artistic hub in the city, focused on local entrepreneurs and businesses, local restaurants and kind of being an exhibition of Oklahoma's best locals," Roper said. "The festival is really the celebration of that, so it's bringing local artists from all over the place in ways that are even bigger than just in our galleries. It's allowing the local performers to come out on a large scale and feature their work. I love, especially with the three stages, that we can do a lot of diversity in our music. I just really think the festival is the culmination of what the Plaza District is trying to do and be in the city."
Featuring local art, food trucks, music and more, the 21st annual Plaza District Festival is 11 a.m.-10 p.m. Saturday in the 1700 block of NW 16th Street.
Blackwelder Stage
11 a.m. Chelsea Days
noon Kat Lock
1 p.m. Everything Goes Dance Studio
2 p.m. Brad Fielder
3 p.m. Ray June
4 p.m. Tony Foster Jr.
5 p.m. Dinosaur Boyfriend
6 p.m. Alyse
7 p.m. Druce Wayne
8 p.m. The GIG, hosted by Topatío

Indiana Stage
11 a.m. WoRm
noon Foxburrows
1 p.m. $ONRAE
2 p.m. Matthew Scott
3 p.m. buzz cut
4 p.m. T-Mase
5 p.m. Queen Caution
6 p.m. LTZ & DJ Chips
7 p.m. Mt. Terror
8 p.m. Jynxx

Main Stage
11 a.m. Spunk Adams
noon Skyy Webster
1 p.m. Dylan Stewart
2 p.m. Johnny Manchild and the Poor Bastards
3 p.m. Spinster
4 p.m. Jacobi Ryan
5 p.m. Beach Language
6 p.m. Miillie Mesh
7 p.m. Twiggs
8 p.m. Lincka
9 p.m. Johnny Polygon

People who have previously only been to the district's monthly Live! on the Plaza events will find more of the same — and more of everything — at the annual festival.
"It's similar in the sense that, like everything we do, it's family-friendly," Roper said. "We want to welcome all kinds of diversity into our district, so that's still true at Plaza Festival, but it's even more, I guess, because we don't get to close the streets during Live. During Live, we can't bring out more than like 10 artists or so for the artists' market. This one will have about 35, so it's a much bigger version, an even bigger celebration. Obviously, the music is going on much longer, so we can feature about 30 acts throughout the day. At Live, we usually only have about two bands that are able to perform because of time and money constraints. So I would say it's similar to Live, but even more exciting and offers even more."
Return festival visitors will find a few changes from previous years. For example, one of the music stages has been relocated to an area near the food trucks on Indiana Avenue.
"Previously, it was in the backyard of Summerland and what was Tree & Leaf, and we realized people were having a hard time finding it and knowing what was going on back there," Roper said. "It should be a lot of fun for people while they're getting their food truck foods to get to hear the bands."
And appropriately enough for a festival turning 21, visitors who are at least as old as the event will have more options for alcohol because of the changes to state liquor laws that went into effect last October.
"Now you can buy beer and wine at any of our three beer and wine tents," Roper said. "Previously, we were able to sell low-point beer at those tents, and then you had to go to a specific location if you wanted wine or high-point beer. So this year, it'll be a little bit more fun for people because you can walk around and you don't have to stay in one specific area. You do have to stay in the festival grounds with it, though. I will say that, but we're really excited about not having to restrict our guests if they want to have beer and have fun with the art and the activities."
Younger visitors will also find several entertainment options.
"Our kids area is back and, I want to say, better than ever, although that's completely subjective," Roper said.
Between 11 a.m. and 6 p.m., the kids area will offer face painting, dancing, games, art and educational activities.


Provided
More than 30 local artists will sell paintings, photographs, jewelry, crafts and more.
Choosing local
Not everything has been increased or expanded. The festival will actually feature fewer food truck options to encourage visitors to visit the growing number of area restaurants. Roper said the festival has evolved over the years to reflect developments in 16th Street Plaza District.
"The district has changed, so the festival changes in correspondence with what the district's needs are," Roper said. "An easy example is food trucks. We cut the number down from about 10 to seven … because the restaurants in the district have just exploded, and we know people still want the air conditioning and we know that the food in the district is amazing, so it's really an opportunity for them to shine, as well, by having more patrons in their businesses. But we know it's a festival at its heart, so everyone wants to have food trucks and get that experience as well. We're trying to balance the needs of the district with the needs of our guests and the people who are going to attend and hopefully have a lot of fun."
The Loaded Bowl, Burger Punk, Let's Do Greek, Mekong Spice, Big Truck Tacos and Mighty Corndog will all have food trucks at the festival, along with Wondervan Pops, which will be selling popsicles in the kids area. Restaurants in the district include Mexican Radio, The Press, Empire Slice House, Pie Junkie and The Krow's Nest inside Saints.
Artists, selected by a jury, will also be selling a variety of art works and crafts.
An estimated 35,000 people attended last year's festival.
"We wanted local, of course, and that includes anywhere in Oklahoma," Roper said. "We wanted a balance of mediums. We didn't want everything to be 2D paintings. You want some photography, some paintings, some sculptures, some crafts, and that takes a variety of forms, jewelry, things like that."
Roper estimates 35,000 people attended last year's festival.
"The festival has grown in the number of participants, which also means on the back end for us planning it, we have to plan for more people to be there," Roper said. "That includes everything from increasing security to increasing our volunteers that are running the different areas."
This year's festival is the result of several months of planning by a committee with around 60 members.
"They're all, honestly, just rock stars in their various areas," Roper said. "The talent level of our committee led to really high talent levels of all of the artists of all types that are coming to the festival."
Several people who book shows at local venues, for example, decided the music lineup, selected from an estimated 175 applicants.
"They're really plugged into the music scene, and they know who's exciting and who's hot and who people want to see," Roper said.
For Roper, the best part of the festival is "seeing everything come together."
"I can't say enough how much talent is involved in the festival on every level — the committee level, the people who are coming, and people being featured," Roper said. "It's a huge, exciting time. It takes all day. It takes a lot of energy, obviously. We get out there at 6 a.m. to close the streets. … Everyone has been working for almost five or six months on all the different areas, so watching that happen and take shape is my favorite part."
The district has several ambitions for the annual festival, but the primary one is to get enough support to keep going.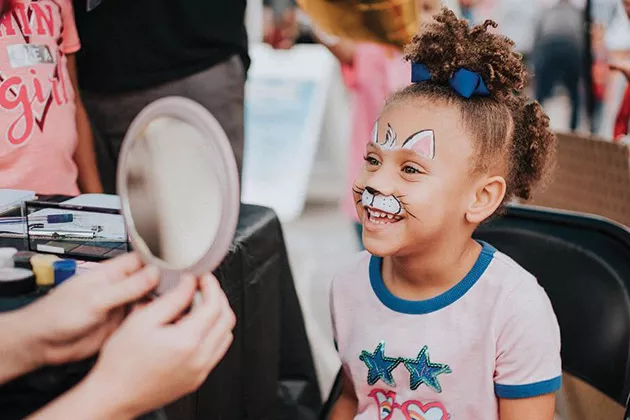 Provided
From 11 a.m. to 6 p.m., the kids area offers face painting, dancing, games, art and educational activities.
Growing district
"Honestly, the festival is a fundraiser at its heart," Roper said. "In reality, we are a nonprofit organization. We do rely on donations and sponsorships, so the festival is the number one way that the Plaza District Association is able to get those. When you really boil it down, that has to be the ultimate goal, but it goes hand in hand with our district's other goals of being a celebration of diversity and culture in the city and featuring local talent of all types."
While the festival continues to expand, Roper said the main concern is that it expands correctly and beneficially.
"We're always looking for opportunities for growth and change and evolution of the festival, but there are so many different ways that can take shape," Roper said. "So there are lots of ideas on the back end, and part of it is figuring out what's logistically possible and feasible and growing in a responsible way. You don't want to just throw a bunch more artists in there where you don't have the space for them and people can't get around."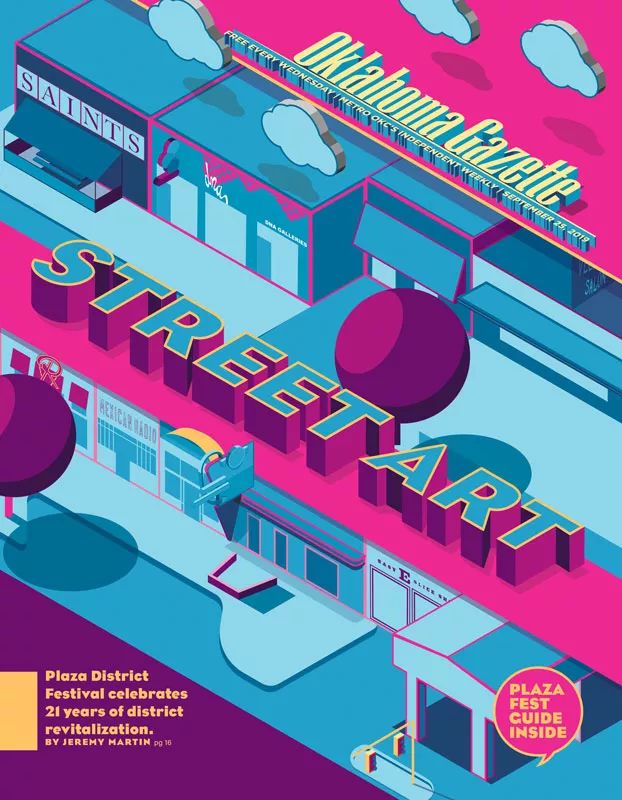 Roper, who will be "passing down the reins" to a new co-chair next year, said she advised her replacement to give the committee members the chance to use their expertise.
"Mostly, we talked about keeping an open mind and trusting your leadership," Roper said. "Part of it is valuing those people and making sure they know that you trust their leadership and giving them the opportunity to really own their areas. I'm not, for example, that knowledgeable of a person about art, but I trust the people that we put in place there and they have done a phenomenal job. And they, of course, will have ideas about growth and ways to either do it better, do it bigger, do it again. … The skill of our volunteers is really something that can't be understated, and honestly, a lot of that is due to the success of the district and due to some of the festivals in the past. We're kind of standing on the shoulders of giants, and that is a neat place that people want to be, but we take very seriously the responsibility of making sure we stay that way."
Roper also had a couple of words of advice for first-time visitors of the festival.
"Lyft or Uber," Roper said. "Just know that parking is going to be challenging, which is true no matter what, but when we close 16th, it cuts out quite a few parking spots. So I always recommend biking, Lyfting, Ubering — anything that you don't have to find somewhere to put a car is going to make your experience better. We do hear the frustrations with parking, but it's very limited what we can do about it."
Admission is free.
Visit plazadistrict.org/festival.