Alexa Ace
Kendra Horn is running to represent Oklahoma's 5th district in the U.S. House of Representatives.
The challenger
If Democrats across the nation were searching for candidates who could make a big splash in their blue wave, they got what they were looking for in Kendra Horn, the Democratic candidate for Oklahoma's 5th congressional district.
A fifth-generation Oklahoman and an Oklahoma City-based attorney, Horn decided to run for Congress after serving as executive director of the nonpartisan group Sally's List.
The Oklahoma-based organization recruits and supports women candidates of either political party who are interested in running for office.
"We are 49th in the nation for women serving in office," Horn said. "Put a woman in office and watch policies change — everything from health care and education to the economy and the crime rate."
While Horn always knew she wanted to be a lawyer, it wasn't until she began working with Sally's List's potential candidates that she knew she wanted to run for office.
"Sometimes you have to take your own advice," she said. "I was hearing woman after woman tell me that they didn't want to run for office because they didn't believe they knew enough or they didn't think politics really affected them. Everything we do on a day-to-day basis is affected by politicians, from the quality of the city streets we drive on to the water we drink, the trash we take out and how our children learn in school."
Horn said she realized the policies that make the most difference in the lives of ordinary citizens are common-sense ones.
Last year, she left Sally's List and filed as the Democratic candidate for the 5th district, the seat currently held by her opponent, U.S. Rep. Steve Russell.
Since launching her Common Sense for Oklahomans campaign, Horn has been open about her disapproval of the funding Russell receives for his campaign.
"In the four years he's held this position, he's received $1 million from corporations and PACS (political action committees)," Horn said. "When push comes to shove, whose interest do you think he'll fight for? Whose call do you think he's going to take?"
Horn has also received funding from PACS but said 95 percent of her donations come from individuals.
"I don't take that lightly," she said. "What that means is that a whole lot of Oklahomans are ready for a change."
According to Federal Election Commission (FEC) reports, Horn raised more than four times as much money as Russell during the last fundraising quarter before Election Day.
Between July 1 and Sept. 30, Horn raised $442,711 compared to Russell's $97,836.
If elected to office, Horn said she'll focus on creating common-sense reform that will resonate with Oklahomans.
"It's not going to be immediate change," she said, "but I know that when we govern with a people first mentality instead of a profit first mentality, change is inevitable."
Horn said she's motivated by her faith as a Christian to make changes to health care and education.
"When we privatize core services, people get left behind," she said.
Horn hopes to ensure that all Oklahomans receive quality education and health care.
"The problems in our state are cyclical," she said. "When our people are cared for and are well educated, the incarceration rate will drop, the rate of domestic violence will drop, the rate of opioid addiction will drop and, believe me, the economy will be strengthened."
Horn said she would like to raise the federal minimum wage to an amount that is sustainable and compatible with the cost of living in each state.
The incumbent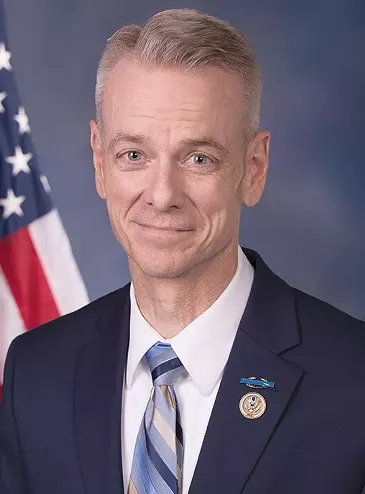 Provided
U.S. Rep. Steve Russell, R-Oklahoma City, currently represents Oklahoma's 5th congressional district.
Steve Russell said he doesn't lose any sleep over Horn's criticism. The Republican U.S. congressman representing Oklahoma's 5th district called her criticism of his campaigns financing "a bucket of nonsense."
"To claim that I don't receive funding from individual Oklahomans is ridiculous," he said. "Who's to say that the groups who donate to me are not made up of individuals? When a person can't give a large donation to an individual candidate, they give to a group who supports that candidate."
Where Horn claims that Russell has become a Washington politician detached from the realities that the constituents he represents face on a daily basis, he said his life is proof that that can't be the case.
"I know what it's like to stretch a dollar," he said. "You don't raise five children on a soldier's budget without learning that."
Russell was born and raised near Oklahoma City. Before earning degrees in public speaking from Ouachita Baptist University in Arkansas and in history from the U.S. Army Command and General Staff College, he joined the Army.
Russell went on to serve in three wars including the Iraq War that ended in 2011.
In 2008, the soldier-turned-veterans' advocate ran for Oklahoma State Senate where he authored the Soldiers Relief Act, a law that created a tax exemption for Oklahomans who were actively serving in the U.S. military.
In 2014, he was elected to the position he holds today within the U.S. House of Representatives. His decision to run again is based on the desire to continue serving.
"I'd like to continue the work I've been doing because I see it as an extension of the service I give to my country," he said.
Russell said if he is given the chance to maintain his seat in Congress, he'll fight for federal education funding.
"My opponent claimed that I tried to cut Pell grants," Russell said. "Headlines might have incorrectly stated that. The reality is that I worked on eliminating the service fees that universities and colleges were attempting to charge the federal government in exchange for Pell grant funds."
While he might be criticized for being a politician, Russell said, sometimes it takes a politician to understand the details involved in government.
"You can't just say 'I want to fund public education,'" Russell said. "Everybody wants to do that. You have to know the ins and outs of the education system in this country. You have to know that when universities raise their tuition 400 percent, as was seen in Oklahoma not long ago, that means that students are going to need to take out more student loans. You can't always throw money on a problem to fix it," he said.
Despite Horn's criticism that Russell has not attended a town hall meeting in Oklahoma for over a year, he said he believes that you have to get to know people to understand them.
"That's what I did in Niger," Russell said, referring to the Tongo Tongo ambush that took place last year in Niger when militants from the Islamic State in Greater Sahara attacked and killed Nigerian and U.S forces.
"When a lot of politicians said the Army didn't do its job in Niger, I was the only member of Congress to go out there, boots on the ground, to determine for myself if that was the case. How can you know the reality of a situation if you don't meet it face on?"