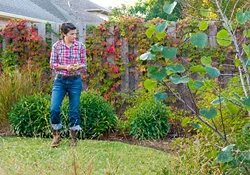 Shannon Cornman
Jamie Csizmadia looks over the pocket prairie at Kim and Matthew Myers house in Edmond.
Jamie Csizmadia is not your conventional landscape designer. If you're picturing manicured green lawns with strategically placed blooms that have to be delicately cared for and replaced each year, Olthia Urban Prairie Garden Design might be just the thing to shake up your concept of landscaping.
Csizmadia is a registered landscape designer, and Leadership for Energy and Environment Design (LEED) certified. In partnership with the Nature Conservancy she will teach a workshop on native plants and how to turn your own space into something both beautiful and sustainable.
"The prairie is a functioning ecosystem. When the Europeans came, they started to alter it or do away with it altogether to where there is less than two percent intact today," she said.
She delights in creating native-friendly outdoor spaces with plants that belong here.
"My grandmother had a garden that covered her entire backyard, the kind you could go and pick tomatoes fresh off the vine. I grew up with that, it's in my blood. I've always gravitated towards native plants. I've traveled a lot, and when I come home I always say, 'Finally, brown grasses, real leaves on trees, wide-open spaces,'" she said.
She is sentimental, and in that sentiment lies a passion that led to what she describes as her dream job: helping people create microcosms of prairies in their own spaces. These Pocket Prairies, as she calls them, also contribute to the greater conservation of the prairie, which was once the overwhelming landscape in this part of the state. Luckily, the damage isn't permanent.
"It's a quick ecosystem to regenerate itself, it only takes one growing cycle. It's just sitting there waiting for it to be safe to take over again," she said.
An added benefit is that prairies are low-maintenance and easy for anyone to grow and maintain.
Shannon Cornman
Karl Foerster feathery grass and Boston Ivy add nice fall color to one of Czismadia's Pocket Prairies.
While the idea of planting native is one that is catching on, the progress is slow. Most landscape design is still of the over-fertilized, water-dependent style.
One successful example is the Myriad Botanical Gardens.
"A lot of the new landscaping was part of the new design, which was about 2010. On an ongoing basis we look for a way to showcase sustainable plants, and we look for ways to give people examples of plants that are both beautiful and sustainable and great for Oklahoma. Casey Sharber, who is our director of horticulture, is great about that," Christine Eddington, the gardens' communications director, said.
"These gardens are a symphony that are constantly changing, and it [the prairie] grow on its own. It doesn't require drastic human intervention because you are planting where you live," Csizmadia said.
Something to keep in mind if you might be hesitant to plant for lack of skill.
"I always hear people say that they don't have a green thumb, and it's not up to humans to grow things, it's up to nature. We are just participants in that process, and if you can't get something to live, it most likely isn't supposed to live there," she said.
Guests will leave the workshop with everything they need to create their own Pocket Prairie, and the knowledge to do it.
"This is my favorite workshop, it's partially educational and it's partially experiential," she said.
Shannon Cornman
Jamie Csizmadia sprinkles some top soil over garden mulch next to a rain barrell at an Oklahoma City home.
Attendees will spend part of the workshop learning about the prairie ecosystem, and then the hands-on experience will help Shelley Pruitt, who manages the Urban Neighbors Community Garden, on Hudson Avenue between NW Ninth and 10th streets.
"It was established on April 5 of this year, and we got the land donated by Midtown Renaissance Association - it's on loan until they need to develop it, and when they do need to do that, the beautiful thing about the community garden is I made it moveable," Pruitt said.
Everything about the garden is sustainable and organic, and she noticed a marked lack of pollinators in the spring. She contacted Csizmadia and it was a perfect opportunity for the demonstration aspect of the workshop. The 500 feet of growing space will be the canvas for her to illustrate how simple native planting can be. To find out more about the Urban Neighbors Community Garden, visit facebook.com/UrbanNeighbors.
"One of the things I love, is when the plants show up to whatever space I am working in, the pollinators arrive like clockwork, it's like they're just waiting on their plants" she said.
This is a sign that you are doing something right, she said. Also, she dismissed the notion that planting in the fall is a bad idea. In fact, in our region, it's often the best time to plant.
"Our native grasses drop their seeds they love to get the fall rain and the winter freeze and when the spring rains hit, they really benefit from that, and so do you," she said.
Each person that's attending will take home a custom seed mix based on where they live.
"I'll design enough seed for a 400 square foot prairie garden and each person can go home and do that within two hours. They will find out how easy and fun it can be, and that anyone can do it," she said.
Print headline: Grow your own; Local landscape designer works with native plants to create beautiful and sustainable outdoor spaces.