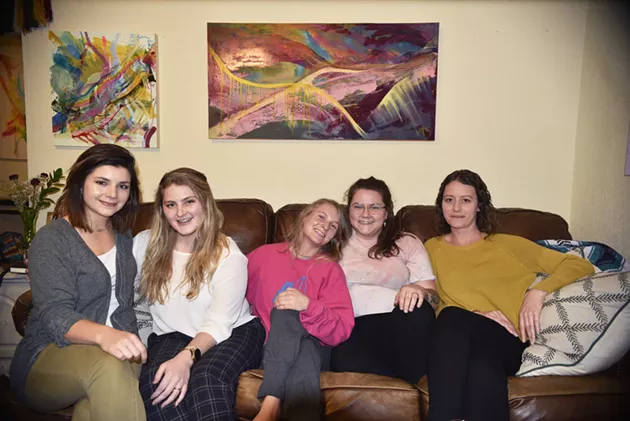 Ben Luschen
Art Group's leadership team includes from left artists Mycah Higley, Chandler Domingos, Virginia Sitzes, Katelynn Noel Knick and Theresa Hultberg.
Five months ago, Art Group was no more than a vague idea shared between two friends. But as it prepares for a debut exhibition this week, the art collective boasts a roster of 30 artists representing nearly every visual medium.
Virginia Sitzes, who co-founded the collective with fellow artist Katelynn Noel Knick, said the concept has snowballed faster than anyone could have anticipated.
"It's this contrast between, 'I'm scared out of my mind; what am I doing?' and 'This is what I'm doing; this feels so right,'" Sites said. "Since November, it's just been on hyper-speed."
Art Group is a collection of visual artists mostly between the ages of 21 and 35. The collective has a multi-faceted mission and complex vision for its future, but it was founded on the idea of creating more opportunities for emerging artists in the area. Word-of-mouth buzz and driven leadership has quickly turned the group into a popular art hub.
The collective's debut group show is scheduled to run 5:30 p.m.-11:30 p.m. Saturday at Skyline Ink Animators + Illustrators, 220 SE Fourth St. The free show will include around 50 different works by 18 different artists, including paintings by Sitzes and Knick and additional works by Mycah Higley, Theresa Hultberg, Chandler Domingos, Allison Hix, Cub Olson, Emma Difani, Eric Maille, Evan Ward, Katrina Ward, Lexi Dickens, Malcolm Zachariah, Nate Ward, Ryan Pack, Taussen Brewer, William Walker Larason and Zan Miller.
The show will also include food by Prefix (chef Shawn Perkins); drinks from Prairie Wolf Spirits, COOP Ale Works and Anthem Brewing Company; and music by Panhandlers and Annie Oakley. Participating artists will include a variety of small works and merchandise in an affordable artist market.
In addition to founders Sitzes and Knick, Art Group's current leadership team includes Higley, Hultberg and Domingos, who acts as the collective's treasurer. Everyone on Art Group's leadership team is participating in the group's debut show.
Higley said Art Group is for artists who thrived in the structure provided in a college environment — full of guidance, support, assignments and critique — only to find much less certainty upon graduation.
"You get out of college and you suddenly have no one except your friends," she said.
One part of Art Group's mission is to break down art gallery intimidation and elitism — both from the artist's and art viewer's perspectives. At the show, guests will be allowed to submit their questions about the displayed art, participating artists, the collective or the local art community in general to a question box. On several occasions throughout the night, submissions will be collected and answers given by collective members.
"We want to make it super inviting," Sitzes said. "If you have questions and are like, 'What does this mean?' you can ask us — we want you to know. We don't want to be on this higher level."
Art Group is not exclusive to artists of a particular age, but everyone on its leadership team is in their mid- to late-20s. Knick believes they represent the metropolitan area's new wave of art direction and leadership.
"I feel like we're at that point where this artistic generation can contribute," she said. "There's a lot of potential there, and I think we're ready for it and our community's ready for it."

provided
"Refraced" color photography by Evan Ward from Art Group's debut group exhibition
Inceptive idea
The group was born out of a November conversation between Sitzes and Knick about the lack of opportunities in the city for emerging artists — those who were post-graduate but not pursuing grad school at the time and not set on leaving the state for a larger art community.
From that chat, they decided it would be a good idea to get some art friends together to visit each others' studio spaces, critique their work and, most importantly, continue a structured art discourse within their own means.
"We just have so few galleries here and so few organizations," Knick said. "I've worked a lot with OVAC (Oklahoma Visual Arts Coalition), and I know that they're tapped out. They can only service so much. I feel like we should be creating our own opportunities along with them."
The collective was originally limited to a small friend group, but in a matter of months, it more than tripled its original size as word of its mission traveled. Art Group's popularity is perhaps a sign of an underserved need in the art community. Artists were likely also attracted by the collective's emphasis on artist payment — Art Group will not take a commission on individual artist sales in its shows.
"Every time we had a meeting," Knick said, "our group grew from 8 to 15 to 30. It was just growing pretty quickly, and we realized we should make this more of a formal thing."
Better together
Domingos said Art Group is only as valuable to its member artists as the effort they are willing to put into the group.
"Part of being an artist in Oklahoma is going to be showing up and participating," she said. "That's what we're going to encourage people who are part of Art Group to do."
Art Group's slogan is that it's "like the other art collectives, except nothing like them." There are other independent artist groups in the city, but Higley said it can be intimidating for some artists to get involved with them. Art Group focuses on mixing the casual with the professional. The collective is planning on frequent house shows and meetings that are equal parts fun hangout and productive gathering.
"When you have something as casual as meeting at someone's house and going into their home studio that may be in the corner of one of their rooms," Higley said, "that opens it up a lot more to being a personal group and getting to know the members and being more involved in each other's lives."
Hultberg said the real value in Art Group is the knowledge that there are others like her who are simply trying to navigate the professional art world that, at their age and experience level, still feels new.
"It removes that sense of isolation we get as emerging artists," she said. "And as you're connecting with other artists, they have different ideas and perspectives, so you're sort of sharing ideas and growing."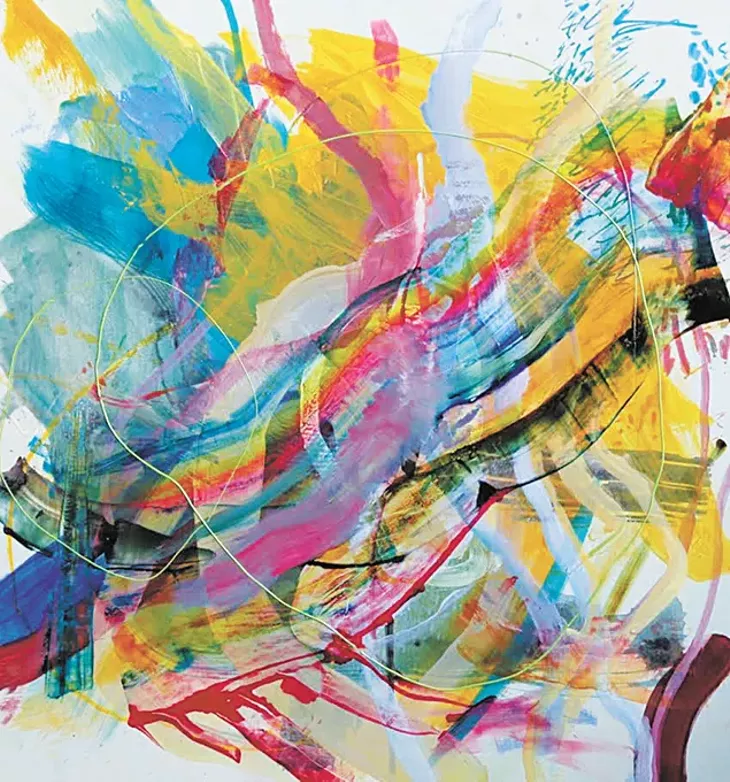 provided
"100 mph" acrylic and pastel on panel by Virginia Sitzes from Art Group's debut group exhibition
New age
Membership in Art Group is currently capped at 30 while the collective gets a grasp on what size group it can support while still achieving its core functions. The group might expand sometime after its debut show.
"We want to be inclusive, but inclusive to the point where it's still beneficial," Domingos said.
Art Group is in the process of putting together a website and becoming an official nonprofit organization. It is also seeking a home for its brick-and-mortar headquarters and art center. Though the plan is to give Art Group a physical location, Knick sees the future of the collective as one that is not centralized.
"Rather than us having another gallery space, we are a group of people who can apply ourselves to other businesses," the co-founder said. "That's what we want, to act as an agent to work in the community."
Art Group has enough potential and enthusiastic support to make a major impact on the local art community. Its ability to maintain that enthusiasm and divine a clear path forward will likely determine the scope of that impact long-term, but the group believes the ground is fertile for its young group to take root.
"Oklahoma City seems to be at this big point of change," Sitzes said. "There's lots of activism going on and just development of newness, which is really cool. Things are changing, and we get to be on the front wave of that change."
Visit facebook.com/artgrpokc.