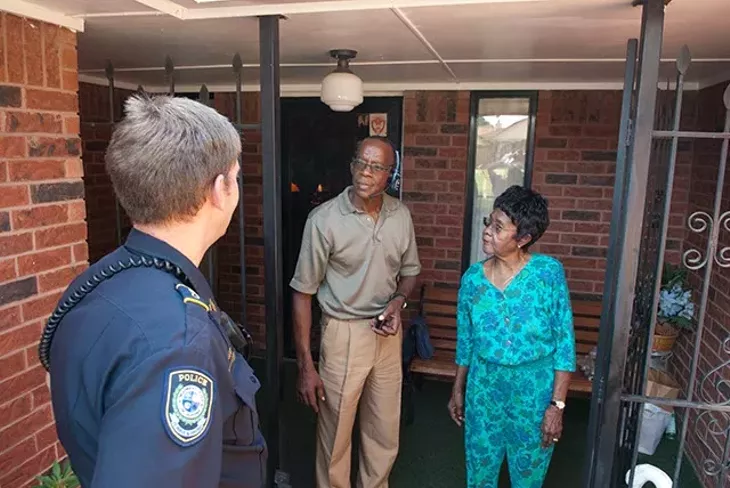 Midwest City Police Department Community Action Officer Roland "Rollie" Branham, speaks with with 86 year old Cora Rolison at her home next Randolph Grayson a neighbor who lives across the street, recently in MWC. mh
Clashes between police and residents in Ferguson, Missouri, over the past two weeks have ignited debate over the use of deadly force, racial profiling and protester rights. They have also shined a spotlight on the relationship between law enforcement and African-American communities, which has a long history of friction across America.
In conversations with leaders and residents from black communities across the Oklahoma City metro, it appears a skeptical eye toward police still exists but is mostly based on historical events. When asked to speak freely, some black residents of OKC said friction can exist between African-Americans and police. But overall, there is a higher level of trust today than in years past, and many believe the police department has taken steps to improve relations.
No local Ferguson
There is no city in the Oklahoma City metro near size of Ferguson (population 21,203) that has a majority of black residents. However, there are a handful of area cities and communities with sizable black populations, and in conversations with both community leaders and law enforcement from those cities, most agree that relations here, while not perfect, are better than in Ferguson.
"Some [African-Americans] in Midwest City feel that the law enforcement is against them," said Councilwoman Christine C. Price Allen. "But I think things are getting better."
Allen is the lone African-American elected official in Midwest City, which is 21 percent black, according to the latest U.S. Census Bureau figures. However, Ward 5, the ward Allen represents, is closer to 60 percent African-American.
Allen said she has looked for ways to strengthen the city's relationship with its black community since her election a few years ago and she believes the police department has taken steps to improve its image with minorities. However, she would like to see more minorities on the police force, where just seven commissioned offers out of 94 are black.
Midwest City's arrest stats show that 39 percent of all arrests are African-Americans, a rate nearly twice as high as the city's population demographics. While Allen says those statistics might lend cause for concern, the city's police chief believes the numbers do not tell the whole story.
"We take a community-based approach to [policing] that I think helps us connect with the neighborhoods and minorities," Midwest City Chief of Police Brandon Clabes said.
Clabes also said the rate of arrests does not take into consideration whether an officer initiated the arrest or was responding to a call. He also said officer employment rates struggle to mirror the community because there is a low number of minority applicants, which is something police chiefs complain of across the country.
Having stats on racial demographics of arrests and police employment can provide a starting point in discussing law enforcement relations with minorities, and it has been a major talking point in Ferguson, where, despite being 67 percent African-American, only 6 percent of the city's police officers are black, a statistic that has not created trust in that community. With police employment stats that are similar to Ferguson, Midwest City police have also drawn skepticism from blacks in the community.
"I think the black community in Midwest City is sometimes suspicious of police," said Charles, a black resident who did not wish to give his last name. "But that's part of the culture even if it's not based on actual problems. I actually don't think the problems you see in [Ferguson] exist here."
Knowing employment and arrest statistics at least gives the Midwest City police something to review. In Del City, where 18 percent of residents are black, the local police department could not offer racial breakdowns of arrests or police officers and said it would not offer those numbers following a request by Oklahoma Gazette last week. However, all five members of the Del City council and mayor are white.
Community Action Officer Roland "Rollie" Branham arrives in a Midwest City neighborhood to visit with residents on Big Oak Drive. mh
Oklahoma City
Midwest City and Del City have the largest percentages of African-American residents of area cities larger than 2,000. Unlike the St. Louis area, which includes Ferguson, no large cities in the OKC region are majority black. Those that are, like Forest Park and Arcadia, have fewer than 1,200 residents.
Oklahoma City is 15 percent African-American, and its police force is 6 percent black. Like Midwest City, police in OKC say there is a shortage of minority candidates and admit there can be a stigma in the black community about becoming a police officer.
"I think the relationship [between police and African-Americans], over time, has gotten far better than how it used to be," said Ward 7 Councilman John Pettis Jr., who represents a ward that is home to a large percentage of the city's black community.
Like Allen in Midwest City, Pettis said the police are often a topic of discussion between him and his constituents.
"Is it perfect? No, I would have to say it isn't perfect," said Pettis, who is the council's lone African-American member. "But I think we are getting better."
Pettis said he has done several police ride-alongs during his time as a councilman and will often pull over when he sees a lot of police activity in his ward.
"It's good for the community to see their councilman interacting in a positive note [with police]," Pettis said. "There is a negative view sometimes of the police department [in my community]."
Pettis also referenced the police department's citizen advisory board as a reason he views the relationship between minorities and police as improving. The 11-member board is made up of mostly minority citizens and reviews investigations when there is a citizen complaint.
Other programs, like the Police Athletic League, are designed to get officers out in the community, having positive interactions with young residents in an effort to build trust.
Pettis said blacks in Oklahoma City were closely following the events in Ferguson and he believes the situation points to misconduct by the police officer who shot an unarmed 18-year-old. But Pettis also believes the situation would play out differently in Oklahoma City.
"I don't agree with how that particular police department [in Ferguson] is handling things," Pettis said. "But I think Oklahoma City would handle things a little bit different."
Police officials in both Midwest City and Oklahoma City have agreed, saying they believe their departments would be better about releasing information.
PCR
The Oklahoma City Police Department also looks for ways to increase positive interactions between its officers and the community through the work of its police community relations (PCR) officers.
"The officer that is assigned to calls, they don't have time to talk about what happened two weeks ago or a month ago," said Erick Huff, a PCR officer in the Springlake Patrol Division in northeast Oklahoma City. "The PCR officers are ones that can spend a little more time in the neighborhoods, talking about the issues."
Huff said his role allows him to interact more with members of the community, listen to concerns and even offer explanation about an issue.
Huff, who is black, said he doesn't believe there is as much of a negative impression about police from the black community like there once was. He has been at neighborhood meetings where concern over race has been raised but has been able to talk with residents and help them see that most negative thoughts are based on events from another era.
Capt. Dexter Nelson, a public information officer with the department, agreed.
"When I was here as a kid ... you were always being told to be careful around police," said Nelson, who is black. "The black community has historically not been in a good light with law enforcement. It's just a historical fact across this country. But the younger generation hasn't had their own negative experiences."
Conversations with black youth and young adults in Oklahoma City yielded stories of perceived profiling and a general dislike for law enforcement. Told their names would not be printed, some said they felt like they had been stopped because of their race when driving in a mostly white part of town or have experienced officers using derogatory terms. But no one felt like the problems of Ferguson existed to the same extent in Oklahoma City, and most said they believe the majority of police officers are good people.
Of course, each person has his or her own perspective of the police and no individual or small group can speak for entire community.
However, both Huff and Nelson say the nature of the job is such that many people don't like a visit or stop from the police, no matter their race.
Trust
The key component in law enforcement relations with minority communities is trust, and that has been a hard thing to develop in many black communities across the nation. As residents in Ferguson complain that their local police department does not reflect the demographics of the community, the same could be said of departments in the OKC metro.
Local departments say they want to hire more minority officers, but that has been a tough goal to meet and might get even tougher.
"It is likely that the events in Ferguson will make it extremely difficult to hire African-Americans, at least in the near future," Ronald Weitzer, a professor of sociology at George Washington University who has written extensively about police relations with ethnic minorities, told The Kansas City Star in a story about police demographics.
However, while Oklahoma City and Midwest City might share the problem of a lack of black officers, few believe the same type of mistrust that is playing out in Ferguson is bubbling beneath the surface here.
That said, recent events have challenged the public's trust. OKC police announced last week that one of its officers had sexually assaulted at least seven women, all African-American, over the past several months. 2013 was the deadliest year in a decade for police shootings in OKC and sparked an investigative series on the use of deadly force, which highlighted the mistrust that police shootings can create, by The Oklahoman.
Through community policing, citizen advisory boards and youth activities, local departments have taken steps to promote positive interactions between officers and citizens, especially minorities. But police also say their job has never been about winning a popularity contest.
"A lot of people just don't like the police," said Clabes, remarking that it seems to be a trend that has gotten worse in recent decades. "This is a tough job."
---
Community policing
Oklahoma City police say they have several programs that are designed to promote positive interactions between the community and officers, especially in high-risk and minority communities across the city. Here are some of those programs:
Police Athletic League: The Oklahoma City Police Athletic League offers educational and athletic activities for children, primarily in high-risk neighborhoods. Police officers volunteer their time, giving children the chance to have positive experiences with officers. PAL is a chapter member of the National Association of Police Athletic/Activities Leagues, which is recognized as the largest juvenile crime prevention program in the nation. Police Community Relations officers: Oklahoma City's PCR officers spend time presenting information to neighborhood associations, businesses, churches and other groups, giving residents a chance to have more in-depth conversations with police officers. Each police division has a PCR officer. Citizens Advisory Board: Oklahoma City's Citizens Advisory Board is made up of 11 citizens, which includes several representatives of the city's minority communities. The police say the goal of the board is to maintain a partnership with the community in an effort to reduce crime and to enhance the quality of life. The board meets to review investigations into citizen complaints and provide feedback on how the department can improve policies toward the community.
---
Police demographics by the numbers
Oklahoma City, Del City and Midwest City are the three large cities in the metro with the largest African-American population.
Oklahoma City: population 15 percent black, officers 6 percent black Midwest City: population 21 percent black, officers 7 percent black Del City: population 18 percent black, officers not reported* *Del City Police said they were unable to provide officer demographics
---
Print headline: Not black-and-white, Events in Ferguson, Missouri, have put a spotlight on the relationship between police and African-Americans.