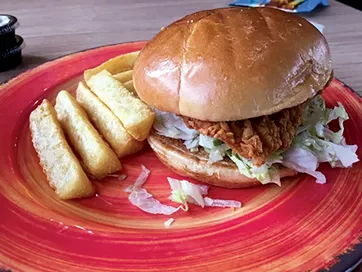 Jacob Threadgill
Pollo Campero's new extra-crispy chicken sandwich features a thicker breading than the one found on its regular fried chicken.
For millions of people in Central America, the sight of an orange box filled with crispy fried chicken from Pollo Campero produces the same feeling as a container with the golden arches in the United States.
The popular chicken chain founded in Guatemala in 1971 first expanded north to the States in 2002, but it has exponentially increased its footprint in recent years and now boasts more than 70 locations in the U.S.
Despite a U.S. headquarters in Dallas, the Oklahoma market was not on the company radar until the principal owners of CityBites Group (City Bites, The Cow Calf-Hay) contacted Pollo Campero with franchise applications.
"We basically talked them into the market," said Mike Woolf of City Bites and the newly established Campero of Oklahoma LLC. "It didn't make sense because Guatemala now has a general consulate here."
The Guatemalan consulate opened in Oklahoma City in 2017, and the country estimates that 25,000 Guatemalan expats live in Oklahoma, according to a story in The Oklahoman.
CityBites Group agreed to open five Pollo Campero franchises in Oklahoma over the next 10 years. Its first Oklahoma location opened in OKC at 1414 NW 23rd St. on Aug. 21 and immediately set domestic sales records for the company, both one-day and over a six-day period, according to Woolf.
"We had lines backed up past McKinley [Avenue] near [Oklahoma City University]," Woolf said. "They were over the hill on 23rd, and we had over 50 cars in line for the drive-thru. It was a lot of fun."
During the first few months of operation, Woolf said that the lore of Pollo Campero fried chicken has brought people from every neighboring state and as far away as Nebraska to get its famous fried chicken, which allows it to stand out in a crowded fried chicken market, even if you don't have a pre-existing relationship with Pollo Campero's Central American roots.
"Campero is completely different with the proprietary injection process and the breading with the Latin flavors that makes their fried chicken completely different from anything else you can get," Woolf said.
The chicken in the U.S. is supplied from three Tyson plants across the country; is fresh, never frozen; and uses an injection process for additional flavor. The chicken is breaded in-house, and the grilled chicken is marinated in spices and citrus.
Well-deserved hype
I was counting down the days until Pollo Campero opened. I wrote an ode to my favorite fast food franchise growing up in Southern California — El Pollo Loco — during my review of the local El Primo Loco, and I was hopeful that Pollo Campero's version of grilled chicken might hit the craving I so desperately need to be filled.
I'm still searching for grilled chicken as good as El Pollo Loco, which is obscured by years of built-in nostalgia, but Pollo Campero's overall offerings are well-executed — even if it's a widely accepted fact among people who grew up with the original Pollo Campero that its U.S. operations aren't quite as good as the Central American version.
Jacob Threadgill
The salad at Pollo Campero is available with grilled or fried chicken and ranch or white balsamic dressing.
On a pair of recent visits — one drive-thru and one dine-in — I was able to try most of Pollo Campero's relatively small menu. For a long time, it only offered plates of chicken with a choice of sides, but it has added salads and sandwiches this year.
I went through the drive-thru around 7 p.m. on a Saturday and didn't bat an eye when the line was 10 cars long; it was about what I expected for the weekend dinner rush.
I ordered a half-chicken plate with both fried and grilled chicken and tried the sides of rice, beans, french fries and street corn salad. The chicken certainly did not disappoint. The crust on the fried version is not as craggily as competitors like Popeye's and KFC, but it packs smoky and citrus flavors. I thought the grilled version more cogently delivered a lot of those same flavors without getting muddled by the grease of the fryer, but I was hoping for more chargrilled flavor.
My favorite side dish from that order was the street corn salad, which combines roasted corn, peppers, tangy cotija cheese, tomatoes and pepitas with dressing and is served cold. The rice and beans were well executed, but I was somewhat perplexed to find pinto beans when I know the Central American version serves black beans. The bits of chorizo floating with the beans were a nice touch, especially when mixing in the rice.
A second recent trip to Pollo Campero for lunch included trying its grilled chicken salad and crispy chicken sandwich. The chicken on the salad was served cold, which I assume is to keep its surrounding ingredients from wilting, but it was slightly disappointing. Nevertheless, it was an excellent quick-service restaurant (QSR) salad that ranks with Zaxby's as one of the best in the QSR realm.
It's a nice touch that Pollo Campero provides real silverware and plates for its dine-in meals. The sandwich featured an extra-crispy variety of chicken that had an extra layer of batter than its traditional fried chicken. On first bite, I thought the crispy chicken sandwich might rival my favorite fast food item, the spicy chicken sandwich from Wendy's, but the flavor didn't carry throughout the sandwich. I liked the accompanying Campero sauce, a smoky and sweet version of the ubiquitous gold-to-pink "house" sauces found at most QSR chains. Some of my favorite bites of the meal were dunking the yucca root fries, which were thick-cut and much better than the thin and unremarkable french fries, in the Campero sauce.
The real treat for me on my second visit was Pollo Campero's horchata. Woolf explained that they offer horchata de morro, which not every location carries. Native to El Salvador, the de morro version includes ground calabash seeds and a touch of cocoa for added richness and deeper flavor; it was a revelatory experience for me.
"Most people get the horchata with ice, but I recommend getting it without [because it dilutes the final product]," Woolf said. "It's a life-changer and the nectar of the Gods."
Even if you didn't grow up with Pollo Campero, it delivers sides and an overall chicken product that is well worth your visit. I'm excited to watch it grow throughout the state over the next decade.

Visit us.campero.com.