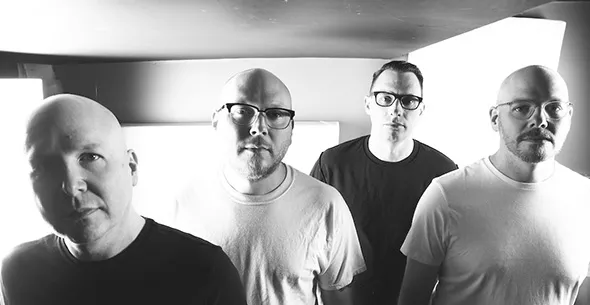 provided
Smoking Popes play Blue Note Lounge, 2408 N. Robinson Ave., Nov. 16 with Tulsa's Fabulous Minx.
Despite the title, Smoking Popes' Into the Agony was more enjoyable to record than some of the band's previous releases.
"The recording process for Into the Agony was kind of slow and piecemeal," said frontman Josh Caterer. "It ended up taking several months to record, but I like that process. It's a lot less pressure than going in with 10 or 12 songs and you've got a week to record and you feel slightly overwhelmed."
Agony, released last month, is the first album to feature the band's original lineup since The Party's Over, a cover album recorded in 1998 shortly before the band broke up. Caterer reunited with brothers Eli Caterer (guitar) and Matt Caterer (bass) to record 2008's Stay Down and 2011's This Is Only a Test with two different drummers. In 2015, drummer Mike Felumlee — who played with the Popes on Get Fired as well as breakthrough hit "Need You Around" (featured on the Clueless soundtrack) and through the height of the band's popularity touring with Green Day, Jimmy Eat World and Jawbreaker — rejoined the Caterer brothers in 2015.
"It felt good," Josh Caterer said. "It felt like some of our earlier recording sessions. The Destination Failure sessions were somewhat stressful because we were on Capitol and there was a lot of attention on what we were doing. So making Into the Agony felt more like the recording sessions we did leading up to Destination Failure when we could do things our own way and at our own pace without an A&R guy breathing down our neck."
Though Josh Caterer said 1997's Jerry Finn-produced Destination Failure is still the band's best-sounding album, he is more than happy with Agony.
"I feel like if I encountered somebody who was totally unfamiliar with our music and wanted to know where to start," he said, "I would definitely hand them the new record and feel like their first impression was going to be the strongest version of the band that they could get. But that's just me. I don't know. … We'll have to wait until we've all been dead 100 years and see what the historians say."
Agony's "When You Want Some-thing" looks back into music history from last century. Josh Caterer said the song is "specifically about being obsessed with Judy Garland." The album also features a cover of "Get Happy," a jazzy, gospel-inspired standard and one of Garland's signature songs, and an image of the singer and actress as album art. Garland inspires such devotion in fans, Josh Caterer said, because she was an undeniably skilled entertainer who delighted so many while remaining a complicated, tragic figure.
"There's this heartbreaking combination of her being upbeat and seemingly joyous and happy in her countenance while at the same time having a desperation that peeks through, a neediness," he said. "The way that those two things are woven together is largely responsible for why she has such an impact on people. … Maybe the fact that she was so talented and so in touch with her emotions in order to bring those things into her performing, that's the very thing that killed her. She was too hyper-aware of herself, her own flaws, seemingly, or maybe too hyper-aware of the emptiness of it all, and her whole career was this attempt to smile and sing in the face of the abyss."
Josh Caterer can relate but said he finds an outlet for his own dark side in music.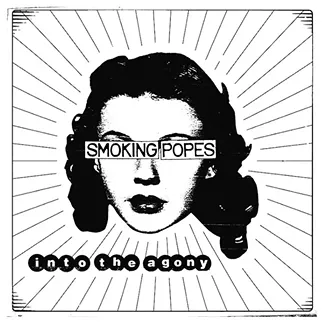 provided
Into the Agony by Smoking Popes
"I always feel like that kind of dangerous obsession and deep, destructive longing is in there, but I never really go all the way down that road," he said. "Sometimes the process of songwriting is using my imagination to flesh that out and say, 'Well, what if I did go all the way there? What if I just let that part of myself run wild? What would that look like?' I feel like a lot of our songs are like that, and this song is definitely an exploration of a part of myself that I try to keep in check."
Outside "Get Happy," religious references appear occasionally on Agony, but Josh Caterer, who originally quit the Popes in 1998 after converting to Christianity and formed the band Duvall to explore more explicitly Christian territory, said he isn't trying to convert anyone with this album.
"Sometimes I'll write worship songs to be sung in church, and I've released albums of that material, but any of those themes that show up in the Popes are there honestly," Caterer said. "It's not, like, an agenda. It's just because that's part of who I am and what I'm thinking about when I'm tackling the subject at hand."
"Melting America," for example, references the teachings of Jesus to illustrate how the U.S. is currently betraying the ideals it claims to hold dear in its treatment of immigrants. "Little Lump of Coal," meanwhile, protests, "We sold our soul for a little lump of coal just to keep ourselves warm through the night." The song's criticism of bad environmental stewardship and continued reliance on fossil fuels didn't sit well with some conservative Christians. When President Donald Trump won the Electoral College in 2016, Josh Caterer said he was initially surprised to discover that so many Christians supported the president-elect.
"When that happened, I couldn't make heads or tails of it because it was so obvious to me that this guy is the absolute antithesis of everything that Christianity is about," Josh Caterer said. "So how is it that so many Christians voted for him? As I looked into it and sort of waded into this discussion with Christian friends of mine, I discovered that most of the Christians that I encountered had actually been listening to these voices, like the Rush Limbaugh-type voices. … There's been a very deliberate and specific attempt over the last couple of decades to convince Christians that Satan is a Democrat, and I bypass that kind of conditioning by never plugging into those radio stations. I just go by what I'm seeing in the real world, and that's why I do feel a bit at odds with the political viewpoints of Christianity as a whole."
Though he doesn't agree with some of the political opinions espoused by fellow Christians, Josh Caterer said religion gives even his most pointed songs an optimistic viewpoint.
"I'm not naive enough to think that everything's going to be OK because there are a lot of things in the world that seem to be getting worse, and as we get older decay, disease, death, loss, all these things kind of creep in as we move forward," he said. "But in the midst of that, I have the basic belief that things are ultimately going to work out OK because I know God, and he's going to be with me, and he loves me, and whether it's here or on the other side, the final destination is a good one. That's a ray of sunshine that kind of beams through whatever I'm writing because I believe it."
Visit bluenoteokc.com.