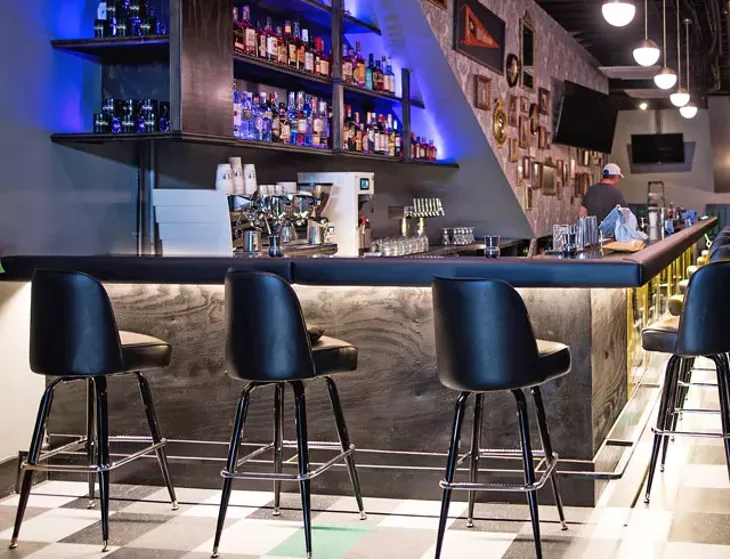 Photo provided
Ponyboy provides coffee from local roaster KLLR Coffee, specialty drinks and snacks.
The last thing 84 Hospitality restaurant group CEO Rachel Cope thought the end of 2017 was going to bring was the opening of another concept.
Cope and team opened three restaurants within the span of 12 months: Gor? Ramen in July 2016, Revolución Taqueria & Cantina in Nov. 2016 and Easy E Slice Shop in May 2017, a standalone service for Empire Slice House.
Tired as she might be, when development company Pivot Project approached Cope to see if she had a concept for the space on 23rd Street next to Tower Theatre for the former Savings & Loan Bar space, she perked up.
"I didn't think I was going to do anything else," Cope said. "I always wanted a bar. It was something we didn't have in the group."
Oklahoma emphasis
When it came to developing a concept for the bar, the Tulsa native kept coming back to her Oklahoma roots and the main character from
The Outsiders,
written by Tulsa native S.E. Hinton, became the inspiration. Ponyboy opened its first phase in early December at 423 NW 23rd St.
"We have people [in 84 Hospitality] from every part of the state, but our common link is that we're proud to be here," Cope said. "We didn't go anywhere; we don't want to leave and we want to show people that we're proud of where we live."
There is not much Outsiders memorabilia in the bar other than a photo of actor C. Thomas Howell as Ponyboy in director Francis Ford Coppola's 1983 film version. Instead, Cope decided to pay homage to another former Oklahoma City neighborhood hang, Grandad's.
Behind the bar, many vintage family photos hang alongside antique Oklahoma memorabilia. The family photos, donated from random members of the community through social media posts, are an homage to the setup at Grandad's.
"We want the neighborhood to feel like this is their bar or coffee shop," Cope said. "Once Grandad's went away, I missed the concept of the family photos on the wall. It was such a fun thing and smart because it made people feel like it was their bar."
Ponyboy had a soft opening Dec. 5, just in time for a Tower Theatre screening of The Outsiders, which was produced by Oklahoma City native Gray Frederickson, who attended the screening.
"It was so cool because he came in and saw the picture of Ponyboy on the back wall," Cope said of Frederickson's visit. "A movie that he made happen is now part of this hip new bar, and it's just got to be interesting to see things that you've been a part of becoming something completely new 30 years later."
Photo provided
A quote from The Shawshank Redemption lines the bar's back wall.
Phase one
Ponyboy is in the initial phase of operation — only the bottom 1,000-square-foot level is open for business, and a second floor will feature 2,000 square feet, a second bar and a stage for live music. It will open in early 2018.
Cope said she envisioned the second floor as a space that can be used to book smaller touring acts from Texas and the Midwest, as well as working with Tower Theatre to have artists that are too small for their main stage and too big for the 50-seat studio. Ponyboy already provides Tower's alcohol service.
Cope, whose sister Chelsey is a working Oklahoma City musician, booked bands at The Blue Note for years and wants to be deliberate about booking the second-floor space.
"I want to do stuff that we believe in and people want to see so that we're not just pulling an open mic, because there is already plenty of that in the city," she said.
The bar menu at Ponyboy includes five specialty cocktails, seven rotating beers on tap and five "boilermaker" combinations — a shot of liquor and beer either mixed together or taken individually. The boilermakers each have a corresponding character name from The Outsiders, like the Sodapop ($6) a shot of Wild Turkey and Mountain Dew.
Currently, Ponyboy only serves snacks, all of which are provided by Oklahoma companies. OKC's longstanding Woody Candy Company provides peanut brittle and Oklahoma-based Jerky.com is the retailer for two types of beef jerky. Ponyboy also sells a large dill pickle in honor of Cope's brother Dylan, who had the nickname growing up.
With no kitchen inside Ponyboy, Cope said that they might put to use a food truck the hospitality group bought earlier this year.
Cope said Ponyboy might include the option to buy a whole pizza from Empire Slice and have it be delivered to the bar, but they are still working through permitting issues.
Cope said that Ponyboy is different from other bars in the city because of its 11 a.m. opening and because it sells coffee from local roaster KLLR Coffee.
After a busy couple of years, Cope said that she's proud to work with Tower Theatre to help the continued revitalization of 23rd Street.
"Before we start a project, we always ask ourselves, 'Is this something I'm passionate about it? Will this benefit community and we fit?'" Cope said. "I think so on all accounts."
Print headline: Pony up; A new bar puts an emphasis on Oklahoma and pairs with Tower Theatre.