Poos Taekwondo is celebrating its long-standing tradition of excellence with its 40-year anniversary in Oklahoma. Founded in 1975 by Guy Poos, the dojo — or gym — that bears his name has long been the representative of Oklahoma martial arts on a national and international stage.
Beginning this fall, Jason Poos, Guy's son and the proprietor of Poos Taekwondo, 40 NW 144th Circle, will launch an association with the University of Central Oklahoma (UCO) to create an Olympic Athlete Training Resident Program, where eight top competitors from around the nation will live at UCO, go to school full-time and train directly with Jason Poos himself.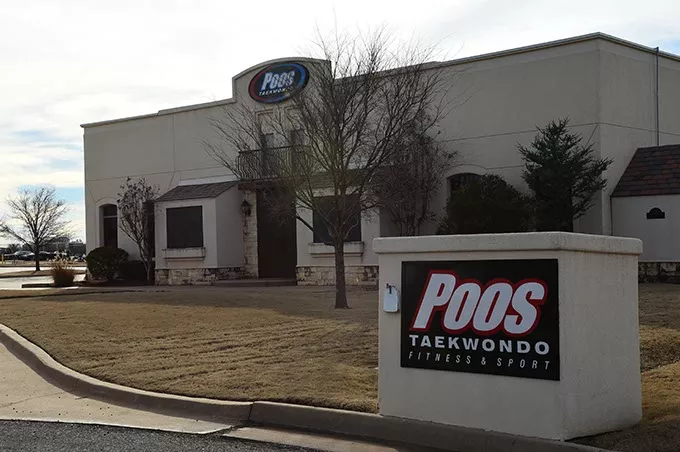 This program is the first of its kind in Oklahoma and also represents the first time that martial arts have gotten a serious look from a top university in the state.
Jason instructs the traditional self-defense aspect of the martial art and the trainers specialize in the competitive sport that is Olympic-style taekwondo. With more than 250 students currently enrolled at its gym and a large chunk of them competing in tournaments around the country, the competition inside the walls of the family-owned-and-operated business is as fierce as ever.
Guy Poos, an eighth-degree black belt and grand master, is still an active teacher at the gym, but Jason has been running the business for the last decade. Jason, also an instructor, is accomplished and respected within the higher rungs of the sport, which he has been vested in since age 14. Jason has accumulated numerous awards and decorations throughout his career — he has been named United States Olympic Committee Coach of the Year three times — and has produced more than 150 national medalists, 10 National Collegiate Team members and five US National Team members.
Although Poos has navigated and adapted to the ever-changing rules of competitive taekwondo over the decades, they haven't changed their core values. The main things that separate Poos Taekwondo from other establishments are the core principles that it was founded upon and the quality of the instruction the students receive. Poos Taekwondo heavily focuses on balancing discipline with fun. Guy Poos has woven several tenets into the fabric of how the dojo does things and how it operates — students will be courteous, have integrity and develop the ability to persevere.
"I believe that having educators as your instructors is best because they are patient and know how to work with all types of people, including children," Guy Poos said.
Poos instructors average 10 years of experience in martial arts, and a large percentage of them have taught in the Oklahoma Public School system.
The dojo is open Monday through Friday, and students at all belt levels (beginner, intermediate and advanced) can learn the self-defense aspect of the martial art a minimum of four times per week. Classes are typically 50 minutes long, and there are shortened 30-minute sessions for children ages 3-5 available as well.
Print headline: New tradition, Poos Taekwondo joins UCO to create an Olympic athlete training program.