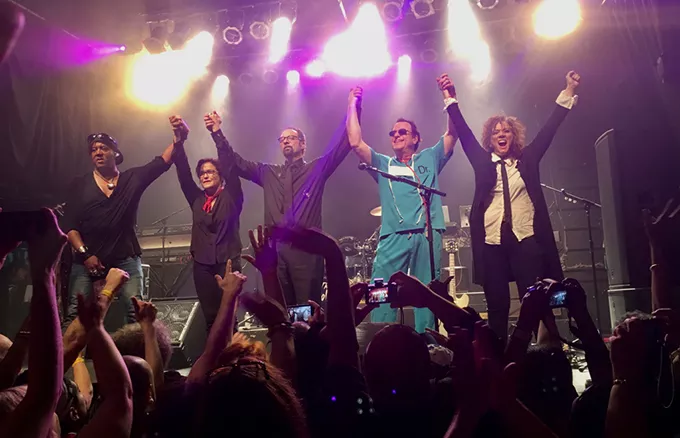 Ron Harris / provided
The Revolution
Downtown's annual Metro Music Fest has built a reputation for bringing in enticing headliners. Guided by Voices headlined the free festival last year. Other past performers include Moby, Dan Deacon and Chic's Nile Rodgers. But the names on this year's bill might just take the cake.
The Revolution, known as Prince's band through the early to mid-'80s Purple Rain era, and R&B legend Mavis Staples will both grace Metro Music Fest's main stage.
The daylong festival centrally located across multiple stages in Bricktown and downtown is held each year by the Academy of Contemporary Music at the University of Central Oklahoma (ACM@UCO). The event gives current ACM students the chance to share a festival stage with prominent local bands and big-name national acts.
The Revolution is scheduled to perform 9-10:30 p.m. April 6 on Metro Music Fest's AT&T Main Stage east of Zio's Italian Kitchen, 12 E. California Ave. Staples precedes the band 7:30-8:30 p.m. on the same stage.
Less than two years removed from Prince's death in April 2016, The Revolution's appearance carries a lot of significance for local fans still searching for a proper goodbye to one of popular music history's most iconic figures. The band's current form boasts the entire Purple Rain 1984 lineup (minus Prince), including vocals and instrumentation from duo Wendy & Lisa (guitarist Wendy Melvoin and keyboardist Lisa Coleman), bassist Brown Mark, keyboardist Matt "Doctor" Fink and percussionist Robert Rivkin, commonly known by his nickname Bobby Z.
The Revolution officially dissolved in 1986 after some abrupt lineup changes made by its lead. But the band reformed after Prince's death, both as a service to grieving fans and as a way to work through the members' own emotions.
Rivkin, in a recent interview with Oklahoma Gazette, said it's clear to him that The Revolution's shows are as much group therapy as they are entertainment.
"It's not just a band and an audience in this case," Rivkin said. "There's still grief and mourning being exchanged. We're all in shock and scratching our heads about how Prince is not still walking the earth."
Though Prince dropped Rivkin as his drummer in favor of Queen of Percussion Sheila E., the two were very close friends at one point and remained friendly through the years. He said The Revolution's shows the past two years have been a chance for fans to not only hear songs like "Purple Rain," "Let's Go Crazy" and "Computer Blue," but to hear them played with the kind of authentic arrangements and energy most would have assumed were lost to time.
"We're transferring that energy onto the audience," Rivkin said, "but it's still the same energy as if he was in the room."
Prince was the most talented and most creative person Rivkin said he has ever met, and most people who worked extensively with the Minnesota-born music legend would likely say the same thing. Recognizing his immense talent and knowing him personally as well as everyone in The Revolution did, there has been a lot for the band to process in two years. Rivkin said the shows have helped him work through a lot of it.
"We're all just trying to make sense of it all," he said. "He left this incredible music behind and this band that wrote the arrangements firsthand, so as long as we can, we want to experience that with people."
Robert Georgeff / provided
Drummer Robert Rivkin, commonly known as Bobby Z., was one of Prince's closest friends during The Revolution's early years.
Modern learning
It is appropriate that The Revolution is playing a festival run by a music school because one of Prince's loves was teaching others. A lot of the arrangements the band will play today are exactly the way the musician himself taught them to play it.
Formal music schools are much more prevalent today than they were back when Rivkin was a young musician.
"Watching The Ed Sullivan Show was kind of our master class back then — seeing The Beatles and Charlie Watts [of the Rolling Stones] and all the Motown acts," he said.
Rivkin said he received a lot of his early training from other talented musicians he knew, some of whom had been classically trained themselves and passed him their knowledge secondhand. But to learn about the business side of music, he worked as hard as any college student.
"I dove into the books that they had back then about the business of music and publishing, the difference between artist royalties and mechanical royalties and all of that stuff," he said. "You've got to know it. If you don't know it, you're not going to know the currency for how to talk and how to do this for a living."
Rivkin said formal music education will always be advantageous for those hoping to best navigate the non-creative side of the industry. But he also recognizes that there is no one-size-fits-all piece of advice he can give to younger generations. Music in general has changed a lot since his formative years in the '60s and '70s.
"It's completely different from when I started out young," he said. "There's a lot more bands and music, a lot more interest, a lot more everything. It just kind of consumes everyone's daily life."
Cherished moments
Rivkin had his first near-fatal heart attack in 2010. There is a long history of heart problems on his father's side of the family, and ever since that original scare, he has been both vigilant of his own cardiovascular health and a public proponent of disease awareness.
Still, Rivkin suffered another attack in late 2016, just months after the death of Prince and not long after an emotional concert The Revolution played in Minneapolis' First Avenue nightclub, heavily featured in the Purple Rain film.
If Rivkin had not already recognized his heart attack symptoms the second time, The Revolution might have been memorializing him, too. The drummer recommends blood testing for older people. Younger people can be preemptive about their heart health by staying conscious of their diet.
"You can always prepare yourself for the future," he said. "Not every meal has to be fried chicken."
Rivkin said his first impression of Prince was that he was shy, as many others have recognized through the years. But he quickly saw that there was so much more to him.
"Underneath it all was something superhuman that was apparent to me very early on," he said. "I saw the talent immediately."
Watching Prince work, he said, was on the same level as watching Leonardo da Vinci or William Shakespeare. Prince's genius did not become known to the world overnight, but Rivkin was confident that everyone else would eventually come to see the same things he saw. In fact, he banked his whole career on it.
While Rivkin recognized Prince's immense talent, he also did not spend a lot of time thinking about how his work in the band might eventually earn him a place in music history. There was no time for perspective.
"When the train is going 100 miles per hour, you're just riding and hanging on," he said.
Retrospectives should instead be saved for memorials, and these Revolution shows are very much that. Rivkin is endlessly thankful for having played a role in Prince's musical legacy and grateful for the chance to bring it all full circle.
"We were just lucky to have this music and the film and this moment of time which, for a while, just seemed to be frozen," he said. "It was frozen to everyone for a long period of time, and now we're kind of bringing it back to life in light of his passing."