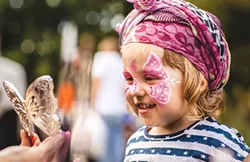 For the first time, Pop Up Shops plants its stakes in Edmond with its spring show 9 a.m.-4 p.m. Saturday at Hafer Park, 1034 S. Bryant Ave.
"We have a ton of people that have little, local businesses here in Edmond that they are starting out on Facebook or through mobile boutiques," said Kristina Vernon, Pop Up Shops cofounder. "We really just want to let people keep it small, keep it local and really support people that are trying to grow their businesses."
Pop Up Shops is a traveling show featuring over 130 local vendors and dozens of activities, including boutiques, small businesses, wine and beer tastings, crafts, face painting, junkers, inflatables, a petting zoo and more. Food trucks are also on-site, along with live music from Saige Cross, Willow Way, Annie Oakley, Ben Brock and Mark Vollerson. Live music starts at 10 a.m. and ends at 3:45 p.m. Event admission is free.
Food truck vendors include The Sugar Shack Sweets & Treats, Macarena's Mexican Street Cafe, Fresh Ice, Rolled Up, OKCity Grill and Metro Minis OKC.
Vernon and cofounder Heather Eldridge said they both anticipate Hafer Park will become home to Pop Up Shops' annual spring show.
The women started Pop Up Shops because they wanted a show that attracts a diverse variety of vendors, draws larger crowds and supports local causes.
Vernon said their vendor selection process is thoughtful and thorough.
"No. 1 is we don't allow direct competition. That helps the vendors make more money, and it also helps the local shops and people that are trying to build their businesses grow," Vernon said. "Keeping it local is a really big deal for us. We don't allow out-of-state vendors."
Attendees can also buy raffle tickets for prizes such as a cruiser bike, double-park season passes for four to Frontier City and White Water Bay and a four-admission package to Science Museum Oklahoma and The Oklahoma City Zoo. Raffle proceeds benefit Guthrie-based nonprofit Peppers Ranch, which strives to break the cycle of childhood abuse with services that offer stability, education, nurturing and tutoring as youths and families work through the foster care system.
Vernon said Pop Up Shops always chooses an organization to support at its various events. Organizers selected Peppers Ranch since it offers vital services, but it's not well-known.
"We've met the kids, and we met the family from Peppers Ranch, and they are really great people," Vernon said. "We can't volunteer a bunch of our time to go out and help, so to be able to help them and be a part of that is really nice for us."
For more information on Peppers Ranch, visit peppersranch.com.
Print headline: Family fun, Pop Up Shops launches its spring event at Hafer Park in Edmond.