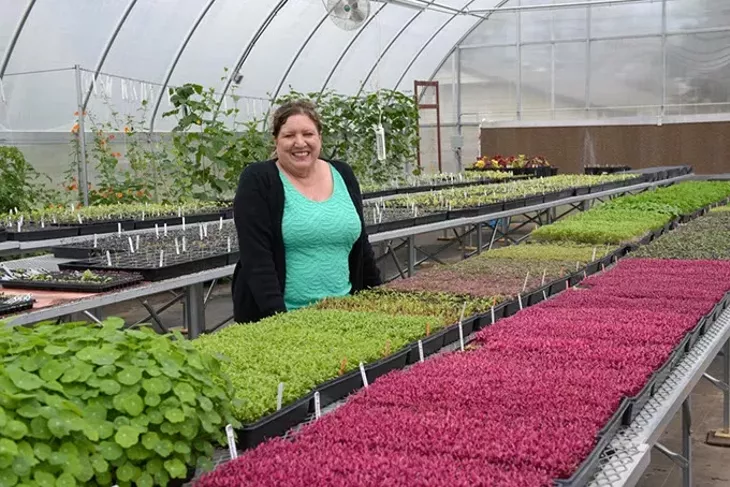 Garett Fisbeck
Julia Laughlin poses for a photo at Prairie Earth Gardens, Tuesday, April 4, 2017.
Maybe the name Julia Laughlin doesn't immediately ring any bells, but chances are most Oklahoma City residents enjoy her work.
She is perhaps most recognized as co-host, alongside Gwin Faulconer-Lippert, of News Radio 1000 KTOK's popular Saturday program The Garden Party. For years, she taught sustainable growing at Oklahoma State University-Oklahoma City and, as a faculty member, helped kickstart the school's popular Saturday farmers market.
Even those who aren't into gardening have likely eaten Laughlin's work at local restaurants. She manages northeast Oklahoma City's Prairie Earth Gardens, 8500 N. Eastern Ave.
The farm, situated on the land of local businessman James Pickel, provides fresh, organically grown produce year-round to about 25 local chefs and restaurants. A Good Egg Dining Group, Ludivine, Mary Eddy's Kitchen x Lounge, Hatch and En Croute are a few of its most frequent buyers.
"It's so fun growing food for restaurants, and the chefs get so excited," Laughlin said. "They're like artists — every piece of their media has to be perfect."
Laughlin spent decades assisting Oklahomans with their growing and farming needs, but things started to get really interesting in her life when she retired from teaching in 2014.
Almost simultaneously, she was offered Prairie Earth and KTOK gigs. The regular radio spot allowed her to continue helping and teaching others, which she says is one of her true callings. Although she practiced some small-scale sustainable growing on her own land during her teaching career, Laughlin said working with Prairie Earth allows her to utilize and experiment with the techniques she spent years telling other people about.
Kids have their jungle gyms and sandboxes. Laughlin said the gardens are her playground.
"Now I really get to play, which is cool," she said.
Garett Fisbeck
Carrots at Prairie Earth Gardens, Tuesday, April 4, 2017.
Sustainable practice
Laughlin comes from seven generations of vegetable producers. She grew up in Las Cruces, New Mexico, a few miles south of the family farm in nearby Hatch, the region from which the eponymous green chiles originate.
She attended Oklahoma State University because the school's agriculture programs were recognized as among the best in the country. Through several career opportunities and starting a family, she has never had reason to leave her new home.
Prairie Earth Gardens can't technically be called "organic" because its business is currently too small to qualify for official certification. Still, the farm uses organic growing practices. It sells produce to private citizens who have signed up for its online mailing list.
In the 1980s and early '90s, Laughlin spent the first six years of her career in a local county extension office, trying to convince growers not to use pesticides. She said few people accepted the idea that using synthetic chemicals could be a bad thing. Sometimes, little consideration was paid to recycling or composting on an individual level.
"Now, everyone is into it," she said. "Therefore, there's a lot of products and stuff available, too. You can go into almost any store and get an organic fertilizer or organic pest control."
Laughlin said the key for those who want to adapt some sustainable growing practices at home is to not overwhelm themselves too quickly. Composting green kitchen waste is a fairly simple first step. Those still new to gardening are advised to seek guidance from their county extension office and start small.
"Pick something easy," Laughlin said. "Herbs are easy to grow. Just do one basil or some mint in a pot on your porch and I promise you'll have fun."
No one should feel weird about asking for help. Laughlin said cooperation is an important part of the farming ethos.
"Even if we had farms on every corner, we'd never be able to grow enough food for all of us," she said. "There's not a lot of competition between farmers. We're more about helping each other. We're a close-knit community."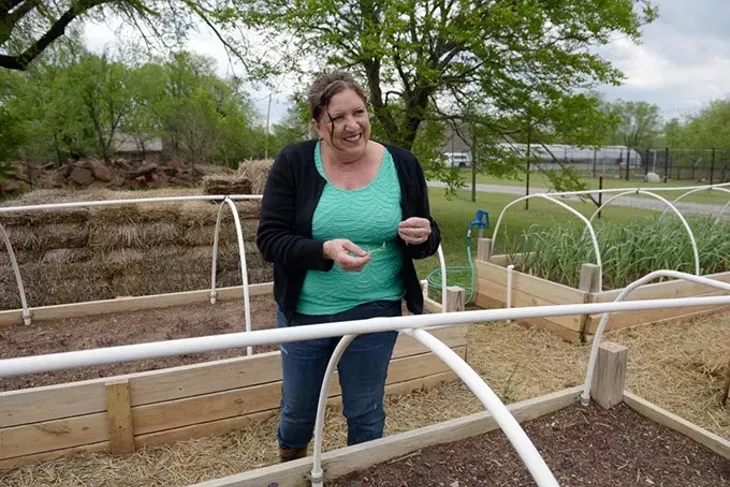 Garett Fisbeck
Julia Laughlin at Prairie Earth Gardens, Tuesday, April 4, 2017.
Taking questions
Nearly every job Laughlin has held in agriculture assisted others in some way. The Garden Party is a natural continuation of her calling.
"That's why the garden show is perfect, because I love to help people," she said. "I take a lot of questions. I even take questions on email between shows."
Before joining as a regular co-host in 2014, Laughlin sometimes filled in as a guest host. She said she has developed great on-air chemistry with Faulconer-Lippert, who shares a similar background in education.
Faulconer-Lippert also is a broadcasting and media professor at Oklahoma City Community College.
Laughlin's co-host sometimes "plays dumb," like asking whether one should plant something leaf-side down. She said this keeps the show light and funny but also helps create an atmosphere in which callers aren't afraid to ask what they think might be dumb questions.
"She's really smart," Laughlin said, "but she knows how to say things that get people to feel comfortable asking questions."
Likewise, Laughlin makes a point to demonstrate to listeners that she's not infallible and that failure is a part of learning.
"I share things we make mistakes on, and I think that makes them more comfortable," she said.
Laughlin knows there are other people local gardeners and farmers could call with their questions, and she will always recommend contacting county extension office officials. Still, few ways are as fun as calling into The Garden Party. And Laughlin is as eager to assist as her fans are to get on the air.
"I like to help people," she said. "That's the main thing."
The Garden Party airs 11 a.m.-1 p.m. Saturdays on 1000 AM radio. Listeners can call in at 405-840-1000. Visit facebook.com/prairieearthgardens.
Print headline:
Party person,
KTOK radio expert Julia Laughlin dedicates
her life to sharing sustainable growing
and farming techniques.