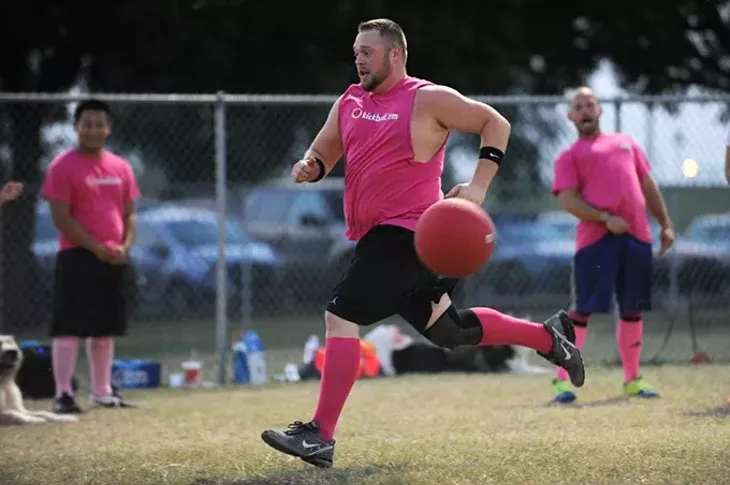 Garett Fisbeck
Justin Joplin runs for home during a WAKA Kickball game at Eggeling Stadium at Wheeler Park in Oklahoma City, Tuesday, Aug. 26, 2015.
When it comes to pseudo-athletic games involving friends and adult beverages, James Speegle is the man to see.
"If it's almost a sport, then I'm into it," said Speegle, owner of Oklahoma City's WAKA Kickball & Social Sports franchise.
A group of Washington, D.C. young professionals formed the World Adult Kickball Association in 1998 to recreate their college social experiences. Today, thousands play in more than 250 leagues in 35 states, including Oklahoma, where social sports are gaining in popularity. Speegle said about 1,500 local people play WAKA sports, including kickball, dodgeball and bowling.
When he moved to OKC six years ago, Speegle wanted to play kickball but found no organized leagues. He formed one himself in 2010, bringing together 127 players among seven teams and now runs leagues year-round.
Players must be at least 21 to join, and ages range from college to over 40. Last year, two teams formed from 50 strangers who used the Tinder dating app.
"We focus on the social aspect first and foremost," Speegle said.
Garett Fisbeck
Bri O'Neal reacts after tagging out Matt Quinn during a WAKA Kickball game at Eggeling Stadium at Wheeler Park in Oklahoma City, Tuesday, Aug. 26, 2015.
He believes in the social sports concept so much that he opened Beacon Bar, 2525 NW 10th St., to host participants. Formerly JJ's Saloon, it also offers games such as corn hole, giant Jenga, footpool (cue sports with soccer balls on a 17-foot pool table) and fowling (a football-bowling hybrid). There's even a beach volleyball court.
WAKA also does charity work. Local teams recently competed in a coin war benefitting Alzheimer's Association, and a spring food drive helped local food pantries.
Fall kickball leagues are now forming. Games start Sept. 15-17 at Ted Reynolds Park, 2899 W. Reno Ave. Visit kickball.com/okc for information.
Nontraditional sports
Oklahoma City Parks & Recreation will offer adult leagues in two new nontraditional sports this fall: bubble soccer and futsal.
"We want to expand our scope of services by offering activities that go beyond our basic fitness programs," said Department Director Doug Kupper. "Both futsal and bubble soccer provide new ways for people to explore nontraditional sports."
Bubble soccer is a full-contact sport in which players wear inflatable bubbles, called zorbs. Invented as a joke by two Norwegian comedians in 2011, it spiked in popularity in 2014 after an Italian video of the game went viral.
OKC's bubble soccer league runs 6-8:30 p.m. Wednesday through Oct. 7. It is open to adults age 18 and older, and players must be out of high school. Up to 20 people are allowed per team. League fees are $125 per team. Games will be at Foster Recreation Center, 614 NE Fourth St. Teams can sign up by calling 297-1423.
Futsal is a form of soccer played indoors on a hard surface such as a basketball court. Futsal means "room football" in Portuguese. The ball is smaller and harder, which makes it go faster.
Futsal leagues run Sept. 5-Dec. 5 at Foster Recreation Center and at Woodson Gym, 3401 S. May Ave. Games are 1:30-4:30 p.m. Saturdays. Players must be at least 18 years old and out of high school. Fees are $350 per team, and there is a maximum of 20 players per team. Call 316-6837 for information.
---
Print headline: Sporting socially, Kickball and other adult social sports are growing in popularity.