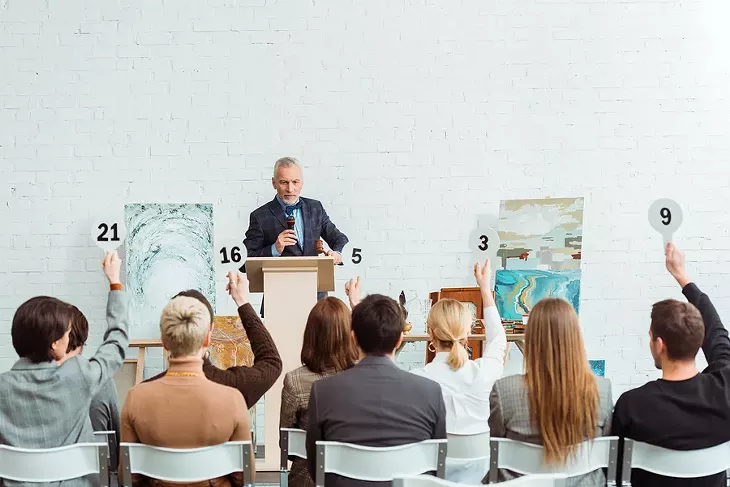 Oklahoma City's largest local art auction, Allied Arts ARTini sponsored by Tito's Handmade Vodka, will be held virtually on Friday, May 1, from 6:00-10:00 p.m. Due to generous support from sponsors and ticket holders, Oklahoma artists will receive 100% of the sales on their sold art pieces.
The ARTini virtual art auction features over 100 paintings, drawings, sculptures, photographs and more by local artists. Additionally, participants will have the chance to bid and win on eight silent auction packages.
"Right now, local artists need support from the community," said volunteer event-chair Amy Davis. "We are honored to offer a platform for them to connect with the community and keep 100% of the proceeds from their sold pieces."
The bidding will open on Friday, May 1, at 6:00 p.m., but Allied Arts encourages participants to download the Handbid app from the Apple App Store or the Google Play Store prior to the event to browse art pieces and mark favorites for easy bidding.
This week, Allied Arts will share artist spotlights, sponsor shoutouts, martini recipes and more on their social media accounts @AlliedArtsOKC.
For information on registering or bidding, contact blair.sims@alliedartsokc.com. For a complete list of sponsors, visit
AlliedArtsOKC.com
.
About Allied Arts
As a United Arts Fund, Allied Arts works to broaden support for the arts by raising financial support for cultural organizations, encouraging participation and attendance, advocating for arts education, and promoting excellence in the arts and arts management. Since its founding in 1971, the organization has raised more than $70 million to advance the arts in central Oklahoma. Learn more at www.alliedartsokc.com.
Allied Arts counts more than 40 nonprofit cultural organizations under its umbrella. Member agencies include:
Ambassadors' Concert Choir
Arts Council Oklahoma City
Canterbury Voices
Carpenter Square Theatre
Cimarron Opera
deadCenter Film
Firehouse Art Center
Lyric Theatre of Oklahoma and Thelma Gaylord Academy
Mabee-Gerrer Museum of Art
Metropolitan School of Dance
National Cowboy & Western Heritage Museum
OK City Chorus
Oklahoma Children's Theatre
Oklahoma City Ballet
Oklahoma City Museum of Art
Oklahoma City Philharmonic
Oklahoma Contemporary Arts Center
Oklahoma Shakespeare
Oklahoma Visual Arts Coalition (OVAC)
Oklahoma Youth Orchestras
Opry Heritage Foundation of Oklahoma
Prairie Dance Theatre
Red Earth, Inc.
Science Museum Oklahoma
The Sooner Theatre
For more information, contact Allied Arts at 405-278-8944 or visit
alliedartsokc.com
.