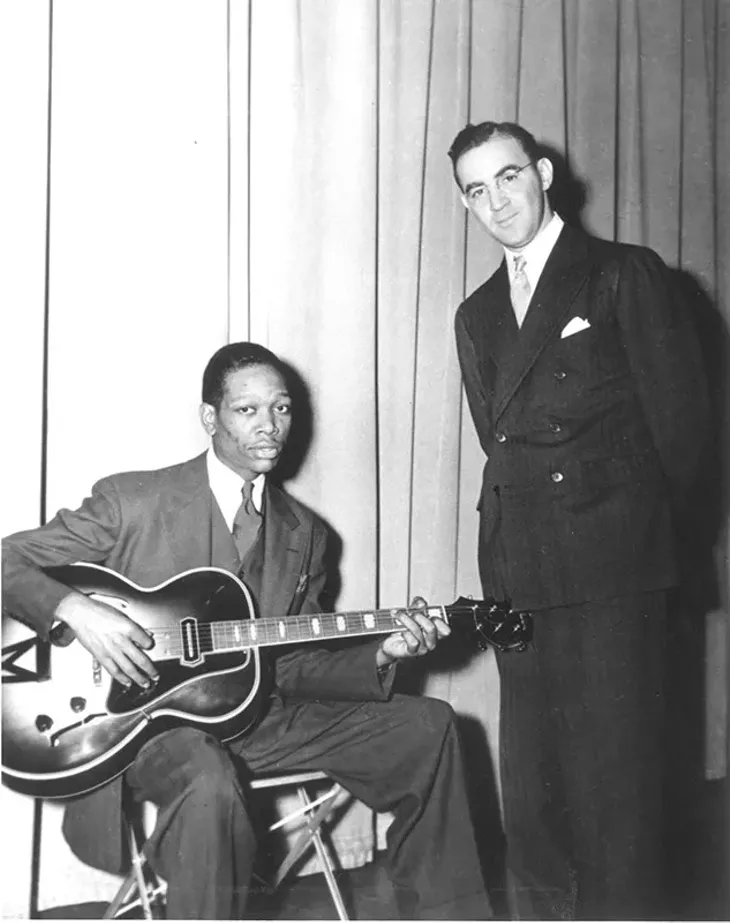 Provided
Charlie Christian and American jazz and swing musician Benny Goodman.
Great jazz musicians possess the nerve and skill to improvise beyond written notes on a page, becoming bare for criticism or praise with each newly formed measure.
As testaments to this strength, these artists are often recognized as individuals rather than part of a band. Oklahoma City's Charlie Christian was one such talent that stood out without accompaniment.
Christian is known as the first major solo guitarist who brought the instrument out of the rhythm section. Despite a short career before tuberculosis led to his untimely death at age 25, Christian is cited by many renowned artists — such as Wes Montgomery, Santana, B.B. King and T-Bone Walker — as a key influence in their musical development.
The jazz guitarist's early inspirations came from his creative family. His blind father was a singer, trumpet player and guitarist, and his mother played piano. Christian's two brothers, Clarence and Edward, also were musicians. Edward was once a member of the Blue Devils, a prominent Oklahoma City jazz group that included notable musicians like William "Count" Basie. The Blue Devils as well as Western swing kings Bob Wills and the Texas Playboys, which Christian listened to on the radio, were influential in shaping his music.
Jazz artists from around the country came to Oklahoma City, including saxophonist Lester Young in 1929, which Ellison recalls as "perhaps the most stimulating influence upon Christian."
"Deep Deuce is a working laboratory where he [Christian] can hear the musicians coming through and play with them," said Hugh Foley, professor of fine arts at Rogers State University and author of the Oklahoma Music Guide. "Since he was a kid, he's had constant on-the-job training."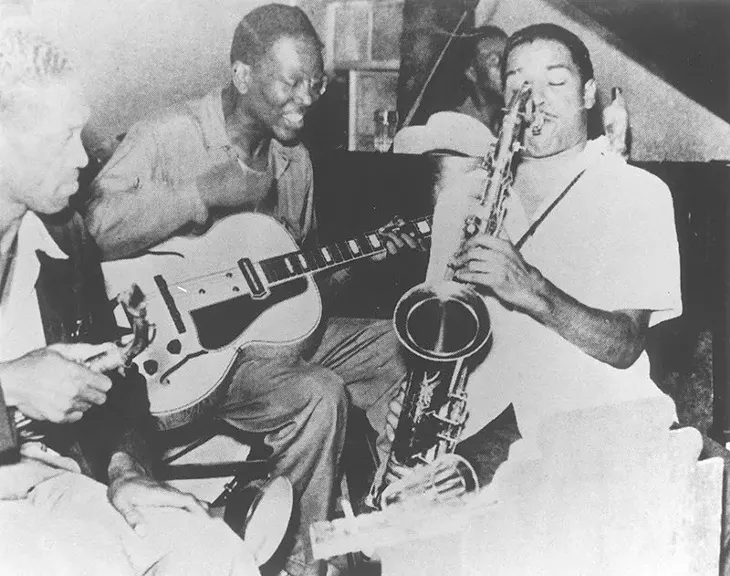 Provided
Charlie Christian
Family Q&A:
Growing up in Oklahoma, Freddy Jenkins remembers Charlie Christian's portrait displayed on multiple family members' mantles.
As a second cousin of Christian, Jenkins and his children are the only known living relatives of the prolific jazz guitarist. Christian's only daughter, Billie Jean Christian Johnson, lived in Oklahoma City until her death in 2004.
While Jenkins was born a few years after Christian died in 1942, he heard stories from his parents and others in his family who knew the musician.
In 2007, Jenkins attended Christian's induction in the Jazz at Lincoln Center's Ertegun Hall of Fame in New York City. He has returned to Oklahoma City for the Charlie Christian International Music Festival and went to Bonham, Texas, Christian's birthplace, when the small town dedicated a street to the jazz guitarist in 2012.
From his current home in Tucson, Arizona, Jenkins shared how his family honors the jazz legend.
As a child, what did you learn about Christian?
We had this picture of a good-looking guy with a nice smile and pinstriped suit. Everyone in the family had one. I remember asking 'Who is that?' and my mom saying 'That's your cousin Charlie.' As a little boy, my family would get together and play his music. It didn't mean a lot to me at that time. I knew his [Christian's] mother and his brother Clarence, who was also a musician and played several instruments. Clarence introduced my mother and father to each other.
When were you aware of Christian's significant influence?
While I was a young man in the Air Force, I listened to some jazz music with a friend, and he had [jazz guitarist] Wes Montgomery playing. I picked up his album and was reading over it, and Wes wrote about how he would never be an accomplished guitarist until he was able to play like Charlie Christian. I called my mother and told her about it and thought 'wow.' From that point on, when I heard Christian, I paid attention. I started to collect his records and everything I could that pertains to Charlie.
How do you hope to keep Christian's legacy alive?
I have two sons and six grandchildren. My youngest son has taken an interest in Charlie. I don't know if my grandkids understand or not. The current generations are like me when I was young. They are just coming to grips with the reality of his greatness.
Look for more background, interviews with modern musicians and more history about the OKC-tied jazz icon the Sept. 3 edition of Oklahoma Gazette!