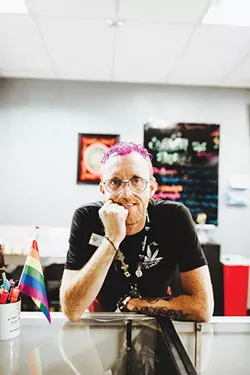 Alexa Ace
Daniel Newberg is the owner of No Rhyme or Reason Shoppe.
It has been seven months since Daniel Newberg was thrown into the back of a prisoner transport van and paraded around the state of Texas through the Thanksgiving holiday. While No Rhyme or Reason Shoppe has since opened its doors as a cannabis dispensary, the first part of 2019 has not been a breeze.
Once a Texas judge cleared the warrant for a failure to appear charge that consumed nearly a month of his life, his Oklahoma Medical Marijuana Authority (OMMA) license was approved and he has converted the CBD and kratom shop into a full-fledged dispensary.
The portfolio he had assembled containing growers and other product vendors vanished around the time he was arrested and he had to start again from scratch, using Google and word of mouth to build contacts.
"It came close to me almost giving up, but I pushed through and we're here day by day and now we're working on the next one," Daniel Newberg said.
When Daniel was in jail, Dominique Newberg, his cousin, took over operations while she was finishing up her semester at University of Oklahoma.
"Him going away had a pretty negative effect on all of these locations because I was in school full-time, trying to run the businesses, and we didn't have manpower. Daniel was the sole owner and still is, obviously, but he was the sole owner and ran everything all by himself. … It really had a big impact. We were just barely trying to survive while he was gone," Dominique Newberg said. "I took off that semester to be in school, so I was out of the loop of everything. And obviously, we had no forewarning that that was going to happen, and so he just got taken away and I just went into overdrive, trying to put out fires every day. But I think there was negative press too because the police officers came in full riot gear to all the locations, searching for Daniel the day they took him."
"Our sales immediately went down," Daniel Newberg said.
He shuttered his store on NW 23rd Street after the city told him that it was not properly zoned for retail sales, and the ensuing chaos of his arrest began a chain of events that resulted in him also closing his Norman store. His location at 8109 S. Western Ave. still only sells kratom and CBD, but his location at 4305 N. Meridian Ave. will also be converted to a dispensary this summer.
However, he has had his Facebook accounts removed and his bank accounts were closed after the dispensary started doing business.
The store that landed him behind bars, 7910 N. May Ave., has been completed and is moving along, but even that store has had its share of speed bumps.
"I had my banner flags out that I've had since day one, mind you, at all my stores out on the corners, in the grass. Same time frame as everything else, the bank accounts and the Facebooks, I get warning letters from the city," Daniel Newberg said. "This location first, saying that's not allowed without a permit. So I take time out of my day, drive down to the city, and they laughed at me, saying, 'There is no permit. That's just the inspectors wanting to not have confrontation while they're out. You just can't have it.' … I've been using them actually in the apartment industry, so that'd be 15-17 years, never had an issue with them. So this year, all three of my locations at once; that, to me, is somebody calling it in. And that's even what they said down there. They're like, 'We don't know and we don't go to it unless somebody calls us."
But like every other obstacle that he has endured in this industry, Daniel Newberg finds his way.
"I went out and bought a $250 truck, and I've attached my flags to it and I pull it out every morning," he said. "I hate to say it, but since [State Question] 788, a year has passed; I've seen so many negative vibes from people. To me, it's mind-boggling because I'm here for the patients and offer them a healthy alternative and there's plenty of patients for us all to make money, so I don't try to talk negative about anybody. I don't like the negativity that I've seen. So I just keep to myself and take it day by day, but we're doing okay."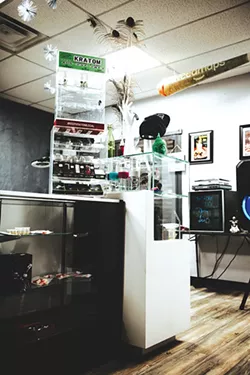 Alexa Ace
No Rhyme or Reason Shoppe, 7910 N. May Ave.
Looking forward
The arrest also put a strain on Daniel Newberg's personal life. He and his husband were never able to patch up their relationship afterward.
"We're still not together, and that's probably the toughest thing out of everything," Daniel Newberg said. "I guess it's too hard on a relationship."
No Rhyme or Reason will be represented this weekend at Oklahoma City Pride with both a booth and a parade float.
"Robin [Dorner] stops in here. She's the editor for The Gayly. She may not know this, but she's actually helped me out quite a bit these last few months," Daniel Newberg said. "And she's lined me up with a couple of meetings, so there's some other things in the works too. But talking to her and her giving me advice on losing my marriage and all that stuff, it meant a lot to me, but I guess that's what gave me the idea to even be in the parade and have a booth out there just to spread our name a little bit better. It is my community. I've never done that before. I should have. We're also looking for a charity to work with closely over the next few months too, so I have a few that Robin gave me. Like I mentioned briefly, she doesn't know it, but she's actually helped me emotionally quite a bit."
The parade float is still being designed and worked on.
"It's our first one. None of us have any experience, so hopefully it'll look good. If not, I'm still going to drive it through there," Daniel Newberg said. "There's going to be a lot of rainbows. You may see me in a marijuana suit."
After Pride, he is going to start looking into getting a growing license and trying his hand at cultivating cannabis.
"We're already known for having the best kratom, and I want to be known for having the best cannabis," he said.
Visit okckratom.com.