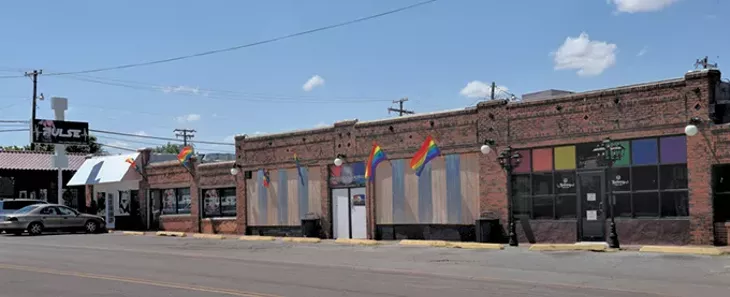 Karson Brooks
39th District Association is working to beautify its area, bringing color to a neighborhood that spent years trying to be as nondescript as possible.
Depending on when you visit, Oklahoma City's version of a "gayborhood" might seem like a far cry from the bustling shops of New York City's West Village or the sand-laden streets of Provincetown. In a major revitalization project, a community of hard-working individuals are banding together in an effort to change that.
Sandwiched between Youngs Boulevard on the west and Pennsylvania Avenue on the east, 39th District — an area properly named after the street that runs through it — is a place Diversity Center of Oklahoma calls "the heart of the LGBTQ+ community." And while it has been around for several decades, serving individuals from all walks of life, only recently have there been substantial efforts to renovate the district in its entirety.
"Right now, let's face it — it's almost an urban blight — even though inside the clubs are nice and clean. … Just to walk down 39th Street, it just doesn't have really good curb appeal," said Craig Poos, president of 39th District Association.
Poos owns two local businesses in the district: Apothecary 39 and Phoenix Rising.
According to Lauren Zuniga, director of 39th District Association, the area is home to 45 businesses and organizations. Revitalizing the district would serve to bring awareness to these places while simultaneously creating an environment that welcomes all individuals, gay or straight, to enjoy a part of the city that has much to offer in the forms of community and entertainment.
Funding to accommodate this vision comes from a combination of grants and donations, business membership and the Commercial District Revitalization Program (CDRP), Zuniga said.
"We're also working with the national Route 66 association because they have grants for beautification and things like that where we can restore some of these historic buildings," Poos said.
Voters also approved the Better Streets, Safer City program that is expected to allocate money to the district for street resurfacing enhancement by late summer. Poos explained that 39th District is priority number six on a list of 52 approved projects.
"As of right now, we are on the priority funding list for a new streetscape. That'll include better parking, sidewalks and lighting," Zuniga said. "There's no real crosswalks or proper lighting, so that's going to be a huge safety improvement."
Beautify39, the district's official renovation project, seems to be a promising resolution in the way of area revitalization. This includes putting together a service team, enhancing the streetscape and the installation of a mural. Of course, these endeavors come with difficulties.
Though 39th District Association hopes to install more than just one mural in the future, they were hoping to have one already completed for the upcoming OKC Pride Festival, the largest privately funded event in Oklahoma. According to the 39th District Association website, the owner of the building where the mural was supposed to be painted rescinded his decision.
"When you're dealing with different people, you can think you know them. And then you don't," Poos said.
Still, members of the association remain in good spirits, making their optimism clear in regard to the progress they've made since becoming an official district in 2013.
"It'll come around," Poos said. "Where we are now, it's become visible that there are changes happening. In the prior years, it was like, 'We're making progress; you just can't really see it just yet.'"
Future pride
The board isn't wasting any time planning out the future of the district. Zuniga discussed the idea of monthly events, leaning toward those that focused more on music and arts. She also raised the possibility of a food truck event and mentioned the association is currently working to obtain a grant for a dog park.
Poos said he has been entertaining the idea of collaborating with local car clubs to do a monthly car show, which would serve to further diversify 39th Street.
"When you think of gay bars, you don't necessarily often think of a muscle car," Poos said.
The success of the district stems from the desire of these individuals to create a space where anyone can feel at home.
"We are not necessarily trying to just be an LGBTQ district. We want to expand and be more than that," Zuniga said. "What else can we embrace? We'd like to be more vibrant, fun, welcoming, colorful — just a place everyone can come and hang out. We welcome everyone to spend time in the district."
Still, the district has been successful in maintaining the annual OKC Pride Festival, a cornerstone event that brings individuals together from across the state.
"We definitely collaborate and work together. … We're doing what we can. Hopefully, in the future, we get to do more to collaborate," Zuniga said. "We're here to welcome and support Pride."
Alison Scott, entertainment chairman and secretary of OKC Pride, said that a symbiotic relationship between the OKC Pride board and 39th District Association is essential in taking the steps necessary to move forward.
"We will be there to enhance them and help them in any way we can to get that section completed. … I don't feel like it's an us and a them. We're all wanting the same goal," Scott said. "With the changes they're going to make in this area, that's going to also possibly bring in new business. And those new businesses donate to the Pride, which, in turn, gives us more funding so that we can put on another festival."
Service and strength
A sense of unanimity is prevalent among members of the community, acting as the driving force in moving forward with the plans to create a better district for all.
"There's just great unity within all the business owners and us," said senior pastor Neill Coffman of Expressions Church. "We all seem to have the same goal and the same drive: to want to see 39th become something beautiful. The people that live in that area and the people around Oklahoma City that want to go there deserve that. … They're the ones who deserve for us to improve and to work hard to improve the area that they call home. A church is supposed to be a servant to the community."
Kelley Blair, founder and CEO of Diversity Center of Oklahoma City, hopes people will have better access and more knowledge about the services it provides when the renovations are completed. Diversity Center houses OKC Pride in addition to providing health care services to members of the community. They are also actively involved in advocacy.
According to Blair, people she has talked to are excited about the renovations that are already underway.
"It makes them feel secure and safe," she said.
But life in the district wasn't always so nice, and people weren't always so supportive.
"I've been told by some of the elders in the community they would have to have three pieces of gender-appropriate clothing on or the lights would flash to let them know the police were coming. … Just all this nonsense, you know? Just living in fear … the way that it used to be. But I think over the years, through activism and advocating from the community, it's changed," Zuniga said.
Those stories offer some insight to why the district is the way it is today.
"That's when you found so many gay bars were just very clandestine — you couldn't tell necessarily what they were by looking at the building. So you just kind of had to be in the know, and I think that's one of the reasons why, for the most part, 39th Street looks nondescript," Poos said. "But with the success of equal rights movements, people can … feel comfortable being themselves no matter how they identify."
That's just the sort of inclusiveness the community hopes to instill in the district long before the renovations are complete. However, the date of completion is still unknown.
"It's just a matter of showing developers that we're worth investing in," Zuniga said. "And I think it's a really good time to invest in this area."