Alexa Ace
The Marylin Monroll is a roll made without rice.
Sushi That Wok Mizu Ramen and Sushi
12124 N. Pennsylvania Ave.
8 p.m. June 29
facebook.com/mizuokc
405-810-5100
$5
Even after opening just over a month ago, Mizu Ramen and Sushi has already developed a string of regular customers thanks to its commitment to a variety of ramen preparations in addition to an extensive sushi menu that offers both fusion and traditional preparation.
Located at 12124 N. Pennsylvania Ave., Mizu is the product of owner Sammie Tan's love of food and high-end sushi training.
"Growing up, my mom always had a restaurant, and I was cutting chicken at 10 years old. So I guess it started my love of food," Tan said. "I loved to cook, eat and when I have time, we go out to eat; that's what we do."
While in nursing school at the University of Oklahoma, Tan got a part-time job at Sushi Neko, where she got an introduction to sushi preparation. After becoming a nurse and still dreaming of a life in the restaurant industry, she heard about an opportunity to become a sushi chef at Takah Sushi in Aspen, Colorado, which was the city's oldest sushi restaurant — open for over 30 years before closing in 2015 due to rising rent cost.
"Sushi Neko is more fusion cuisine, and I got more traditional training in Aspen," Tan said. "I learned from an older gentleman that worked with sushi for over 50 years. Aspen was a different environment because it is a destination for the super rich; a lot of people fly up there on private jets. The [Takah Sushi] owner had to provide housing because rent was so expensive and it was so hard to find good sushi chefs."
She took her training from Aspen and experience with fusion-style sushi to offer both styles of preparation at Mizu. Tan is quick behind the counter, where she cuts both sashimi and nigiri preparations of fresh and cooked seafood. She even has "new style" sashimi with dishes like salmon carpaccio, seared tuna and jalapeño yellowtail.
Mizu has over 30 fusion-style sushi rolls in which Tan offers something she said is unique for the market: riceless rolls. The Marilyn Monroll is tuna, salmon, yellowtail, crab salad, cucumber and avocado wrapped in soy paper and topped with house vinaigrette.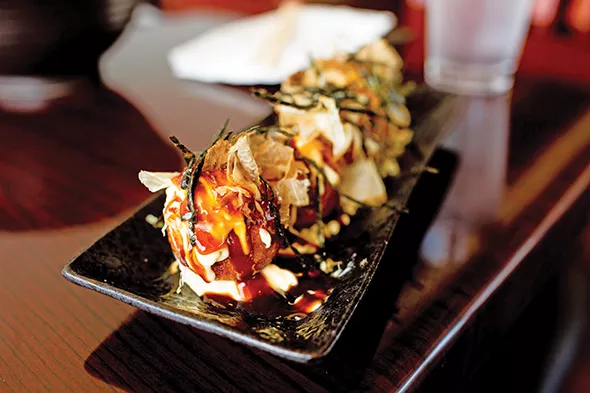 Alexa Ace
Takoyaki, a fried octopus dumpling
"A lot of people like that because they don't see a lot of rolls without rice," Tan said. "People like it because it is light and fresh for the summer and not heavy with rice."
In the same way Mizu is creating a niche in the market by offering riceless sushi, it is doing the same with unique ramen preparations in an area of Oklahoma City without a ramen restaurant.
"We already have a lot of repeat customers," Tan said. "They say that they're happy they don't have to go Midtown, Uptown or Memorial. They like this area. We're a small, comfortable and friendly restaurant; we're not trying to be too bougie; we just want to provide good food and for you to have fun when you come in."
She said Mizu is selling 75-80 bowls of ramen per day, with about half of those orders being the traditional pork-based broth tonkatsu with pork belly (shoyu) that has been slow-cooked in a sous vide for 14 hours, a soft-boiled egg (ajitama), mushrooms (kikurage) and fermented bamboo shoots (menma). Tan boils pork bones for at least 11 hours to create a sumptuous broth that is the base for her most popular dish.
"It took a lot of experimenting [to create the pork broth]," she said. "I probably wasted $1,000 worth of bones to come up with a combination that is the best."
While the tonkatsu is the most popular because it is one people are used to in the market, Mizu also offers miso ramen based off the pork broth, veggie ramen made with mushrooms and soy, spicy seafood ramen with a broth made from blue crab and mazemen, a brothless ramen that Tan said is becoming popular on the West Coast.
"I make the seafood ramen a little spicy," Tan said. "I like spicy things and want to provide an alternative that other ramen restaurants don't have. It's the same idea with the mazeman. In the summer heat, you don't always want to eat broth, so we offer it as an option."
Pride on display
Mizu is creating its niche by offering a variety of options, and it continues its mission of making everyone feel welcome by hosting a June 29 Pride dinner drag show, Sushi That Wok, organized by Rolando Hernandez, who works at Mizu and performs as Shalula.
Hernandez is competing for the Miss Gay Oklahoma title after earning Miss Gay Enid earlier this year. They began performing drag about two years ago and takes pride in incorporating Latinx representation into upbeat performances.
Alexa Ace
Seafood ramen with shrimp, scallops and clams
"I like anything upbeat that I can move and make sure the audience's attention is captured," Hernandez said. "I try to stay away from stuff that is slow so I don't have to walk around; I like moving and interacting with the crowd. There is a lack of Latinx representation, and it's based on the Latin nonbinary community."
The event begins at 8 p.m. with a dinner with drag queens to meet other performers like Alizay Z Paige, Gillette, Mary Janovia, Preston Waters and Pariis Nicole Davenport Brooks. The sushi bar will remain open during the show that begins shortly after 9 p.m.
"I have a diverse group with different people on the spectrum of drag," Hernandez said. "I'll have trans entertainers, nonbinary, the typical pageant beauty queen to the club kid, outlandish performers. I try to touch every base of the spectrum to have a variety because people like different things. Even if they haven't experienced it, it will be the best way to see the variety we have the drag community in the city."
Hernandez got the inspiration for their stage name while watching the Oxygen reality television show Bad Girls Club, where one of the subjects, added a "sha" to a lot of words, kind of like pop star Cardi B. They said the name is supposed to be fun and a subtle homage to the hot sauce Cholula.
"I say drag queens are the soldiers of the gay community because we're putting ourselves out there for people," they said. "It's about [the audience] feeling safe in an area with people so that they can be themselves. I'm 6-foot-2 as a man, but if they can see me in heels, wig, makeup and this stuff, then that gives them an opportunity to be themselves."
Visit facebook.com/mizuokc.