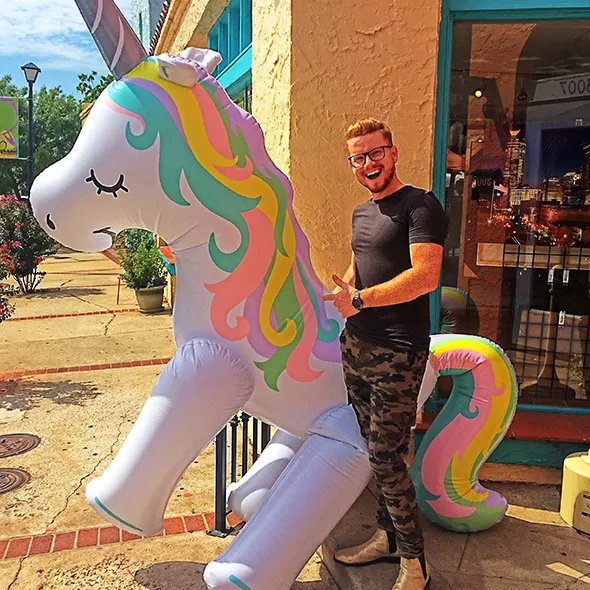 provided
Kindt Steven Myers with Unicorn Brunch's inflatable unicorn mascot
The fantastic beauty and magic of the unicorn has existed for millennia, with depictions dating to the Bronze Age era in the Indus Valley, and they continue to serve the same connection to wonder in modern day.
The Other Room, 3009 Paseo St., is taking inspiration from the unicorn for its monthly "party" brunch normally held the third Sunday of every month and moving it to the fourth Sunday this month in conjunction with Pride weekend in Oklahoma City.
"We wanted to do [the unicorn brunch] Pride Sunday since the parade is now on Saturday," said Kindt Steven Myers, director of hospitality at Humankind Hospitality Services, which includes The Other Room, Picasso Cafe, Oso on Paseo and upcoming Frida that will open mid to late July. "There's more opportunity because people aren't saving up all day Sunday to go to the [past year's] 6 p.m. parade."
Myers, who served as OKC Pride president in 2013 and 2014, began organizing Sunday brunches at The Other Room last summer. It offers brunch every Sunday, but once a month, it has a party atmosphere, often around the theme of the unicorn.
"The unicorn symbolizes magic; bright and happy magic," Myers said. "So that means celebrating the magic of Pride and the people celebrating their individuality, but that individuality is also what brings them together and finding commonalities to celebrate."
Reservations made by calling Picasso Cafe are encouraged for the 10:30 a.m.-3 p.m. brunch. The full menu, including monthly specials, from Picasso Cafe is available. The Other Room will offer Pride-themed frozen drinks topped with cotton candy.
June specials at Picasso Cafe include a summer panzanella with heirloom tomatoes, toasted baguette pieces, shaved red onion, cucumber, sweet basil and smoked caciovera cheese. A chipotle lime mushroom-tofu burger is topped with coleslaw with vegan chimichurri mayonnaise, grilled avocado and sweet potato chips. Honey chipotle barbecue chicken is served with charred shishito peppers and bacon potato salad, mustard braised baked beans and seasonal vegetables. For dessert, lemon and lavender tiramisu is lemon ladyfingers topped with lavender whipped cream, shaved white chocolate, lavender flowers and lemon tulle.
"We fill the space with balloons, put a giant unicorn on the roof, a big inflatable unicorn out front and serve cotton candy to every table," Myers said. "It's a party atmosphere. We play unicorn videos on the television, have Lisa Frank coloring books, and the whole thing is lighthearted and jovial."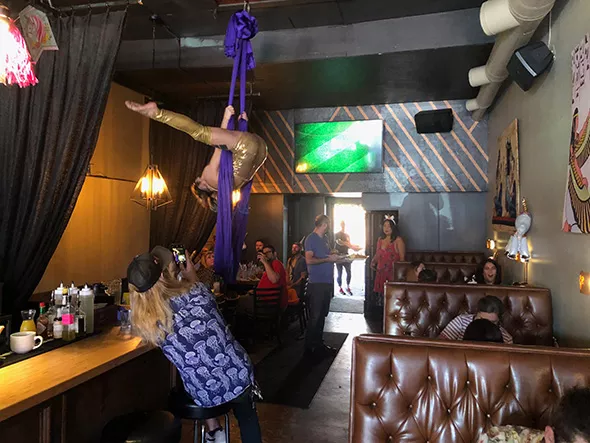 provided
Unicorn brunch includes surprises, like aerial performer Chase Vegas.
Beginning around noon, The Other Room will host drag queens Renee Hilton and Bebe Adams, and Myers mentioned that it is proper etiquette to bring dollar bills for tipping the performers. Former Other Room head bartender Brandon Walker will serve as master of ceremonies.
The Other Room recently went through a renovation in which the old, smoky bar was fitted with new booths, lights, a television and bar stools. Myers, who is the project manager for construction projects, raised the booths so guests are now at eye level with patrons at the bar.
During the renovation, they lowered the ceiling and covered the exhaust fan because it is no longer a smoking-friendly space. Before one brunch, Myers cut a hole into the ceiling and put together an apparatus to suspend an aerial dancer from the old exhaust fan.
"We'll always have one or two surprises during brunch," he said. "We've had wild animals like pythons and lemurs; it's wild and fun. We'll have special something in store for the upcoming unicorn brunch."
The introduction of brunch service at The Other Room came with the renovation, which Myers said was necessary, as The Paseo Arts District continues to change around it.
"The bar is growing up, but that's the case for the whole neighborhood," he said. "There's enough new foot traffic in this neighborhood that we have to raise the bar because the kids who were grungy with it and thought it was fun are growing up. The new organic foot traffic isn't emotionally attached enough to the old ways."
As a former OKC Pride president, Myers is encouraged by the work of Lauren Zuniga, who has reorganized Pride festivities under Oklahoma City Pride Alliance after last year's embezzlement turmoil under Oklahoma City Pride.
"Lauren is a rock star and working so hard," Myers said. "She's taking a lot of care and has plenty of reason to make sure it's done right. … She's not seeking profit by getting thousands of people [to 39th Street]; it really is all about community for her."