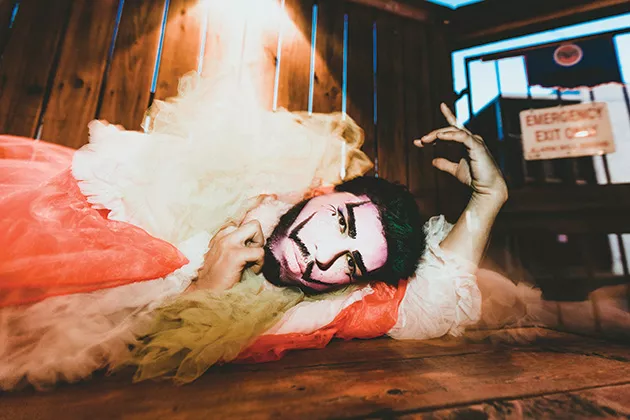 Alexa Ace
Luis Miguel Barajas, who performs as "drag thing" Topatío, is proud they were able to honor various LGBTQ+ individuals from all aspects of the community.
Oklahoma City Pride Alliance made history with its opening ceremonies Monday. Mayor David Holt officially declared the third week in June "Pride Week," Rep. Kendra Horn's deputy chief of staff Amanda McLain-Snipes presented a congressional citation and eight individuals were recognized for their contributions to OKC's LGBTQ+ community, along with two grand marshals.
For the first time ever, Pride honored eight people with a Rainbow Award — one for each color of the original Pride flag, which was designed by Gilbert Baker in the late '70s. The idea came to Luis Miguel Barajas and Lauren Zuniga during conversations regarding the grand marshal.
"I kind of was just like, 'Why don't we just celebrate someone from every aspect of our community? What would that look like?'" said Barajas, who serves on Pride's entertainment committee. "I remembered Baker's Pride flag and how every color had a different meaning, and in my mind, that's so symbolic. I was like, 'What if we represented all those colors? Let's get people in tune with what their history is and why those things are so important.'"
When discussing the grand marshal, there were concerns about the person receiving the distinction being an ally and not a member of the LGBTQ+ community.
"It was actually the best kind of conversation to have because it really is something that we need to think about. Like, what is grand marshal? It's a way to honor people in our community, right? I like thinking of it as a lifetime achievement award," said Lauren Zuniga, Pride Alliance president. "[We're] keeping grand marshal as something that is for maybe our LGBT elders or someone who has put in a career or lifetime's worth of work and deserves to be recognized. But that doesn't mean there aren't all these other people that need to be recognized."
This year's grand marshals represent the theme of OKC Pride, Legends & Rebels. Don Little represents the legend, and Margaret Cox represents the rebel, as she has been arrested 14 times for her activism.
Life in color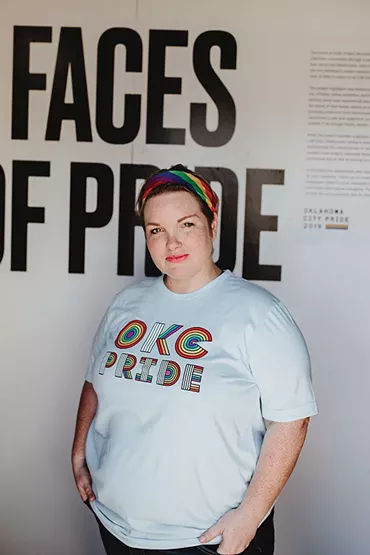 Alexa Ace
Lauren Zuniga said mayor David Holt declaring the third week in June Pride Week shows that diversity and inclusion is important for the city.
Baker, a queer artist and activist, created the original Pride flag in 1978 at the suggestion of friends including Harvey Milk, California's first openly gay elected official. Designed to be a new symbol for the LGBTQ+ political movements, it was first raised to commemorate the San Francisco Gay Freedom Day Parade.
"We came up with the idea together," Barajas said. "This is how we can represent our community properly. I love queer history so much and getting to represent something that's been part of our community."
The original eight-stripe flag was modified to seven stripes following a huge demand that led to the unavailability of hot-pink fabric. In 1979, it was modified again because the center stripe was obscured when hung a certain way. Having the Pride flag with an even number of stripes was the easiest fix.
The flag's colors are symbolic of different aspects of the world, which allowed Pride Alliance to honor people from various professions. Hot pink is sexuality, red is life, orange is healing, yellow is sunlight, green is nature, blue is magic, indigo is serenity and violet is spirit.
"The meaning behind each of those colors to me is really exciting because this year, we might interpret it one way and next year, we might interpret it another way. I love that it sort of gives some room for metaphor," Zuniga said. "On hot pink, which represents sexuality, we're giving that award to Maria Mancebo, who is the queer inclusive sex educator at the health department. That's something we desperately need in our schools and community, better sex education."
Mancebo is the clinic access coordinator at Oklahoma City-County Health Department. She has experience with sexuality and gender issues and is an advocate for access to quality sexual and reproductive health care services, particularly for adolescents.
"Red means life, and we're giving that to Michael Moss. He is the longest-running HIV tester in the city, who's been working for 20 years in the HIV community. To me, that's life," Zuniga said. "Orange is for healing, and that's Dr. Shauna Lawlis. She is an OU physician who's doing incredible work with their Roy G. Biv program, and they basically help trans kids with any kid of medical stuff that they have."
Lawlis, who works in adolescent medicine at OU Medicine, said the Roy G. Biv program provides patients 10-25 years old with affirming treatment. While undergoing her pediatric residency training, she came to enjoy her rotation in adolescent medicine so much that she decided to pursue a fellowship in that area with an LGBTQ+ component.
"I have a lot of family members that are LGBTQ, and I really felt that [if they] had an affirming adult in their life when they were younger, it would have really had a positive impact. I felt like if it can't be your parents, maybe it can be your doctor," Lawlis said. "The program existed for several years before I came, and they were seeing transgender patients for several years before I came and started here at OU. … We provide reproductive health counseling, such as testing equipment for STDs, birth control, we deal with menstrual issues, we provide puberty blockers and gender-affirming hormones when appropriate. We have a link with various therapists in the community, and we also have two therapists within our own group who are LGBTQ-affirming providers to help get patients the help they need. We work with a statewide network to help provide care to these kids."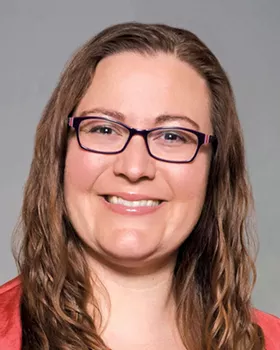 OU Medicine / provided
Shauna Lawlis is receiving the orange Rainbow Award for her work on the OU Medicine Adolescent Medicine Roy G. Biv program, which will have a booth at the festival Saturday.
The Roy G. Biv program will have a booth at the Pride festival Saturday for people who are interested in learning more.
"Yellow is for sunlight, so we're giving that to Sara Cunningham, who has brought visibility to our community in a way that is just unimaginable. There's movies being made about her; we definitely want to celebrate her," Zuniga said. "Visibility is huge; that's what we need. We need people to see us and know that we're your neighbors and your doctors and nurses and veterinarians."
Cunningham founded Free Mom Hugs, an organization that advocates for LGBTQ+ rights. She went viral last year after volunteering to be a stand-in mom at same-sex weddings that couples' parents refuse to attend. Jamie Lee Curtis is set to play Cunningham in a movie about her life.
Barajas said he nominated one person for the awards but did not actually know who the recipients were until Monday.
"I just could not think of anyone else [to nominate for the green award] than my friend Matt Salcido because they do environmental justice," Barajas said. "This is a queer out in our community doing environmental justice; like of course we should celebrate this person doing this work."
Turquoise represents magic and creativity, so Zuniga said it felt natural to award that color to a drag performer.
"Maria Isabel, that's their drag name, but their name is Armando Cruz Ortiz," Zuniga said. "He does the most incredible costumes for people all over the country. He does jewelry and drag pieces for people all over. … He's helping design Q Space's phoenix costumes for their float and is always helping to bring magic and creativity to our community. Indigo is serenity, and we're giving that to Kris Williams, which makes me excited because she's actually the one that picked every other person. … She is the co-founder and coordinator for Q Space, so she works with the youth, and beyond that, she's a social worker."
Violet represents the spirit of Pride, which was awarded to Ward 2 councilman James Cooper, OKC's first openly gay councilperson. In April, Freedom Oklahoma organized a procession from the site of the city's first gay bar to City Hall, an event that paid homage to Milk, who participated in a similar procession following his historic election in San Francisco.
"[The 50th anniversary of Stonewall] is important because we want to remember all the people who came before us, anyone since that initial Pride. I want to pay tribute to them," Barajas said. "The elections are coming up, and we've gotta say, 'We're here.' Even if the election does not go in our favor, there is this bustling community of representation that will protect you no matter what the law says, no matter what your family says, no matter what anyone says. During the parade, there is a sea of Oklahomans. That little intersection of Penn and 39th becomes a sea of people that are rooting for you. I think that's why it's so important, as Oklahomans especially, to come and be a part of that and make that sea bigger for any kid that needs to say, 'Oh my gosh! I should keep living.'"
Visit oklahomacitypride.org.