provided
Shantel P. Mandalay co-hosts the 2018 Pride Parade with Raven Delray.
As its name suggests, the plot for J. J. Austrian's children's book Worm Loves Worm is pretty straightforward.
"You don't know if they're both boys or both girls, but they're in love with each other, and they want to marry each other," said Shantel P. Mandalay, who recently read the book at the Oklahoma Drag Queen Story Hour she hosts monthly at Sunnyside Diner. "They decide who wants to wear the bride's outfit and who wants to wear the groom's outfit, and then they decide they don't want to be typical, so one wore the dress with the top hat and the other wore the tuxedo with the veil."
Mandalay — who also performs at local venues including The Boom!, Frankie's and Tramps — will return as co-host of this year's OKC Pride Parade alongside Raven Delray. Mandalay said her experience working with children is helpful to her as a parade host.
"I think it's important to relate to the community and the people that are out there watching the parade," Mandalay said. "You have to realize that it is a family event, and so there's kids involved. You have to keep it at a level of professionalism. Usually drag queens are known for their catty comments and things they say on the microphone, but with this being a family event, you have to make sure that you're professional and that everyone has a good time and they're able to laugh and enjoy themselves as well."
Though some relate Pride events to adult-oriented nightlife, Mandalay said many of the events are designed with everyone in mind.
"Most people think that it revolves around the bars, but … the festival runs throughout the weekend and so there's a lot of booths and things set up for old and young alike," Mandalay said. "It's not just a bar thing. It's a community activity."
When a friend approached Mandalay about bringing Drag Queen Story Hour to Oklahoma City, she was skeptical about how a children's event hosted by a drag queen would be received here.
"Uh, I don't think there'll be a lot of support for it," Mandalay remembers saying, but all 100 available spots for recent Story Hours, in which Mandalay reads a book about "being who you are and appreciating yourself for who you are" and then helps children create crafts based on the book and on drag queen fashion, have been claimed within 10-15 minutes of being made available.
Mandalay is excited that the event is so popular with families.
"I've been able to combine being a teacher with being a drag queen and do it all at once, and it's been very successful," she said.
For Mandalay, finding satisfaction in oneself as a member of the LGBTQ+ community is a major point of Pride.
"Pride is an opportunity for everyone to come together and celebrate who we are as individuals and be proud of who we are," Mandalay said.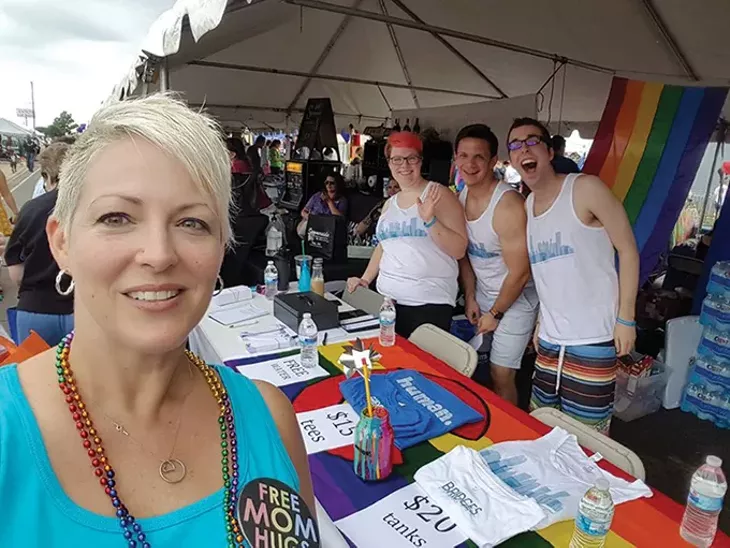 provided
Free Mom Hugs will run the beer tent at this year's Pride events.
Motherly love
When Sara Cunningham first attended Pride events, she wasn't sure what to expect. The location, along 39th Street where many of OKC's gay bars are located, was an area she'd warned her son to stay away from since he first came out to her. She said she was afraid he'd become involved in either "a hate crime or an orgy." However, her initial Pride experience would change her mind and, eventually, the course of her life.
"That was my first interaction with the community that I just fell in love with," said Cunningham, who would go on to found the organization Free Mom Hugs. "The next year, I made a homemade button, and I pinned it to a sundress and I just made myself available to the community, with anyone who made eye contact with me. I'd say, 'Can I offer you a free hug or a high-five?' because not everyone's a hugger. … And that was the beginning of it. By the end of the first day, I was covered from head to toe with glitter, and the stories that I heard of alienation and separation from our community and their families, the churches — it was just devastating."
The following year, she joined with several other likeminded moms determined to "change the world, one hug at a time" and marched in the parade behind the Free Mom Hugs banner. They were thrilled with the response.
"Kids were coming out from the barricades," Cunningham said, "and older people were coming out of the bars, just to get hugs."
Though she said she has never been interested in politics, the 2016 election inspired Cunningham to lead a group to Washington, D.C., upset that she felt like "my straight son has more rights than my gay son." A second tour followed this year in support of her book How We Sleep at Night, detailing her experience with learning to accept and love her son for who he is. Both tours made a point to depart from the same spot she once warned her son to stay away from.
"We always leave from 39th Street," Cunningham said. "We have a big kick-off there. I want to put 39th Street on the map. I think it needs to be celebrated and recognized as an important part of our history and our future."
2018 will be Free Mom Hugs' third year to have a table set up at Pride and its first to run the beer tent.
"We're just trying to encourage the community that we love them and we're allies and friends and fighting for them and to encourage mothers to have authentic relationships with their children," Cunningham said. "I'm just doing things that I wish someone would've done when I was trying to figure this out. There's a mom out there like me then; there's a mom out there now who needs a mom like me now."
For some members of the LGBTQ+ community, feeling accepted is "a matter of life or death," and Free Mom Hugs takes its mission very seriously.
"We've been involved with the community enough to see the damage done by religion, by fear and ignorance," Cunningham said. "Last year, we were set right up front where the main entrance is. We had protestors, and the moms were able to go in front of those protestors and usher the patrons in and say 'Just come on in here. You go with your friends. You have fun. Don't you pay them no mind.' And we shut that down; you know, we wouldn't tolerate it."
Official OKC Pride events begin 8 p.m. Friday with opening remarks and the national anthem and culminate in the annual parade beginning 6 p.m. Sunday.
Visit okcpride.org.