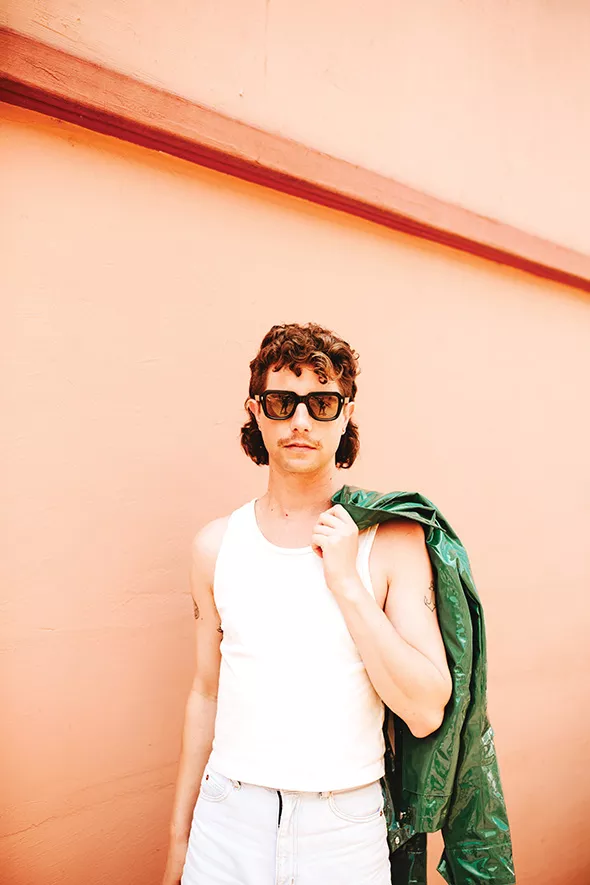 Alexa Ace
Jacob Abello Tharp prepares to release their new album My Body Ain't No Temple before a move to California.
When they are going to work, lobbying on behalf of Oklahoma Education Association (OEA), Jacob Abello Tharp wears a wool suit like so many of the lawmakers they talk to every day. It is an incongruous look for the singer and prospective attorney, who became known to local music fans for their audaciously crafted glam-pop delivered shirtless while wearing gold lamé pants and angel wings.
A decade on from the release of Nothing But Gold, their solo debut as Jacob Abello, Tharp is taking an enormous leap of faith as they and their husband, Tyler Tharp, plan their August relocation to Orange County, California, where Jacob will attend law school at University of California Irvine.
"It's been a long time in the works," said Tharp in an interview with Oklahoma Gazette. "I visited it recently, and they have a really cool and inspiring community there. It's a new school, so I get to be part of building something new, which has always been important to me."
This will mean three years away from the place where, apart from two years in Austin, Tharp has lived their entire life. But before they leave, they will release their long-in-gestation Prettyboy album, My Body Ain't No Temple. Tharp will put final touches on Temple and begin releasing singles later this summer.
Tharp said Temple does not stray too far from the sonic and lyrical content of Nothing But Gold, but a deepening of focus and nuance was inevitable, given the decade that separates the albums.
"When you're 20 or 21 and writing songs, they tend to be a lot different from ones you write in your late 20s or early 30s," they said. "Those songs, I was grappling with identity and religion and sexuality, just coming out of a Christian fundamentalist background, which I think is why a lot of people during that time period connected with it so well. I think this is a continuation of that, but I'm past that. I'm just living freely and authentically now. And it's quite sexy — I hope, anyway."
Tharp worked on Temple with lifelong friend and Blackwatch Studios co-owner Jarod Evans, the multi-instrumentalist and engineer who has worked on albums by Broncho, The Annie Oakley and The Flaming Lips. Evans and Tharp met at Vacation Bible School when they were 6 years old, and Tharp was a highlight of Blackwatch's Norman Music Festival shows in the early 2010s.
✖
"Some days, I feel like the lobbyist and future attorney Jacob; other days, I feel like the artist and musician Jacob."
—Jacob Abello Tharp
click to tweet
Their performances, which were frequently backed by Blackwatch-affiliated studio wizzes like Brine Webb and Broncho drummer Nathan Price, became locally legendary for Tharp's theatricality and sex-positive performance style. To this day, Tharp makes music that sounds positioned for a global pop takeover, but by the time they hit their mid-20s, they started looking for more answers to their own identity.
"I spent a lot of my youth … thinking I was meant to become a famous pop star or something like that," Tharp said. "As much as I think that music is how I experience the world or the way I express my feelings, around mid-20s, a lot of musicians and artists in general start to think, 'Am I going to continue to live the way I live now?' But then I started to grapple with my identity as a person. Was it all tied to being a musician, or were there other parts of my identity I wanted to explore? For me, it's difficult to be dual-minded. Some days, I feel like the lobbyist and future attorney Jacob; other days, I feel like the artist and musician Jacob."
Yet Tharp said these two halves must find a way to coexist. After completing their undergrad studies, Tharp volunteered with Oklahoma Policy Institute before they commenced their wool-suit lobbying work for OEA, working closely with staff during the 2018 teacher walkout. Their work on behalf of OEA, coupled with Tharp's deeply held attitudes toward social justice, set the stage for law school.
So far, Tharp has yet to settle on an area of law, but the past year has left an imprint. Labor law is an option, as is becoming a public defender.
"I think a lot of law students end up sort of evolving as they go through law school and change what the focus of their career will be," they said. "For me, I've been working for the past year for Oklahoma Education Association, and I've really been attracted to employment and nondiscrimination law in general, so I'd like to work in that area and maybe connect with the California Education Association when I'm there."
But with their strong ties to Oklahoma, this might not be a permanent move.
"I feel more comfortable here now than I ever have, so it just depends on a lot of different factors. Also, my husband has never lived outside of Oklahoma, so we've always wanted to experience a new place together," Tharp said. "There is the pull of toiling in a community that needs a lot of help. We've made a lot of strides in Oklahoma, especially with teachers, in the last few years, but then also being a queer, nonbinary person in such a state as Oklahoma, it can be difficult to see a future for yourself sometimes, but there is that pull to stay here or come back here and impact change as much as you can."
Regardless of their location, music will always factor heavily in Tharp's life.
"I can never see myself not performing or writing or recording music, but at the same time, I found something else that I'm good at, something else that gives my life meaning," they said.
Visit facebook.com/weprettyboy.