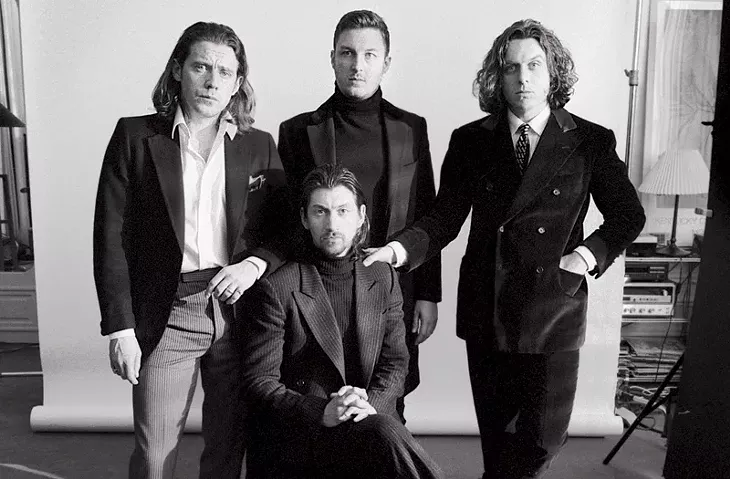 Zackery Michael / provided
Arctic Monkeys perform at The Criterion Oct. 10.
Through a desire and willingness to upend its sound and confound expectations, Arctic Monkeys transcended its mid-2000s beginnings as a next-step post-punk band drafting in the slipstream of Franz Ferdinand and The Libertines. That fearlessness launched Arctic Monkeys and its leader, Alex Turner, into rarefied air in British rock music, putting the band at or near the level of forebears like Oasis and Blur.
The group came together quickly after Turner and guitarist Jamie Cook were both gifted with guitars at Christmas in 2001. As students at Stocksbridge High School in Sheffield, U.K., Turner and Cook quickly teamed with two classmates, bassist Andy Nicholson and drummer Matt Helders, and began gigging and building considerable online buzz with early demos. As those demos circulated online, BBC Music 6 began talking up the group and a bidding war erupted over who would get to sign the teenagers.
Early on, Turner was heavily influenced by The Strokes, the lower Manhattan band that led the charge of definite-article guitar groups in the early 2000s. That group's ability to deftly toggle between aggression and lassitude, cool and discomposure, informed Turner's initial run at Arctic Monkeys' music.
"As much as they probably hate hearing this," Turner told NME in 2011, "they were the band that encouraged me to rip the knees of my jeans and write on them in marker pen. I wrote on them in red ink, 'I've got soul and I'm superbad!'"
Rather than sign with a major label, Arctic Monkeys went with Domino Recording Company, the home of Franz Ferdinand, Clinic, Blood Orange and Hot Chip. It was a canny move because they were able to establish indie cool while getting strong distribution.
That counted for a lot when, after two years of loud buzzing over the group's prospects, Arctic Monkeys released Whatever People Say I Am, That's What I'm Not in January 2006. Propelled by the omnipresent first single, "I Bet You Look Good on the Dancefloor," Whatever People Say I Am became the fastest-selling debut album in the history of British music, outstripping the previous record set by Elastica's 1995 debut. The album then proceeded to sell quintuple-platinum in the U.K. and win the Mercury Prize. While stateside sales were less bountiful — Whatever People Say I Am sold 300,000 in the U.S. — Turner's lyrical acuity and the band's ability to create instant earworms landed them on the American cultural radar. Time magazine declared Whatever People Say I Am album of the year for 2006.
Shortly after recording the album, Nicholson departed the group and was replaced on tour by bassist Nick O'Malley, who soon became a permanent member. Arctic Monkeys returned in short order with a second album, Favorite Worst Nightmare, in April 2007, led off by the propulsive first single, "Brianstorm." Like its predecessor, FWN went to No. 1 on the British charts and quickly produced another hit single, "Fluorescent Adolescent." While the album didn't quite cause the critical and commercial sensation that Whatever People Say I Am generated, it quelled any concerns that Arctic Monkeys might suffer from a sophomore slump.
Instead of rushing forward with a third Arctic Monkeys album, Turner took a left turn and started a new project with guitarist Miles Kane and AM's producer James Ford of Simian Mobile Disco. The Last Shadow Puppets drew inspiration from mid-1960s British music, the louche oeuvre of French pop impresario Serge Gainsbourg and European films of that same era for its first album, 2008's The Age of the Understatement. The grand, string-enhanced production and Turner's emotional lyrics earned The Last Shadow Puppets the kind of critical praise Turner had enjoyed to-date with the Arctic Monkeys, but the sound was so distinctive on songs like the title track, "Standing Next to Me" and "My Mistakes Were Made for You" that LSP managed to establish a uniquely separate identity from Turner's other band, which was about to take another hard turn stylistically.
Turner reconvened Arctic Monkeys in late-2008 in Joshua Tree, California, at Rancho De La Luna, the studio owned by Josh Homme of Queens of the Stone Age. With Homme on the boards, the group recorded Humbug, a predictably harder take on the group's sound informed by the band ingesting large quantities of Cream and Jimi Hendrix at Homme's behest. Though much of Humbug reflected Homme's harder and sludgier tendencies, Arctic Monkeys proved it could still deliver utterly heartbreaking melodies with the second single, "Cornerstone."
Perhaps the reception for "Corner-stone" set the tone for 2011's Suck It and See, which saw a return to full production work by Ford and an emphasis on shimmering melodies, but it was 2013's propulsive and darkly atmospheric AM that gave Arctic Monkeys its biggest album sales in years, stoked by the minor-key crunch of the ballad, "Do I Wanna Know?" The single made headway stateside on modern rock radio and, in some ways, served as a reintroduction of the group.
Arctic Monkeys went on hiatus after the AM tour, and Turner and Kane came back together for a long-awaited second Last Shadow Puppets album, Everything You've Come to Expect. By this time, Turner was a permanent resident of Los Angeles and all his projects were recorded in Pacific Standard Time, but he had not changed up his songwriting methodology much over the course of his career. He was dealing with writer's block for the first time, so instead of picking up a guitar, he sat down at an upright piano and, inspired by Federico Fellini's 8½, dealt with it by creating a stream-of-consciousness suite of songs about a lounge singer on the moon titled Tranquility Base Hotel & Casino. Arctic Monkeys changed up its sound in the most consequential ways for the album, emphasizing slower rhythms and a vocal delivery on songs such as "Four Out of Five" that offered strong echoes of David Bowie in his "Space Oddity" period. But while it sounds almost nothing like Whatever People Say I Am, That's What I'm Not, Turner told NME that Tranquility Base feels to him like the band's debut.
"I can't put my finger on exactly why I think that, but I have been saying it a lot recently," he said. "It's set in a completely different place, obviously, but there's something in the lyrics that reminds me of something in that writing. I'm tempted to say that it's something to do with how blunt it is. I think that was something I was trying to get away from, and perhaps I've returned to it now."
Visit criterionokc.com.