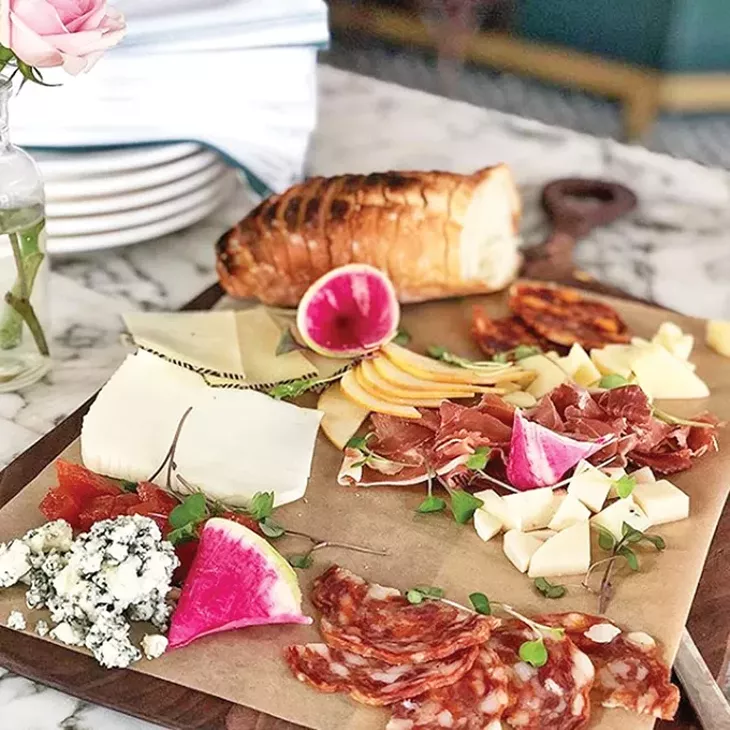 provided
A mixture of Spanish cheeses and meats on the Bar Arobolada cheese plate
Oklahoma native Dustin Lancaster's first restaurant in Los Angeles — Bar Covell — was named after the street he grew up on in Edmond, so it only makes sense that his first venture in Oklahoma is named after the street he shared in Los Angeles with business partner and fellow Okie Riley Marshall.
Bar Arbolada, 637 W. Main St., which opened in April, puts its focus on an eclectic wine list, rotating beer tap, simple-yet-elegant cocktails and a Southern-tinged small plates food menu.
"We were trying to bring something to Oklahoma City that will elevate a concept to the level of what we had grown to love in Los Angeles," Marshall said. "Oklahoma City was ready for a concept that could exist in other larger cities, not that there weren't other good concepts already happening, but we wanted to get to the table."
With a corner location and plenty of natural light pouring in from large windows overlooking Film Row in an Arts District location, Marshall said the goal of Bar Arbolada is to provide an upscale bar experience without a pretentious food or cocktail menu.
"I wanted to keep the cocktail list simple," Marshall said. "The trend of mixology and intricate stuff is starting to fade out a bit, I think. If you can do a drink with four ingredients, why do you need to it with eight?"
The original summer cocktail menu gives shoutouts to Los Angeles (Echo Park is pear-infused brandy with Chareau aloe liqueur, plum and lime) and OKC (Kensington & Classen is white rosé and gin with Townshend's Bluebird Alpine Liqueur, cucumber, dill and lime). Marshall said the wine list is heavily curated by Lancaster and is available by the glass and by the bottle.
"We've taken all of the normal varietals people ask for and turned it one notch to the left or right with something maybe they've never heard of or from a country they haven't tried, just to have something different," Marshall said. "We wanted an interesting wine list."
Bar Arbolada's food menu was created from another Oklahoma ex-pat, Tehra Thorp, and builds on the establishment's Spanish name by offering Spanish-style tapas with an Oklahoma or Southern twist.
The menu includes a pot of pimento cheese ($6), corn fritters ($7), deep-fried potatoes ($5), ham-and-cheese toast with a fried egg ($9) perfect for its weekend brunch service and interesting pairings like the deep-fried pork chop stuffed with roasted red pepper, ham and Idiazabal cheese ($14) and blistered shishito peppers with chorizo ($12).
Marshall said that the menu will remain fixed throughout the year with a few seasonal additions and the cocktail menu will change with each season. A fall menu will be unveiled in the first half of September.
Eastside/West Coast
Marshall moved to Los Angeles in 2008, where he met Lancaster during a chance encounter while Lancaster was bar manager at Café Stella. As the two chatted, the conversation turned to their hometown and they realized that Marshall graduated from Edmond High School while Lancaster grew up in Deer Creek.
As the conversation continued, the pair realized that not only did they have friends in common in Oklahoma; they lived on the same small dead-end street, Arbolada, in Los Angeles' Los Feliz neighborhood. The two became friends and would even meet up for a drink in OKC when they came back to visit family over the holidays.
Lancaster moved to Los Angeles to pursue a career in acting, where he scored screentime for both television and national commercials during his 20s. He discovered a love for wine during his five-year stint at Café Stella and learned the restaurant industry.
He used seed money from his success as an actor to open his first establishment, Bar Covell, in 2010. Eight years later, Lancaster's An Eastside Establishment restaurant group has a diverse portfolio of concepts including bars, restaurants, venues and hotels.
Bar Arbolada closely follows the Bar Covell model, which was named one of the country's top 21 wine bars by Thrillist. Lancaster and Marshall originally threw around the concept of opening a bar in OKC not long after they first met, even meeting with brokers as early as 2010, but then life got in the way.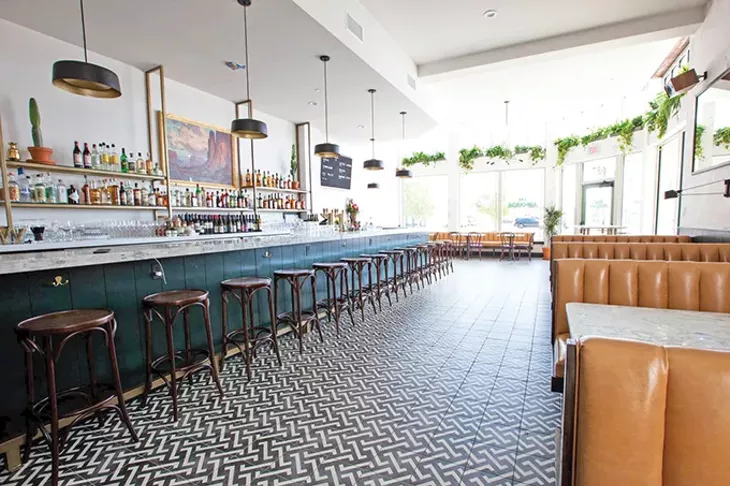 Chad Bennett / Provided
Bar Arbolada is located at 637 W. Main St.
Lancaster became busy getting his Los Angeles business off the ground, and Marshall got caught in the rat race of the advertising industry, working as many as 120 hours per week.
"I had one of those moments where I was like 'Is this what I want to do with the rest of my life?' My girlfriend and I were ready to start a family and buy a house," Marshall said.
Oklahoma home
The couple began researching other cities like Austin, Portland, Denver and Nashville only to realize that their cost of living isn't that much cheaper than it is Los Angeles. His girlfriend suggested OKC, and they took a week to get to know the city, staying in an Airbnb near downtown, and decided to make the move.
Marshall approached Lancaster again about the OKC bar at the end of 2015, and he was immediately on board. Marshall moved back in April 2016 and began fundraising and scouting locations for what would become Bar Arbolada.
"I think Oklahoma City is changing in a good way and there is so much going on, and it's a bright future," Marshall said. "I think it's a blank canvas if I was to continue doing concepts. There is a good chance for young and creative people to take this city and run with it."
Bar Arbolada is technically located in the Arts District, but it is across the street from burgeoning Film Row, where large apartment complexes are being constructed near 21c Museum Hotel.
"Coming back, I was mentally prepared to be in Midtown or Automobile Alley or Paseo," Marshall said. "I found this building and fell in love. I saw the development that was starting, and it was done. With the apartments going in and on Sheridan, people are starting to renovate some of the buildings. I see this neighborhood as the next big district in Oklahoma City."

Visit facebook.com/bararbolada