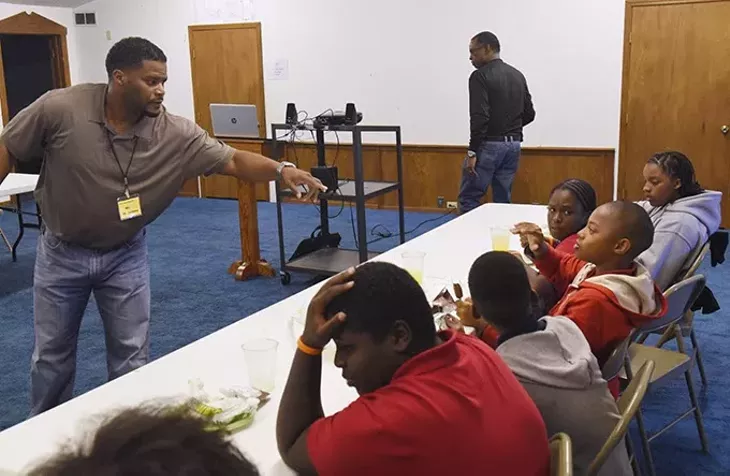 Marlon James works with boys during a group session at the Alpha Boys institute recently. mh
A sixth-grade boy mumbles an answer to a question about bullying, which gets him a stern request from Marlon James to stand up and speak confidently. The student quickly complies, and James gives him a fist bump, praising him for "speaking like a man."
"When they speak to me, they have eye contact with me and speak to me with respect," Terrell, a 13-year-old at F.D. Moon Academy, said about adults like James who lead the Alpha Phi Alpha Boy's Institute, an after-school program teaching mostly African-American boys various life skills. "I haven't seen that before here."
Alpha Boy's teaches self-respect, aspiration and responsibility to mostly low-income and minority students, whom statistics show often grow up without a stable home life.
The Centers for Disease Control and Prevention reports that 73 percent of African-American children are born without wedded parents, and the Annie E. Casey Foundation reports 70 percent of black children in Oklahoma live in a single-parent (mostly single mother) home, which is one of the highest rates in the nation.
Victor Doolin listens during a recent Alpha Boys Institute session. mh
The future
Those who offer cultural commentary often debate the impact this has on the African-American community, but many social scientists say there is at least some data to support the benefit of a two-parent home, at least when it comes to learning valuable life lessons.
"We are trying to get these boys to think about how their actions not only impact others but what their actions mean for their future," James said. "We know it's a tough life for some of them, and it's not always easy to get boys of this age to start thinking about respect for others and respect for themselves."
James is one of several Alpha Boy's mentors that come from the Alpha Phi Alpha Fraternity and the Beta Eta Lambda alumni chapter at the University of Central Oklahoma and the University of Oklahoma. The program was launched at the beginning of the school year with the specific goal of reducing the dropout rate in high school by working with students from F.D. Moon Academy and Northeast Academy, two northwest middle schools that are viewed as low-performing by the state.
"A lot of these boys aren't thinking about the future; they aren't thinking about how important it is to their life," said Ken Lawson, another Alpha Boy's mentor.
Lawson said the weekly Alpha Boy's meeting, which is held at Prospect Church in northeast Oklahoma City, brought in a large crowd at the beginning of the year but has leveled out at around 25 students. Each session begins with a meal, usually from a restaurant like Subway or Chick-fil-A, that will entice the students. The sessions also end with a group activity, like stomp training and remote control helicopter flying. Lawson said a goal is to have the boys perform a synchronized flying routine with the helicopters and an end-of-the-year retreat.
"Well, we still have some work to do with that," Lawson said with a laugh.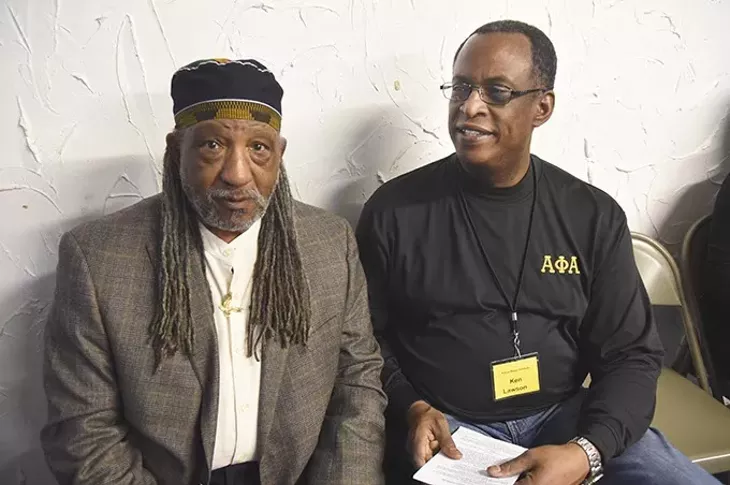 Thomas Nolan, Phd, and Ken Lawson, during a recent Alpha Boys Institute session. mh
Career insight
Each session also includes a guest speaker who offers insight to a potential career and the path to get there.
"I want to play football," said Turner, a Northeast Academy sixth-grader. "But I also want to be a lawyer. I know that takes a lot of work, but I can do it."
Mentors with Alpha Boy's say the students already have the aspiration and dream of having a quality life beyond school. And while the schools can provide the academic training to succeed, several mentors said there are personal qualities that are also important.
"We discuss personal hygiene, citizenship, public speaking and the [dangers] of gangs," said James, who began a recent session with a talk about current events and why it is important to stay up-to-date on current affairs in the community and world.
Programs like Alpha Boy's come at a time when the school district is not excelling in its education of black students, especially males.
A report that shows the OKC district leads the nation in suspensions of black male students and refers black students to special education at an alarming rate was released this past year.
"This is not an Oklahoma City issue; this is a national issue," Superintendent Rob Neu said about disproportionate discipline rates among black males, along with other benchmarks that indicate educational challenges in minority groups. "There is a multitude of strategies that we have to implement ... We've got to engage kids in their learning and make it relevant to them as human beings."
Neu said the district is making an effort to hire more minority teachers and administrators while also developing strategies for individual schools and classrooms, which he believes will lead to a drop in suspension rates and also increase academic performance for black students.
But the reality remains that many OKC schools are pulling minority students from impoverished communities where many of the benefits enjoyed by affluent students are not offered at the same rate.
Empowering young black males to rise past those challenges and have realistic hopes for their future is the goal of Alpha Boy's, and the thoughts of some of its student members would indicate those lessons are taking root.
"I feel like [Alpha Boy's] gives me the skills to respect people better," said Turner, who was noticeably growing impatient with the reporter asking him questions and itching to get back inside with his classmates. "I love it here."
Print headline: Boy's life, A mentorship program looks to keep African-American boys plugged into school.