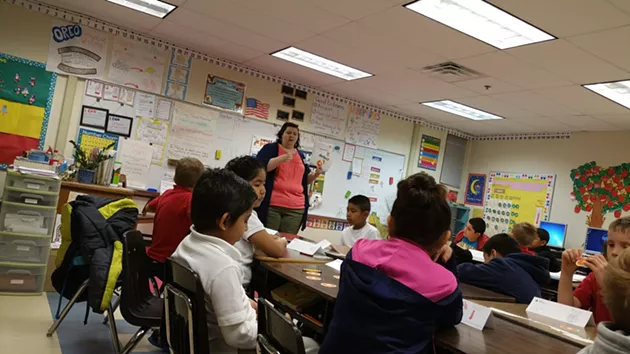 Ben Felder
Andrea Douglas, a volunteer with Junior Achievement and the Oklahoma JumpStart Coalition, taught financial literacy to a class at Hawthorne Elementary.
As Andrea Douglas asked the room of second graders to think about the economic concepts of innovation and mass production, she received blank stairs in return.
Her day in front of this Hawthorne Elementary class included several lessons and activities designed to increase financial literacy. But while these students have a lot to learn about saving accounts, supply and demand, or reading a budget, many already have a solid understanding of money and its scarcity.
"I've been with middle school kids and taught finance, but being with these younger kids I really am surprised at how much they do know," said Douglas, who is a volunteer with Junior Achievement and the Oklahoma Jumpstart Coalition. "I was really impressed with them knowing their needs versus wants. I've taught middle school kids [from more affluent schools] who didn't have a grasp on that."
Ninety-seven percent of Hawthorne's students are classified as living in poverty, and while money is not in abundance in this west Oklahoma City neighborhood, many of the young students already grasp the realities of living paycheck to paycheck.
"[My students] will come and tell me 'we can't pay for class photos right now because my dad's paycheck doesn't come until Monday, can we wait?'" said Rebecca Wilkins, a second grade teacher at Hawthorne. "They have a lot of financial knowledge, I think, because a lot of their parents struggle financially."
Wilkins was playing the role of teacher assistant last week as Douglas lead the financial literacy lesson. Douglas was one of several volunteers last week placed in area classrooms as part of Jumpstart Your Money Week.
Ben Felder
Justyce Swain and Culena Torres, second grade students at Hawthorne Elementary.
Junior Achievement and the Oklahoma Jumpstart Coalition believe financial lessons in school can help create a more informed society in the years to come. Fewer than half of all Americans keep an organized budget of their finances and 76 percent say they live paycheck-to-paycheck, according to statistics from the National Foundation for Credit Counseling (NFCC).
"Many Americans are spending their adult lives slowly chipping away at a mountain of student loan debt only to find themselves approaching retirement later in life with little or no savings," said Susan Keating, president and CEO of the NFCC. "The stakes are too high for consumers to let misplaced confidence get in the way of sound financial decisions."
Even if elementary students are not yet concerned with money, volunteers with Jumpstart hope to make them aware that it is something they will need to know in the future.
"My parents say 'don't worry about the money you have right now,'" said Culena Torres, a second grader at Hawthorne. "But whenever you are older you have to pay the bills."
Financial lessons can be very important in lower-income communities, especially schools with large numbers of students from different cultures.
"Especially in the Hispanic community, [a parent's] idea of what credit might be is different than for someone who grew up in the U.S.," said Giovanni Monterroso, a Jumpstart Coalition volunteer at Hawthorne last week.
Amy Lee, another volunteer, said families who have recently moved to the United States will find different financial customs than what they might be used to.
"Banking is thought of very differently in other countries" Lee said. "It's seen as not necessarily a safe place to put your money in some countries, but that's what we do in the United States."
Developing a habit to start saving money at an early age is another important part of Jumpstart Your Money Week.
"They are still developing habits at this age," Douglas said. "If you can teach a kid to save at age five or six, it can develop that into a habit they practice when they grow older."