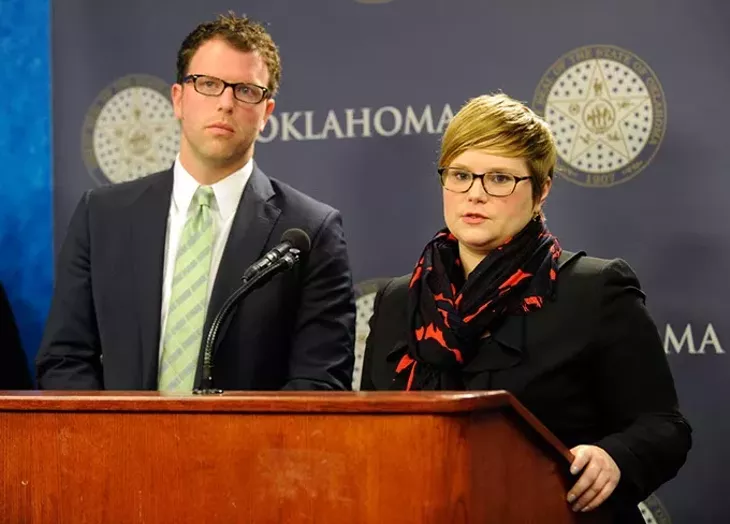 Garett Fisbeck
Rep. Jason Dunnington and Rep. Emily Virgin answer question during an Equal Pay for Equal Work Bill press conference at the Oklahoma State Capitol, Jan. 27, 2015.
Fifty years after the passage of an Oklahoma law prohibiting sex-based wage discrimination, women are earning 73 cents on the dollar compared to men.
The gender pay gap concerns Rep. Emily Virgin, D-Norman, as research supports that the average Oklahoma woman who works a full-time job earns $32,186 per year, compared to the average man paid $43,803.
Those statistics trouble the second-term lawmaker, especially if a man and woman are working the same job and performing identical duties.
In Oklahoma, it's difficult for a woman to identify gender inequality in the workplace. Often, it's taboo or impolite to discuss earnings.
"Women just don't know," said Virgin, who represents House District 44. "They are not aware."
That could change with the passage of House Bill 2929. The proposed law protects women who compare paychecks with coworkers. Authored by Rep. Jason Dunnington, D-Oklahoma City, the law amends the discriminatory wage law of 1965 by adding a transparency clause and steeper punishment for violators. If passed in its current form, it would be illegal for an employer to fire an employee who "made a wage claim or discussed, inquired about or consulted an attorney or agency about a wage claim."
"It is the piece that we've missed with an equal pay law on the books in Oklahoma for over 50 years," Dunnington said. "Without the transparency piece, it's been an ineffective law for women. By [adding] transparency, we will have a bill in place that will work effectively to help women earn equal pay."
Employers who violate the law face a maximum fine of $200 per pay period and face issuing back pay to workers. The Commissioner of Labor will enforce the law.
National conversation
The bill is similar to the recently passed Fair Pay Act in California. Viewed as one of the toughest equal pay laws in the nation, the act updated the state's 1949 gender-based wage discrimination law.
Now, California's private sector employers can't fire or retaliate against workers who discuss compensation with coworkers. Additionally, the law gives employers more clarity on criteria for paying similar employees different wages.
Equal pay legislation is being considered in more than 20 states, including neighboring states Missouri, Colorado and Kansas. On the campaign trail, presidential candidates Hillary Clinton, Bernie Sanders and Donald Trump have addressed equal pay for equal work issues.
In late January, President Barack Obama introduced a rule mandating companies with 100 employees or more report salary information including employee's gender, race and ethnicity to the federal government. The rule expands an existing executive order and will boost equal pay laws, according to White House reports.
Dunnington said equal pay legislation is a bipartisan issue. Equal pay laws help states attract and retain female employees.
"If Oklahoma wants to attract and retain the best and brightest in fields like science, technology, business and beyond, we need our policy to match our rhetoric," said Dunnington, who represents House District 88. "By passing equal pay for equal work legislation, we will be doing that. We will put ourselves in a position … to attract and retain young women in Oklahoma … to come to our state … and help build a better future."
Opponents of the law argue the legislation is unnecessary because of existing federal law. Under the National Labor Relations Act, employees are protected to discuss wages and work conditions during collective bargaining efforts.
Oklahoma Human Resource State Council (OKHR) advises employers to avoid policies that ban employees from discussing compensation, said Lindsey Nichols, director of the nonprofit and state affiliate of the Society for Human Resource Management.
"Employers in Oklahoma are likely already required to comply with most, if not all, of the aspects of employment law that House Bill 2929 includes," Nichols said. "HB 2929 would simply add additional penalties for employers who do not comply with the law. For that reason, the position of the Oklahoma Human Resources State Council is that while the spirit and purpose of HB 2929 is commendable, in terms of the day-to-day operations of Oklahoma business, not much should change for those employers already complying with existing legal obligations."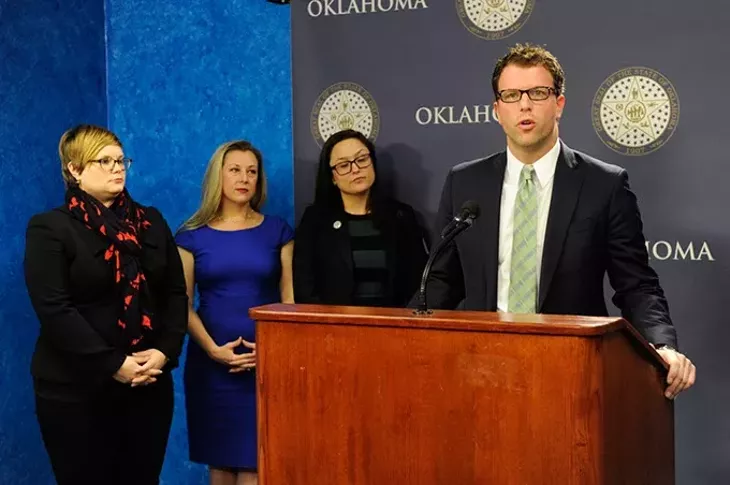 Garett Fisbeck
Rep. Jason Dunnington speaks during an Equal Pay for Equal Work Bill press conference at the Oklahoma State Capitol, Jan. 27, 2015.
Advocates' reactions
Equal pay legislation builds a brighter future for women and their families, said Kendra Horn, executive director of Sally's List, an organization that recruits and trains women to run for political office in Oklahoma.
Horn cited statistics by the National Partnership for Women and Families, which reports that women head 183,000 family households in Oklahoma.
Nationwide, the nonprofit advocacy organization showed that mothers are the sole breadwinners in nearly 40 percent of families.
Married women serve as breadwinners in more than half of American families.
"When we increase wages for women, we don't just impact women," Horn said. "We impact families and the overall strength of our economy."
Pay inequality is an issue among parents and grandparents, said Danielle Ezell, executive director of Oklahoma Women's Coalition.
Today, young girls are told to dream big, work hard and achieve any career goal. The conversation doesn't include facing pay inequality.
"We've promised them they can be anything they want to be," Ezell said. "We've encouraged them to work hard and go to college. We've passed laws to ensure when they get to work, they wouldn't face gender discrimination and harassment. It is time for us to pay women fairly."
Print Headline: Equal earnings, State lawmakers push a bill to amend a 1965 law, giving women the power to ask about pay.