Garett Fisbeck
People listen during a Education Spending Accounts forum at Bishop McGuinness High School, Thursday, Jan. 21, 2016.
Parents and their children walked down the hall of a former church building and passed colorful student art pieces and bulletin boards that shared Martin Luther King Jr.'s legacy. After dropping children in the school cafeteria for arts and crafts, parents headed toward classrooms to meet with teachers for conferences.
Last fall, Positive Tomorrows witnessed 70 percent of families participating in parent-teacher conferences, a time when parents learned about their child's progress in the private school serving Oklahoma City homeless youth in kindergarten through fifth grades.
"We provide that extra attention and a real in-depth look at their child," said Susan Agel, the school's president and principal. "That piece is very helpful for parents."
At Positive Tomorrows, teachers educate 58 students while social workers assist their families with finding shelter, food, clothing and jobs. After meeting basic needs, parents are encouraged to take part in activities to enhance involvement in their child's education. School leaders believe parental involvement is a key indicator of a child's success.
When Agel hears parents talk about education savings accounts, or ESAs, the comments are favorable toward the concept in school choice. ESAs give parents the option to design a custom education for their children at taxpayer expense. Proponents say they empower families to explore education options and make decisions that best match their child's needs.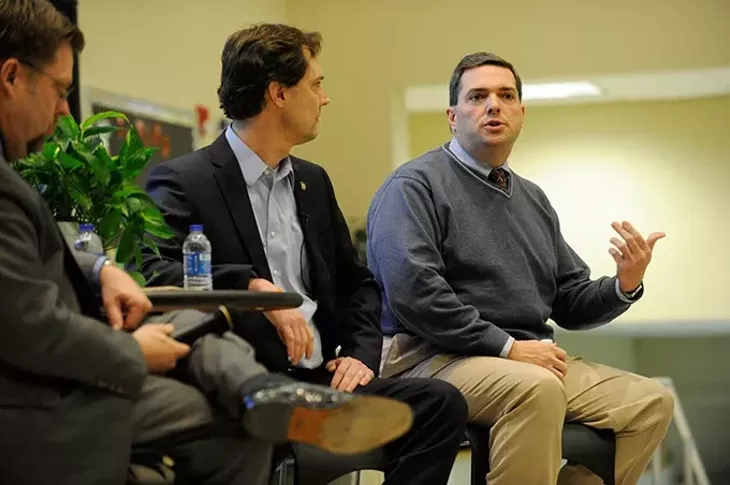 Garett Fisbeck
Clark Jolley speaks during a Education Spending Accounts forum at Bishop McGuinness High School, Thursday, Jan. 21, 2016.
Two sides
For parents, determining what's best for a child is a well-known lesson exercised when making decisions about food, toys, clothing and more. However, finances can limit many when it comes to school choice.
"The underlying message with ESAs is what it does for the parents," said Renee Porter, who works for Scissortail Community Development Corporation, an economic development nonprofit corporation. The group operates ChoiceMatters, a program to inform parents of education options in Oklahoma.
"It gives every child out there an opportunity to find a quality education, whatever that looks like for them, and make a choice," Porter said. "It is not about what type of school, but where that quality seat is."
For the third consecutive year, Oklahoma lawmakers are reviewing proposals for ESAs. Rep. Jason Nelson, R-Oklahoma City, and Sen. Clark Jolley, R-Edmond, lead the efforts and call for the state to deposit revenue it would have spent educating a youth in a public school into a debit card controlled by parents.
The funds can go toward private school tuition, tutoring, textbooks, college entrance exam fees and extracurricular activities.
However, the school choice plan doesn't impress most educators. In fact, among education advocates, the term "voucher" is used to describe an ESA. School vouchers are state-funded scholarships that pay students to attend private schools rather than public schools, according to the National Conference of State Legislatures, a bipartisan group.
"Overwhelmingly, Oklahomans don't want their tax dollars going to private schools for vouchers," said Alicia Priest, president of Oklahoma Education Association, which advocates for education reform and appropriate funding for public schools. "One of the main reasons is there is no accountability. There is no creditable research that shows students participating in voucher programs improve their academic abilities.
"We do have proof, when properly funded, public education provides successful outcomes. We are getting more bang for our buck if we invest in public education for our students."
Comparatively speaking
Currently, five states operate ESA programs. Arizona created the nation's first program in 2011. Florida followed three years later. This school year, Mississippi, Nevada and Tennessee also enacted programs.
Of those states, only Nevada opened its ESA program to all students attending public schools. Last month, the program launched with 96 percent of the state's students eligible.
However, ESAs are on hold due to legal challenges. A lawsuit brought by a group of Nevada parents and another by the American Civil Liberties Union of Nevada (ACLU) are still being worked by the courts. Parents said the program reduces public school funding below mandated levels. The ACLU opposes efforts to divert taxpayer money to religious schools.
Other states restrict ESAs for students with special needs. Arizona lawmakers expanded the program to adopted children, children of active-duty military personnel, students on Native American reservations and youth assigned to district schools with D or F ratings, as well as siblings of eligible students.
This school year, more than 5,000 students are using ESAs in those five states, according to The Cato Institute, a Washington, D.C.-based libertarian think tank.
More than half of states across the nation offer traditional vouchers and tax-credit scholarships. The Sooner State offers Oklahoma Equal Opportunity Education Scholarships and Lindsey Nicole Henry Scholarships for Students with Disabilities.
The Henry scholarship, a voucher for students with disabilities, faces legal challenges and awaits a decision by the Oklahoma Supreme Court. Plaintiffs said the law violates the Oklahoma Constitution by allowing public funds to go to private, religious institutions.
The legislation
Called the Education Savings Account Act, House Bill 2949 would allow parents to apply for accounts that would hold between 30 and 90 percent of per-pupil funds received through a state aid formula. The exact percentage depends on family income.
Funds could be transferred to an "eligible private school, virtual school or virtual coursework provider, or eligible postsecondary institution," HB 2949 states.
The act, authored by Nelson, calls for establishing a toll-free telephone number and website to provide information about the programs, private schools and providers. Students must take course work in English, math, social studies and science. For special needs students, families can select an education programs.
ESAs would be available to new state residents and Henry scholarship participants. Youths who attend private schools or are homeschooled are not eligible.
Parents would apply annually and submit results of a nationally standardized, norm-referenced achievement test with renewal applications. Additionally, parents would be required to sign sworn statements to adhere to the law. The Office of the Attorney General would investigate allegations of misused funds.
Senate Bill 609, authored by Jolley, remains active after it was pulled last session. The bill is similar but doesn't allow new residents to apply for ESAs and allows parents to enroll children in other public school districts and charter schools. SB 609 would allow parents to utilize 80 percent of per-pupil funding; 20 percent would remain at home districts.
Education proponents like Oklahoma Education Association voiced concerns over the proposals.
"When you take funding away from public schools to send a student — with tax dollars — to a private school, the public school still has to have heat and air," said Priest, the leader of 35,000 retired and current school employees. "They have to have a teacher in the classroom. They have to have the building. They have to have counselors, librarians and take care of all the mandates that the state has placed on public education."
The ESA legislation comes as lawmakers cut revenue dollars to common education and enrollment continues to climb. State formula funding for public schools remains $198 million below fiscal year 2008 levels.
Porter said Scissortail Community Development Corporation supports ESAs and said public schools will not be financially impacted.
"ESA bills are structured so that, while a student would no longer be in the school … a percentage would stay within the school," Porter said. "The child is no longer there to be educated."
She said ESAs alleviate school crowding by lowering class sizes.
Neither bill addresses situations in which a family chooses an ESA, but later decides to return to their neighborhood school district, Priest said.
"The funding doesn't follow back to the public school," she said. "It's already spent."
An analysis by Oklahoma City-based 1889 Institute, a state policy think tank that endorses ESAs, suggests ESAs might cover only a portion of private school tuition. For the 2015-16 school year, the average fifth-grader brought $3,079.60 to his or her school, based on the state's per-pupil funding formula.
Average private school tuition in Oklahoma is $5,853, according to private school information site PrivateSchoolReview.com.
"Covering this gap may be very difficult for many families," Byron Schlomach and Vance H. Fried wrote in Designing an Education Savings Account in 2016. "Schools could help by providing scholarships. Some might go further and implement cost cutting measures to allow a reduction in tuition."
Opportunities
Officials described a bright future for 25-year-old Positive Tomorrows if ESA legislation is signed into law.
The school operates on a $1.4 million operating budget. About $75,000 comes from government sources, such as the National School Lunch Program.
Supported by private donations, the tuition-free school serves a youth population in deep poverty. Last year, it turned away 75 children.
If parents brought ESA cards to registration, the school could expand to reach more children.
"When people think of us, they often think about who we serve and the sad stories," Agel said. "When you walk the halls, you don't get the feeling this is a sad place. You meet children who love to come to school. They have smiles on their faces. This is a real positive place."
Print Headline: Debating ESAs, Education savings accounts bring mixed emotions for state educators, school reform groups and parents.