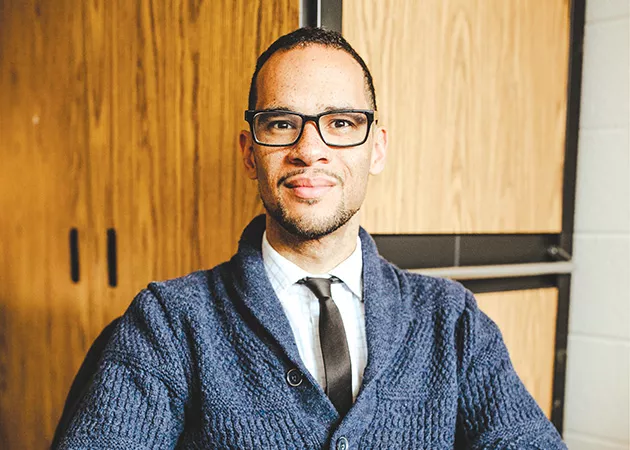 Alexa Ace
Ward 2 councilman James Cooper wants to include protections for gender identity and expression when it comes to municipal employment.
Oklahoma City Council voted to update the city's personnel policies to extend nondiscrimination protections for gender identity and expression. Ward 2 councilman James Cooper introduced the amendment at Tuesday's Oklahoma City Council meeting where it passed 7-2.
"What this resolution does is it shows where The City of Oklahoma City recognizes and supports policy of Equal Employment Opportunity and promoting a workplace free of conduct anyone could consider discriminatory, abusive, disorderly, disruptive and/or retaliatory," Cooper told Oklahoma Gazette. "We are working to include specific reference to discrimination based on gender identity and gender expression."
The proposal added "and gender identity and/or gender expression" to the city's Equal Employment Opportunity policy, which already prohibits discrimination based on sexual orientation. It only affects municipal employment.
"The cities of Norman and Tulsa and a couple of cities in Texas – Fort Worth and Austin – they have amended their personnel policies to include gender identity and gender expression as well," said Paula Kelly from the city's municipal counselor's office.
During the meeting, Cooper shared a personal experience with bullying as child. He said his best friend asked him to come outside and play when he was 11 years old.
"There was a crowd of maybe 24 people standing there, kids a bit older than me. They were there to watch another kid beat me up," he said. "It was because of the way I walked, which was maybe a little bit different. It was because of the way I talk, which was maybe just a little bit different. It was because even though I was good at basketball, I was better at writing. … Thankfully, inside of me I always knew I wanted to be a teacher and a writer, and I've had the honor to do both. It is critical that we send a message to our students that there is a dignity in work, and that they have an opportunity to achieve whatever God-given potential is inside them. Right now, in most of the states across this country, it is perfectly legal to fire someone not because of their work ethic, but because of whom they love or how they identify or how they express their gender. That is not our American values."
Cooper said that bullying can manifest itself into fatal violence in adults. He referenced statistics from a Human Rights Campaign (HRC) report.
"November 20 is known as Transgender Day of Remembrance, and digging into why such a remembrance exists, I learned that just in 2019 alone, we've seen at least 22 trans or gender nonconforming people killed in these acts of hate," he said. "Most of those killed in 2019 were young, black women, and so that's worrying. … When I have coworkers, students — whether K through 12 or college — identifying as transgender and telling me how terrified they are to even walk out of their house, that moves me."
HRC's report also found that since 2013, more than 150 transgender and gender nonconforming people were killed. At least 127 of those were people of color, nine in every 10 were transgender women and 58 percent of all domestic deaths took place in the southern part of the country.
Allie Shinn, Freedom Oklahoma executive director, and Alyssa Bryant, a transgender attorney and member of the Freedom Oklahoma board of directors, spoke in support of the amendment.
"We are asking tonight for the same opportunity as anyone else to compete for the dignity and the purpose which comes with a job. We want the same freedoms to provide for the people we love, to contribute, even to pay taxes to work hard to build our lives," Bryant said. "When I first came out in Oklahoma about a decade ago, I thought I couldn't do it here. I thought, 'I have to go to the coast. I cannot be a transgender lawyer in Oklahoma. It just won't work.' I was wrong because Oklahomans are fundamentally fair and decent, and they want us to all have the same opportunities to just build a life and to support our families."
Ward 5 councilman David Greenwell wondered how the new amendment would affect any policies when it comes to bathrooms or changing rooms. Chris York, from the city's personnel department, said the city doesn't have any explicit bathroom policies but said it is not a concern.
"If an individual wanted to use a bathroom that they thought was appropriate for them, the city would not have a problem with that. In the case that there was some disruption to the work environment, then we would need to get involved and we'd need to asses that situation with the specific set of facts for that particular instance," York said. "While the bathroom issue is a sensitive issue, in reality and in practicality, it's almost hyperbole. The reason I say that is because we had maybe I can think of two cases that I can think of in recent history — and I'm talking years where — we've had an instance where we had gender identity and bathroom. It's such a small subsection of the issues that we run into that I'm not concerned with some type of wholesale change."
In 2016, the city council debated an ordinance prohibiting discrimination against LGBTQ+ people in the housing sector. The ordinance, which expanded protections based on sexual orientation and gender identity when it comes to housing, narrowly passed 5-4.
The councilmen who voted in opposition, Greenwell, James Greiner (Ward 1), Larry McAtee (Ward 3) and Mark Stonecipher (Ward 8), still serve on the council, but only Greiner and McAtee voted against Cooper's amendment.
"I believe that we should not extend them at this time," McAtee said. "We should wait for the federal and state governments to do it."
Cooper responded saying that those protections are critical.
"This is specifically because I believe every individual has a right to self-determination, the pursuit of happiness, and no one should find themselves in a position where they cannot take care of themselves financially," Cooper told Gazette. "A job is critical to being able to pay your bills, to buy groceries, and we have to make sure that people have access to employment so long as merit determines whether or not someone hires them."