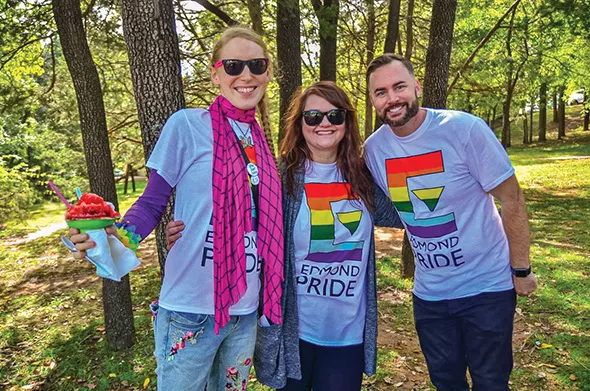 provided
Edmond Pride 2018 board members Jane English and Catrina Buchanan pose with Edmond Pride chair John Stephens at last year's event.
Edmond Pride
10 a.m.-6 p.m. Oct. 12
Hafer Park
1034 S. Bryant Ave., Edmond
facebook.com/ edmondokpride
Free
Now in its second year, Edmond Pride is 10 a.m.-6 p.m. Oct. 12 at Hafer Park, 1034 S. Bryant Ave., in Edmond. Though students, staff and faculty at University of Central Oklahoma (UCO) organized the event, everyone is invited to attend."We wanted to bring Edmond Pride to life as an acknowledgement of the LGBTQ community of Edmond and at UCO," said John Stephens, Edmond Pride chair and director of UCO's undergraduate admissions and president of its LGBTQIA+ Faculty and Staff Association. "We had it off of campus at Hafer Park, so that way it was available to all residents of Edmond and not just the UCO community. Since there had never been an LGBTQ festival in Edmond, we really wanted to make that a reality, to see the advancements that Edmond has made as a community. There's a lot of citizens, both allies as well as within the LGBTQ community, that were excited about the event."
To avoid conflicting with larger Pride events held in Oklahoma City, Tulsa and Dallas during the summer, Edmond Pride is held in October, which is also LGBT History Month. Stephens said waiting until fall to celebrate Pride also means milder temperatures.
"It's cooler weather," Stephens said. "It makes for a better experience and a longer experience for individuals because you're not sweating bullets."
Returning visitors will find a more diverse entertainment lineup than last year.
"One thing that we took from the feedback from last year was that we were more heavy on drag," Stephens said. "We had a variety show, but they wanted more bands, so we have a lot of great singers and performers coming in."
The performance schedule — headlined by RuPaul's Drag Race season nine contestant Farrah Moan, who performs at 4 p.m. — still features several drag performers including Scrappy Legacy, Kitty Marie Legacy, Hemi Starr, Crystal Beth, Alotta Vajeen and Shalula. However, many other activities and performances are also scheduled. The day begins with yoga led by Heart Shine Yoga & Eats owner Scott Bartel. The Clips n Hips dance troupe takes the stage at 12:45 p.m., and Lincka performs at 2:30 p.m., followed by Lez Jaaam at 3:15 p.m.The event also features a variety of activities appropriate for young visitors, including the popular Drag Queen Story Hour led by Shantel P. Mandalay at noon and 2 p.m.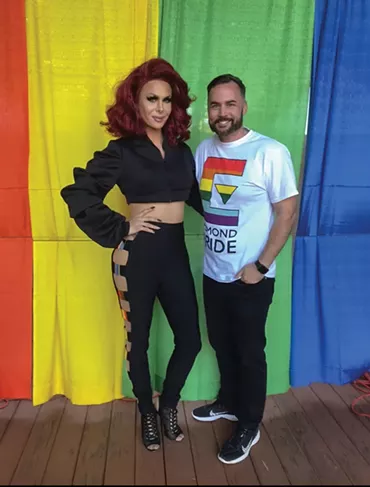 provided
Edmond Pride 2018 headliner Trinity Taylor poses with event chair John Stephens.
"We're a family-friendly festival," Stephens said. "There's going to be a children's area that has children's performers and acts. All music will be clean versions, so no cussing. There's no alcohol served; it's just refreshments — food trucks, but no alcohol. So the emphasis is really on education, bringing the community together, obviously highlighting LGBTQ history as well as just members of our community."
In a 2018 interview with Oklahoma Gazette, Mandalay emphasized the importance of making Pride events accessible to families.
"I think it's important to relate to the community and the people that are out there," Mandalay said. "You have to realize that it is a family event, and so there's kids involved. … You have to make sure that you're professional and that everyone has a good time and they're able to laugh and enjoy themselves as well."
In addition to live performances and food trucks, visitors can browse booths set up by local vendors and nonprofit organizations and read educational information about LGBTQ+ issues from signs written in English and Spanish. Speakers will offer information about LGBTQ+ organizations and ongoing efforts in Edmond and the Oklahoma City metro.
Neighborly feedback
provided
Shantel P. Mandalay leads Drag Queen Story Hour at noon and 2 p.m. in the children's area.
Judging by the response to last year's Pride, Stephens thinks the event was popular with the Edmond community.
"I heard nothing but positive feedback, from both vendors and from spectators that were excited to see this festival occur," Stephens said. "They enjoyed the performances and the variety of different activities that we had for the spectators. … I have not heard anything, personally, negative. I have heard that there's been things seen on neighborhood chats where they may be afraid of it, but I haven't seen it personally."
When he first proposed Pride to the Edmond special events office, Stephens said the event was unanimously approved. Even if there might have been some online complaints on sites such as notably grumpy Nextdoor, there was no real-life resistance.
"There were no attempts to kibosh it, and there was nothing, actually, the day of — no picketing, no protestors or things of that nature — so it was a really great festival," Stephens said. "I'm hoping for the same this year."
The feedback most important to Stephens came from a student who said she is "still here" because of Edmond Pride.
"It brought new life and energy to her during a really depressive state, and that was just encouraging to know that just the festival alone changed the trajectory of her life," Stephens said. "That level of acceptance is so necessary in the present day."
Admission is free. Visit facebook.com/edmondokpride.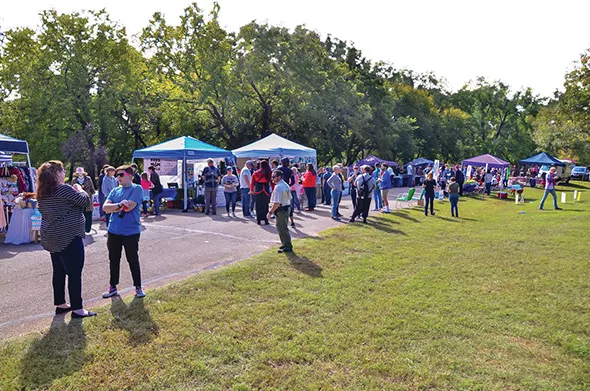 provided
Edmond Pride is 10 a.m.-6 p.m. Oct. 12 at Hafer Park.