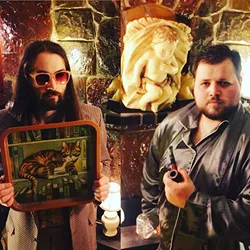 Local psych-pop band Special Thumbs hopes to start out by sticking out.
At a time when music has never been more disposable, Special Thumbs founders Joey Riley, keyboard and vocals, and Patrick Greene, guitar and vocals, are taking their craft in the opposite direction. The band hosts a release show for its debut EP Pollen 9 p.m. Friday at Blue Note Lounge, 2408 N. Robinson Ave.
Instead of the usual stack of CDs, fans will find a limited quantity of 10-inch vinyl records for purchase.
Many bands choose to work their way up to an eventual vinyl release. Greene said while a vinyl record might mean fewer initial sales, it should help make certain each record that does get moved is properly appreciated.
"People buy CDs and they throw them in the back of their car and they're never seen again," he said.
Greene and Riley describe their brand of indie psychedelic pop rock as "heady pop" in the vein of MGMT or Tame Impala.
"This is our debut EP," Riley said. "We want it to be something special, and we want there to be something tangible. I don't know if 'collector's item' is the right term — that's up to the fans — but it's something that's tangible and a piece of artwork and not something that will never get utilized or be appreciated."
The two met as teenagers in Colorado and bonded over a similar interest in music. They often played music together but never recorded anything serious. Riley moved to Oklahoma to attend college at Oklahoma Christian University. Greene, after graduating from Colorado State University, joined him in Oklahoma to begin pursuing music with his friend in earnest.
The two started a band under another name but never found much success. Things began to click after they reformed under the Special Thumbs moniker with a new roster. Ryan McGuire (drums), Stephen Tarbox (lead guitar) and Jared Fatkin (bass) comprise the rest of the five-piece.
Riley and Greene considered thousands of band names before settling on Special Thumbs. Nothing seemed to stick, and the names they did like were already taken. Their eventual handle was decided one day during what Riley called an "existential journey" finger painting outside on a hot summer day.
"Joey was doing some stuff with his thumbs that was really cool," Greene said. "I started trying to do it, but it didn't look as good. I was like, 'Man, you're short and you're ugly, but you do have these special thumbs.'"
The four-song Pollen EP took more than a year, including an intensive re-recording process, to complete. The project was mixed by Michael Trepagnier, an instructor at the Academy of Contemporary Music at the University of Central Oklahoma (ACM@UCO). The record features assistance from Oklahoma City folk-rock band Chase Kerby + The Villains. Kerby offers up some backing vocals while Ryan Magnani and Alberto Roubert contribute bass and drums, respectively.
"Those dudes just did a phenomenal, awesome job," Riley said. "Those guys laid down four tracks in a span of six hours."
The Pollen name comes from the idea that this is the beginning of something sweet.
Riley jokingly added that it's also something fans are hopefully not allergic to.
"The songs, if you had to sum them up, are about the illusion of life, whether it's in relationships or ingested substances," he said.
Visit specialthumbs.com.
Print headline: Lasting impression, Psych-pop band Special Thumbs aims for quality over quantity with vinyl debut.