Garett Fisbeck
Tyrone Cherry, left, and Leroy Johnson, right, talk about the Transit System in Oklahoma City, Thursday, June 11, 2015.
Oklahoma City's investment in evening bus service has made Laquanna Tucker a better cook.
"If I'm making dinner and I forget something, I can now run out on the bus to get something I need for the recipe," said Tucker, who relies exclusively on public transportation. "Before [evening service], you couldn't do that."
In January, Central Oklahoma Transportation and Parking Authority (COTPA), which manages the Embark bus system, extended two central routes to midnight, giving Oklahoma City bus service past 7 p.m. for the first time in decades. Even on the first day of evening service, many riders said their employment options were expanded. But accessibility to grocery stores, health care providers and other common destinations were also expanded.
"You used to have to get everything done by 6 or 7 p.m.," Tucker said. "Now, I have more time."
When considering route expansions, Jason Ferbrache, COTPA's director, said access to a hospital or grocery store is important, especially in parts of town that have been labeled food deserts because of a lack of access to stores that sell fresh produce.
"They were a big part of the focus and discussions we had back in 2013 when we were working through that whole transit system analysis," Ferbrache said about grocery store and healthcare facility access. "Accessibility to those types of services was very important. We definitely want to make sure we consider health care options when we consider service expansion."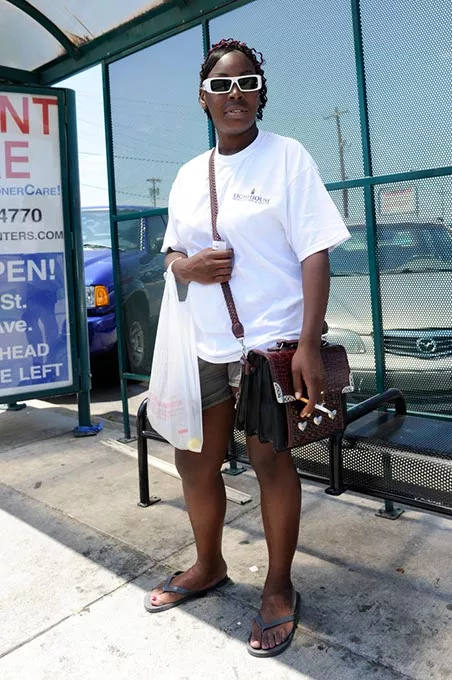 Garett Fisbeck
Laquanna Tucker waits for a bus in Oklahoma City, Thursday, June 11, 2015.
A 2014 Embark rider survey found that 63 percent of bus users say they have better access to grocery stores because of the bus system and 55 percent said they had better access to health care facilities.
After experiencing ridership growth on routes 23 and 11, the two routes with evening service, Ferbrache said two more routes will be extended to midnight sometime in early 2016.
"[Night service] was such a new thing for Oklahoma City, and it was such a limited service, you're thinking, 'What are our expectations with night service?'" Ferbrache said. "It certainly has met or exceeded our expectations."
Routes 23 and 11 averaged over 2,200 evening riders a night when the buses began running until midnight in January, COTPA data shows. In April, ridership had hit over 3,300 a night.
Routes 13 and 5 will expand to midnight sometime next year, Ferbrache said.
Tucker said the night service is great but adding Sunday service would be even better.
"You can't get around on Sundays, and a lot of people have places to go," Tucker said. "That's what I would like to see next."
Oklahoma City had been the largest city in America without bus service past 7 p.m. prior to this year. It remains one of the largest cities without bus service on Sunday.
Oklahoma City Council has named expanded transit as one of its priorities, and citizen surveys also show an interest in expanded service. Following a route realignment last year, which saw many routes increase in frequency, COTPA faces minor expansions until a more detailed and financed approach is offered by city hall.
Tyrone Cherry, who is a regular bus rider, said the city should be focused on adding more buses.
"If they doubled or tripled the buses they have right now, they will really be in the game," Cherry said.
Cherry said he also wanted to see more crosstown buses run, rather than all routes having to go to a transfer center in downtown, which also requires purchasing another ticket to get back on another bus.
"Everybody is tired of going to the transfer center," Cherry said. "It can take hours to get someplace if it's not in downtown and you aren't in downtown."
Ferbrache said expanding bus service is always a goal but increased frequency also makes a difference.
"We may not be serving a new location, but maybe we are serving it better," Ferbrache said. "Instead of a bus coming by every 90 minutes, maybe it's every 15."
Ferbrache said he also wants to focus on replacing his aging fleet. In a proposed budget to the city council last week, COTPA would like to spend $4 million in Fiscal Year 2015-16 to replace nine buses that are past their recommended useful life. Another nine buses are also in need of being replaced, Ferbrache said.
Any improvement, whether new service or increased frequency, will have a positive impact on the lives of residents like Tucker who rely on the bus system.
"I use the bus all the time, and so do a lot of people," Tucker said. "The new night service makes a big difference for people like me, and I also think it will make more people ride the bus, which is good for the [system]."
---
Print headline: Midnight run, Expansions to public transit make life easier for many OKC residents, but some say more services are still needed.