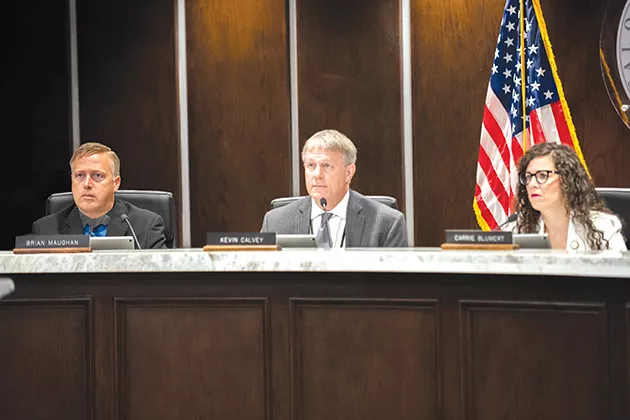 Miguel Rios
County commissioners unanimously voted to create a jail trust May 22.
County commissioners unanimously voted last week to create Oklahoma County Criminal Justice Authority, a trust to oversee the Oklahoma County jail's operations and finances. They also appointed trustees, including District 3 commissioner Kevin Calvey.
While there are still many questions about how the jail trust will work, whether the sheriff's office will continue operating the jail and what the trust will mean for employee pay and benefits, Cody Compton, chairman of the jail advisory committee, said those questions can be addressed at a later date.
"One thing that we did learn through the process is that there are still questions remaining — you know, employment issues, all that kind of stuff," said Compton, who is also District 1 deputy commissioner. "Bond counsel has assured us that while those questions are appropriate and important, they can be addressed at a later time. This allows us to start the process and get the trust going."
The purpose of the trust, according to the indenture document, is to make the most efficient use of all "economic resources and powers in accord with the needs and benefits" of Oklahoma. The trust will promote, operate, finance and develop jail facilities, rehabilitation, addiction, mental health and other diversion services. It will not perform any duties already exclusively reserved to a sheriff, jailer, undersheriff, deputy sheriff or any other county officer's office.
Larry Grant, president of Oklahoma County Sheriff's Office Fraternal Order of Police Lodge 155, told the commissioners they oppose any kind of jail trust because of the unanswered questions.
"Our reason is that nobody can tell us what's going to happen to the employees in jail — big question mark. Are they going to keep their benefits, pay? Nothing's been decided, and we feel like that should be one of the items that this board decides on and then passes it on," he said. "Because of those reasons, we are opposed to a jail trust at this time."
Timothy Tardibono, president of Criminal Justice Advisory Council, said there is a state statute that says employees of the trust could keep their retirement benefits if they were county employees.
"We do recognize that these employees have been faithful, they've been here a long time, many of them. We don't want to lose that experience, and we certainly don't want to lose their benefits," he said. "The nature of the jail advisory committee's review was that we did want to make a way to make clear that future trust employees who were former county employees would keep their benefits."
A representative of Voices Organized in Civic Engagement (VOICE), a coalition of churches, nonprofits and schools, said the group is also worried about the jail becoming privatized and profit-motivated, as the trust could hire an outside firm to operate the jail.
"The designation of a trust introduces the possibility of privatization of the operation of the jail where profit becomes primary over personnel and prisoners," Jim Gragg said. "We just are concerned that, in this process, the rights and wellbeing of those who are incarcerated in the county jail are protected. … We are very eager to see a commissioner appointed to the board of the trust who has a rapport with the sheriff, those who are incarcerated and the personnel in the jail."
Sheriff P.D. Taylor has also publicly opposed the idea of a jail trust, and his relationship with Calvey has been rocky. In February, Calvey showed up at the county jail with 17 others to tour the facility. The sheriff blocked them from entering, citing security concerns, as he only thought two people were going on the tour. In March, Calvey accused him of mismanaging the jail, and Taylor responded by defending his office and saying the issues were not his sole responsibility.
The sheriff's office did not issue an official statement on the trust but did post on its official Facebook and Twitter pages that it is "looking forward to a new level of oversight at the jail."
Trustee appointments
Despite unanswered questions, the jail trust was passed, along with the appointment of nine trustees. Four appointees were recommended by the Criminal Justice Advisory Council: M.T. Berry, Jim Couch, Tricia Everest and Sue Ann Arnall.
Sheriff Taylor will serve as an ex officio member.
Each commissioner also made one appointment. District 1 commissioner Carrie Blumert appointed Francie Ekwerekwu, an assistant public defender and attorney for The Education and Employment Ministry (TEEM). District 2 commissioner Brian Maughan appointed former senator Ben Brown. Calvey appointed former Lt. Gov. Todd Lamb.
When it came time to the vote on which county commissioner would be on the trust, Calvey requested they defer their vote. District Attorney David Prater criticized the potential delay, saying they should vote immediately to avoid any appearance of impropriety. Blumert agreed with Prater and began a motion to vote for herself.
"We must we must choose someone who is open to unique and new ways of looking at criminal justice reform and new and unique ways of funding a new facility. We must choose a representative who can collaborate, partner, find common ground and ultimately fight for the best for our county jail for the 1,600 people locked inside and for our 400-plus valuable employees," Blumert said. "My purpose for being a county commissioner was to reform our local criminal justice system, and with the background in public health, I feel the experience I bring to this situation is a fresh and new and needed perspective. … Even though this is a little unprecedented and this is not commonly done, but I truly feel that I am the most appropriate and best representative of this board to serve on the jail trust. And I cannot, in good faith, in the best interest of Oklahoma County, vote yes to send the volatile relationship between our sheriff and commissioner Calvey to go represent us on this trust."
Blumert's motion died for lack of a second vote, and Maughan instead made a motion to vote for Calvey. Maughan said he anguished about the decision. He said he felt called to do it.
"But I will be up for reelection next year, if I choose to seek another term," Maughan said. "I think that the time involved and who's going to serve on this committee would need to be somebody who will have the continuity of seeing it through, so I would make a motion that commissioner Calvey serve as the designee on behalf of this board."
Calvey supported the motion and voted to appoint himself as the commissioners' representative on the trust. According to the indenture document, a majority of the trustees will select a chair.