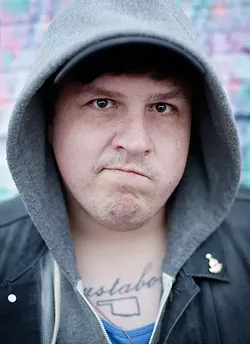 Garett Fisbeck
Ross Adams poses for a photo at Tall Hill Creative in Oklahoma City, Sunday, March 1, 2015.
Since the age of 15, Ross Adams, co-curator at Tall Hill Creative, has fused himself into the soul of the Midwest punk scene.
As a young teen, Adams frequented record stores, spending hours looking over album artwork. He loved art, always choosing to draw over finishing homework or chores. He also joined a few bands (including American Hate), playing his way, city by city, across the region.
Over the last 20 years, Adams sunk into the punk DIY subculture, exposing himself to a breadth of visual art that few outside the scene would recognize. He also realized that punk art should be put in a gallery.
That was the genesis of the Everything Is Not OK punk art and music showcase, which features regional and local artists at a variety of Oklahoma City venues.
"The basic premise of it is that I co-run a gallery, Tall Hill Creative," Adams said. "I was like, we have this gallery where we do art shows. It would be cool to highlight some of these people who don't have a chance to do anything other than album covers and flyers."
And naturally, he invited bands to play too.
The event runs Friday through Sunday. Art shows from 3 to 9 p.m. on Saturday and Sunday feature 30 artists, including David Anthony King, the punk graphic icon who created the Crass logo.
Music shows feature 27 bands sorted into shows titled Hardcore Volumes I-V. The two afternoon shows at The Shop — which has an undisclosed location that attendees must "ask a punk" to find — will have three acts, while the three evening shows at The Conservatory, 8911 N. Western Ave., include seven acts. Featured among them are OKC bands Fuckheads, Leech and Justice Keeper, and out-of-state acts Lumpy and the Dumpers (St. Louis), The Wrong (Chicago) and Big Zit (northwest Indiana).
All told, it was a massive yet surprisingly easy undertaking that Adams only started planning in September. He drew on his own experience and travels to corral close friends and contacts.
"When I started doing it, I expected most to say no," Adams said. "I asked 30 artists right out of the gate, thinking, 'More than half are going to say no and some will flake out, so then I'll have a manageable group.'"
While a solid strategy, it didn't quite work that way. Adams is a self-described "go big or go home" sort of fellow. He just went after it.
Pretty much everyone said yes.
"I was like, 'Oh shit. I have to make this happen,'" Adams said.
The Oklahoma punk scene is by no means impressive by big-city standards, which is something most bands he contacted were aware of. That shortcoming was something he felt positioned to rectify.
In his 20 years of playing, touring and curating, Adams has come to know nearly everyone involved with punk in the Midwest. He crashed on their couches or played gigs with them. He has just been a fan of some and followed them through their careers.
As he moved across America's plains, he strung together a chain of contacts, both artists and musicians, from Texas to Kansas City, Missouri, and Chicago, Illinois, to Minneapolis, Minnesota.
"I pretty much know somebody in every band," Adams said. "That's how it really came together. It was these two avenues that I operate in: DIY punk subculture and producing and curating visual arts."
It has been a whirlwind process, and Adams admittedly doesn't know what to think of it all, except that he's excited.
"I want to be able to compensate everyone and hopefully make back my investment, but I'm not looking for monetary success," Adams said. "As long as it happens, that's all I can ask for at this point. Everybody comes and has a good time and no one dies."
While Adams was the man to make the calls and book the gigs, he said he couldn't do it without help. He named a handful of friends — Tim Buchanan and Lenora LaVictoire among others — and mentioned that Tate James, Daniel Helms and Melissa Gray at Cheap Rent went above and beyond, too.
Cheap Rent, an OKC-based screen-printing company, offered to pitch in its services to complete 600 posters for the artists to sell. That comes to 20 per head selling for $20 each. They'll also unveil a new apparel line conceived in collaboration with the exhibiting artists.
With the added assistance from friends, the generosity of venues and Cheap Rent and the support of the artists themselves, it has been a collective effort that has brought Adams' vision to fruition. It's all he can do to return the favor.
"I wanted to expose people here to the world I have been exposed to," Adams mused. "I wanted to bring all my friends from all over the country to my place."
Print headline: Not OK , Twenty years of steeping in Midwest punk culture makes Ross Adams the perfect guy to bring it all home.