Oklahoma City Repertory Theater is back with its most ambitious season yet.
Continuing their commitment to providing unique works to Oklahoma City audiences, the company will present two touring productions and three original works this season.
OKCRep kicks off with an unconventional puppetry play, the comedic farce Bill's 44th.
"For this season, I sought out works that are joyfully defiant, theatrically intrepid, and aesthetically audacious, all with themes resonant to Oklahoma City now. Bill's 44th … is a spellbinding and charming work of original puppetry," Artistic Director Kelly Kerwin said.
Bill's 44th features the protagonist—a strong silent type—as he waits for guests to arrive at his birthday party. Bill finds ways to pass the time and entertain himself while he waits for his guests as the anticipation and anxiety build.
The New York Times called it "buoyant" and "mesmerizing," and this wordless play follows in the footsteps of other puppetry plays like the polarizing Avenue Q. Creators Dorothy James and Andy Manjuck tour with the show, bringing the character to life just in time for his ill-fated birthday party. Originally conceived as a five-minute piece in 2016, Bill's 44th was shelved for more than two years before the co-creators revisited the idea, developing Bill and his party in ten minute increments. The show received a grant from The Jim Henson Foundation and was included in the lineup at the New York State Puppet Festival in 2020, where a thirty-minute Zoom version was produced. Bill's 44th finally made its full-length debut at New York City's home for experimental theatre, Dixon Place, in June 2021. The tour stop at OKCRep's Te Ata Theater serves as the Oklahoma regional premiere.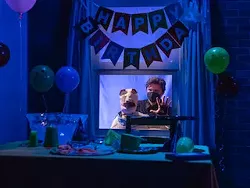 Benjamin W. Smith
A scene from Bill's 44th.
Puppet shows can be a difficult sell, but OKCRep was serious when they said they're thinking out of the box. Their last season saw an audio tour of the city, an interactive musical that is written as it's being performed and a thought-provoking monologue about the immigrant experience. Bill's 44th fits in with the mission of OKCRep and their aim to provide original and never-before-seen works. Theatre audiences who take a chance on Bill and his birthday will find that puppetry isn't that far off from what they know.
Bill is a stagnant figure, but the two puppeteers give him depth and a personality with their movements, creating an oddly satisfying and compelling piece. It's not the ideal birthday party, but Bill makes the most of it. Funny and poignant, Bill's 44th serves as the perfect example of the "human" experience, and strikes an emotional chord with its audience.
Kerwin said of the season: "Throughout the season, people will notice the phrase 'THIS IS THEATER' inscribed on many of our materials. OKCRep is committed to expanding what the definition of theatre is and can be. The five upcoming productions and the artists behind them represent this notion. Theatre is transdisciplinary, theatre is rigorous storytelling, theatre is inclusive, theatre is absurd, theatre is a catalyst for change, theatre is thought-provoking, theatre is your story, theatre is our story, and sometimes, theatre is a life-size puppet's story."
Included in the lineup is a continuation of their collaboration with The Public Theater in New York. Under the Radar: On the Road is a partnership with The Public Theater's Under the Radar Festival. This collaboration began as an initiative to expand the reach of the United States' foremost festival of international and experimental works into intimate local theatre communities. The rest of the season showcases the connections made between OKCRep and the wider theatre community around the United States.
For upcoming performances, OKCRep will further its dedication to the cultural ecology of Oklahoma City by making theatre accessible to everyone, implementing sliding-scale ticket prices and a "pay-what-you-can" option.
"We will offer the highest quality theatre for citizens of Oklahoma City but with fewer financial barriers. Theatre should not be a luxury. It's a necessary art form that makes us more in touch with our humanity," Kerwin said. "We will never stop trying to expand our audience base so that every OKCRep show looks like Oklahoma City: diverse, friendly and ready for anything."
The regional premiere of Bill's 44th is Sept. 29. It runs through Oct. 1 at the Te Ata Theater at the Oklahoma Contemporary Arts Center.
Visit okcrep.org