Bigstock
LOS ANGELES - NOV 30: Blake Shelton at the "The Ridiculous 6" Los Angeles Premiere at the AMC Universal City Walk on November 30, 2015 in Los Angeles, CA
About 15 years ago, a relatively unknown country singer from Ada hit the national spotlight. Just like Oklahoma performers Garth Brooks, Reba McEntire and Vince Gill before him, Blake Shelton found himself on a fast ride to stardom.
His debut 2001 single "Austin" spent five weeks at No. 1 on the Billboard country charts. Since then, he racked up an impressive 21 No. 1 singles and was nominated for seven Grammy Awards. Besides maintaining his recording and touring schedules, Shelton is also a judge on the long-running NBC TV talent show The Voice.
He brings his tour home with shows Friday and Saturday at Chesapeake Energy Arena, 100 W. Reno Ave.
In his early days, Shelton struggled as a singer trying to make it in the changing world of country music.
He left Ada right out of high school and headed for Nashville. Bill Reed, music director at Oklahoma City's legendary KXY 96.1-FM, remembers meeting Shelton for the first time.
"There were not a lot of tall singers with long hair running around, and he made quite an impression on everyone," Reed recently told Oklahoma Gazette. "Being a country singer from Ada, I had heard of Blake back when he used to do shows at the McSwain Theatre. But I didn't meet him until early 2001 when his label at the time, Giant, brought him by KXY for a concert in our conference room."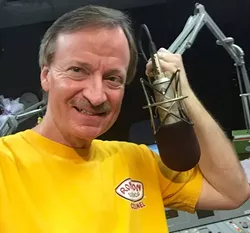 Reed said Shelton gave the KXY staffers a sampling of some of the music from his upcoming first album. One of those songs, "I Wanna Talk About Me," was set to be the first single, but it was ultimately scrapped and later became a hit for fellow Oklahoma artist Toby Keith. The album yielded two more Top 20 songs, "All Over Me" and "Ol' Red," and became Shelton's first gold album.
"I would have to say it was a good move to release 'Austin' as his debut single," Reed said. "We are still playing it on KXY to this day."
By 2003, Reed said, Shelton's record label had folded and he was signed with parent company Warner Brothers.
He struck gold again when his lead single "The Baby" reached No. 1. More hits followed, and in 2011, Shelton's career took a turn as he entered the prime-time world of reality TV.
"By then, his career was doing well and he was playing pretty good gigs, including several here in Oklahoma City at the State Fair and the Ford Center," Reed said. "But it was his personality and popularity of The Voice that put him in the superstar category. His ability to relate to the contestants and his funny banter between the other judges make him the true star of the show."
Shelton's much-publicized 2011 marriage to fellow country singer Miranda Lambert made the couple a favorite of the supermarket tabloids.
They often stayed at Shelton's Tishomingo ranch. Their divorce last year and Shelton's subsequent romance with former Voice judge and pop musician Gwen Stefani have kept him in the headlines. Entertainment Tonight "exclusive" reports speculate he's building a home at Lake Texoma.
But underneath it all, his music peers say Shelton is still the same guy he has always been.
Kind compliments
Singer Pam Tillis, who is working on a new album of her own, performed with Shelton recently at a concert in Idaho.
"We headlined the Mountain Home Music Festival near Boise last summer," Tillis recently told the Gazette. "He has such a commanding presence when he hits the stage. I grew up in an era when artists didn't need big screens and laser beams and all those production elements. They just sang. And when I saw Blake perform, he didn't bring any of that with him. It was simply him connecting with the audience. And that's the best compliment I can give."
Tillis is a member of the Grand Ole Opry and said she was proud to have Shelton on board.
"The opry is like the hallowed mother church of country music," Tillis said. "So many great entertainers have walked across that stage, people like Loretta Lynn, Patsy Cline and my dad (Mel Tillis). I was asked to join in 2000, and it was exciting to see Blake join the family. We are a younger generation of artists with our own sound, but we are proud to continue the legacy of those who came before us."
In advance of Shelton's Oklahoma City concerts, KXY is giving listeners a chance to win free tickets to the shows.
"Listen to us in the mornings and we'll tell folks how they can win," Reed said. "And I'm very proud to say KXY is the only morning show that has a history with Blake all the way back to the beginning. I can honestly say he's just as comfortable having chips and salsa at Nacho Mama's in Tishomingo as he is in Hollywood. His personality hasn't changed — what you see now is what he's always been, and that's a true Okie."
Print headline: Okie troubadour, Oklahoma native Blake Shelton returns home for two performances in OKC.