Rapper Jabee is piecing together songs from the entire span of his music career to form the unique theater performance Jabee: The Life & Times. | Photo Gazette / file
Jabee has no problem keeping crowds entertained at his shows. But at a typical rap concert (or almost any other type of non-acoustic show), even the Oklahoma City emcee's biggest fans are not engaged with every word at every moment. People are mostly there to have a good time.
Jabee: The Life & Times is the opposite of that dynamic. The unique music event is a narrative, content-driven practice of artistic intimacy.
"With this, we want to capture the audience with every single line, every single word," Jabee said.
For three nights only, Jabee will present a musical theater piece he calls a "live documentary" in a small, 40-seat theater. Jabee: The Life & Times runs 7:30-9 p.m. Thursday-Saturday at The Actor Factory's Factory Showroom, 3750 W. Main St., in Norman.
Tickets are $22.50 in advance and $30 at the door. Admission includes food catered by Taste of Soul, a free event T-shirt and a CD of the performance playlist, including a song made specifically for the show. Because seating is limited, advance registration at factoryshowroomseries.com is encouraged.
Jabee, an Emmy-winning artist who has toured with hip-hop acts like Run the Jewels and Murs, developed Jabee: The Life & Times in partnership with actor, teacher, casting director and Actor Factory owner Chris Freihofer. The show began as another concert in the Factory's monthly Factory Showroom series, which has featured artists like Travis Linville, Maggie McClure and Shane Henry in the past.
When Jabee heard Freihofer wanted him to perform for 90 minutes, he started thinking about what he could do to fill all that time. That is when he realized that a lot of his music, when pieced together in a certain way, can be used to tell the story of his life.
"All my music has always been about me — true stories that I've seen or lived through or dealt with," he said.
Part concert and part performance piece, the show uses Jabee's existing music to tell his story — from beginning to present day — in a way unlike any fans have seen before. Vintage photographs will be paired with new video and interviews, making Jabee: The Life & Times a highly personal multimedia event.
Freihofer said the Factory Showroom Series is all about putting an audience's full attention on an artist, unlike the typical bar or club show.
"The audience is sitting and paying attention to them and not talking or at the bar or whatever," Freihofer said. "I don't have a bar. I've got 40 seats, and they face the stage. There's no dance floor; it's just pay attention to the artist. It's very artist-forward."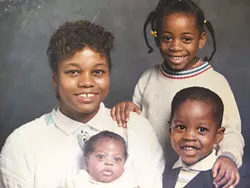 Jabee front right poses as a child in a picture with his family. Jabee: The Life & Times will incorporate several old photos of Jabee and his family to help create a live documentary event. | Photo provided
Friendship forged
Jabee was at Norman Music Festival several years ago when a friend told him there was a white man with a camera looking for him.
"I'm thinking, 'Man, is it the police?'" Jabee said. "I thought I might have had a warrant or something."
It was not a law enforcement officer; it was Freihofer who wanted to speak to the rapper. Freihofer's day job is as a casting director, and that day, he was casting for a national Nike commercial with former Oklahoma City Thunder star Kevin Durant.
Jabee said a line into Freihofer's camera, took a few pictures and that was it. He did not think he would ever hear back on it, but to his surprise, he eventually got a call to appear for the shoot.
Since then, Jabee and Freihofer have partnered for small parts in a few other commercials and films. But the two have formed a surprising friendship that extends beyond the professional realm.
Jabee said he can relate to Freihofer in that both of them are involved with a lot and highly present in everything they do. He wants Jabee: The Life & Times to not be a show about him, but something that Freihofer and each member of the audience can relate to as well.
"I don't only want to show how I feel, but express some of the things that Chris goes through, too," he said. "I know a lot of the stuff that I go through, like pain, depression, stuff like that, we stay up on the phone late nights talking about it. Like, if I'm dealing with something and it's 4 a.m., I can call him."
Careful planning
As Jabee was going through all the music that he could potentially use in the show, he came to a sudden realization.
"I realized I need more happy times," he said. "Or at least I need to rap about more happy times."
Jabee has been playing gigs for so long that it has become almost second nature to him. But Jabee: The Life & Times is a different animal, one that was almost too ambitious of a project for him and Freihofer to take on in the few months they had to prepare for it.
Every song needs to be visually engaging in some way. Every detail needs to forward the story. It can't just be a random assortment of his most popular tunes.
"I have to break down each song in detail and figure out how we will perform each song and what we're going to do," he said. "Not only that, but decide where it fits in the story."
With more attention paid to him on stage, there is also more pressure to get everything right. The rapper known for improvising raps onstage must now strictly stick to the script.
"If I do a regular show and I stumble or mess up or whatever, I can just freestyle to the rest of the song until the beat stops," he said. "Or I can say, 'Cut the beat; let's go to the next one.' This one, everything has to be done spot-on and right."
Last chance?
Jabee said he thinks that a certain segment of the people who attend his show will do so because they want to see the emcee in a way they have never seen him before. But he knows there will be some people in attendance who are more specifically interested in Freihofer's projects than they are in his music career.
"There's also going to be people who know whatever Chris does, it's always top-notch," Jabee said.
Freihofer might be most known as an actor for his role as lawyer Dan Wachsberger in the hit AMC series Breaking Bad. He has also cast directed for movies like August: Osage County and The Killer Inside Me. Freihofer said he is honored Jabee chose to hold an event like this in his small artist showroom.
"He has made the commitment to do something a lot more labor-intensive than I was expecting," he said. "It's really special, and I appreciate his commitment and vision for this thing."
Jabee: The Life & Times will be seen by, at most, 120 people. It is likely that this will be the last time the emcee does anything like this. The uniqueness is part of the appeal.
"Each night, we do it, and then that's it," Jabee said. "If you caught it, then you caught it."
Print headline: The reintroduction; Rapper Jabee unveils his unique 'live documentary' musical stage show Jabee: The Life & Times.