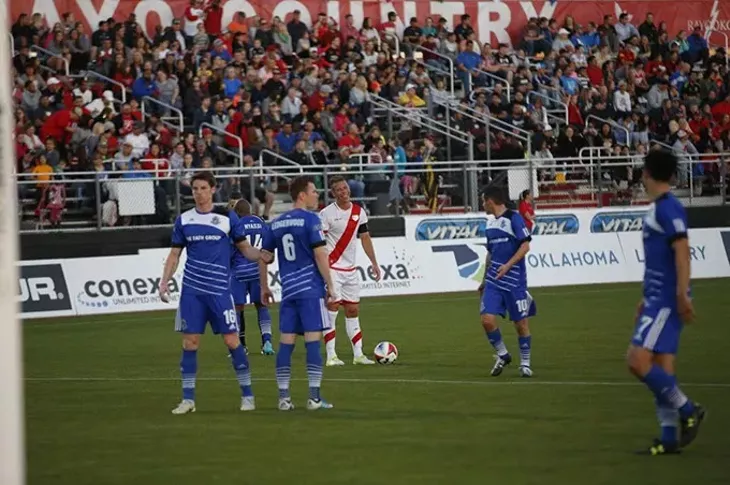 Oklahoma City's newest professional soccer team, Rayo OKC, had a good problem April 2. The demand for tickets from people who showed up to watch its inaugural game went far beyond the number of seats allotted in its system.
At game time, lines of people still waiting to buy tickets snaked out into the parking lot at Miller Stadium on the campus of Yukon High School west of OKC.
"Every ticket that we had in our ticket system was gone, so I authorized to open up 200 additional standing-room-only tickets," Brad Lund told Oklahoma Gazette.
The official attendance number by the end of the evening was 6,416.
Lund is a managing partner along with Yukon native DeBray Ayala. Sean Jones of Mustang is the minority owner. Well-known Spanish soccer club Rayo Vallecano de Madrid is majority owner and provides experience and expertise.
Expansion club
Rayo OKC is an expansion club in the North American Soccer League along with two others in Miami and Puerto Rico. The league has 11 clubs total that play spring and fall seasons. Rayo OKC will become the league's 12th club when it joins in the fall.
The addition of Rayo OKC means there are now two professional soccer clubs in the OKC area. Oklahoma City Energy Football Club is in the United Soccer League and plays at Taft Stadium near May Avenue and NW 23rd Street. That club played its first season in 2014.
Lund said that his team's game April 2 was "the first pro sporting event in the history of Yukon." Because of that, he had no reliable measure of what the response would be ahead of time.
He said that earlier in the week, he was feeling down because it looked like Rayo was going to get too much competition from the University of Oklahoma's Sooners playing in the Final Four the same night.
"But as each day went by, our ticket manager kept saying, 'We're selling tickets. We're selling tickets," Lund said.
Familiar kicks
Rayo Vallecano de Madrid is a part of the La Liga league. Lund said that this is the first club in that league to invest in soccer in the U.S.
He estimated that "about 40-50 percent" of those in attendance at the April 2 game were Hispanic, which was a sign that the parent company's name did have an impact.
"The Hispanic community certainly recognizes the name," Lund said. "They are more than aware of that franchise and that league. I was especially proud of the diversity of the crowd."
Residents of eastern Canadian County are not the only ones the club is targeting. Miller Stadium, built with the rest of the new high school campus in 2012, puts the team in a great location.
"The campus and the stadium have a lot of curb appeal," Lund said. "But Interstate 40 and the Kilpatrick Turnpike being within a few miles is what sold me. It's about a 12- to 20-minute drive from pretty much anywhere in OKC."
For a schedule, tickets and club and player information, visit rayookc.com.
Print headline: Fresh footballers, Rayo OKC kicks off its first season as OKC's newest soccer team.