We asked readers what they most loved most about reading Oklahoma Gazette, and you responded. We heard from foodies, puzzle lovers, artists, news junkies, city leaders, former employees (Yeah, they said nice things, too!) and dozens of others. We pored through the responses, and here's what you had to say.
Thank you, Oklahoma Gazette readers. We love you.
— Jennifer Chancellor, editor-in-chief
MORE 35TH ANNIVERSARY COVERAGE: • OKC, OKG grew together as paper chronicled city's revival. • Timeline: A brief history of Oklahoma Gazette. • Reader response: What you love most about OKG. • Leaders share Gazette memories. • OKG Eat: Practice makes perfect! • Chef Kurt Fleischfresser's curiosity helped establish city's love of localized menus. • OKG arts groups have persisted, prospered for decades. • As OKG grew, so did OKC's performing arts scene. • Oklahoma music scene is still a work in progress.
David Donahoe: Gazette is the heartbeat of Oklahoma City. Gazette is read by everyone, from underemployed hipsters to up-and-coming young executives. If you are visiting Oklahoma City and you want to know where to go, what to do and, most importantly, what to eat, the Gazette is your one-stop shop. Where will you take your date on Thursday? Check Gazette. Looking for live music? Check Gazette.
Kelly Taylor: I read it because the Gazette covers only the news that is fit to print. I am kept in-the-know on only that which I need to know. No filters needed.
Terrie Altnan: I love Oklahoma Gazette because of its unbiased reporting on issues such as same-sex marriages, equal pay and legalizing marijuana, which apparently are too controversial for other newspapers. The Gazette lets us know what is really going on in OKC, not just what mainstream Republicans want us to think is going on. I look forward to a report on the new, full legalization of marijuana efforts going on currently on OKC. Thank you, Gazette, for having a pulse on the heartbeat of OKC!
Teena Thach: I love suggestions on places to eat and events to attend. It's my social bible!
David Rackley: I turn to Gazette for so many reasons. I'm a booze-loving, fun-seeking foodie, and the Gazette keeps me in the know on all of OKC, politically and socially.
Frank Mulliken: I read it because the staff are all so good-looking!
Ashley Watts: I love you because I wouldn't know how my stars align each week without the Gazette! My co-workers and I gather each Wednesday in our front office and read each other's out loud. After they've all been read, we waste a good amount of our lives overanalyzing them. I look forward to the vague premonitions each week. Also, how would I know what's happening around my city without you guys? I've been a faithful reader and crossword puzzler for several years now. Keep up the excellent work.
Dee Morales: Because the Gazette is fearless. Someone's got to be!
Starlyn Coopet: I love Gazette because it is informative. It showcases events in the city and places to eat as well as interesting stories on what's happening. No boring news ever in this paper. It reads across many types of people and lifestyles. Love, love, love!
Tiffany Robinson: I love Gazette because it keeps me up-to-date on all the events that are happening in the city. My weekends are never boring!
Curtis Hughes: I am an Oklahoma transplant by way of southern California. My wife's family, however, goes back to the land run. I moved to Oklahoma City in 1999, and I felt lost. After my first month, I was also bored. I picked up my first copy of the Gazette, not knowing exactly what it was. I soon found out that it was my ticket to all that is great about this state. Gazette introduced me to restaurants, live music shows, unique shops and a plethora of entertainment. The Gazette is Oklahoma.
Elisabeth Thurber: Thank you for always keeping art alive and informing me about every event in Oklahoma.
Annette Pate: Happy birthday, Gazette! I had no idea you were so old! I love the fact that I can pick you up in so many places and stay up-to-date on all the happenings around town. I wish you many more years of success!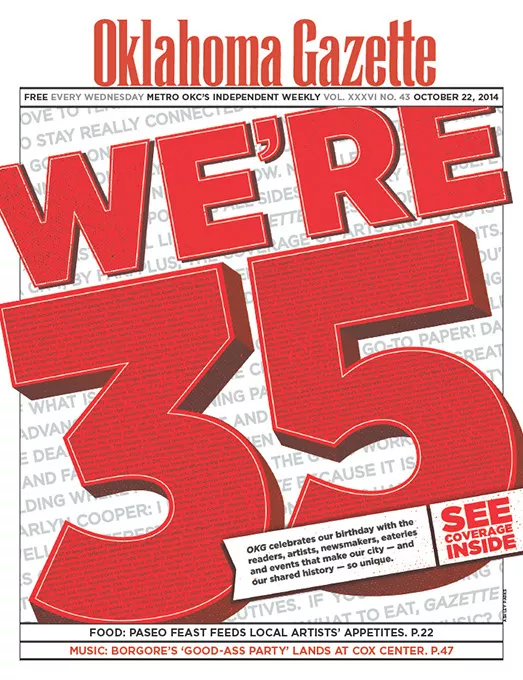 Elizabeth Dragoo: I love the local theater reviews and listings. Thank you for supporting the arts in our great city.
Camille Risch: OKC is on the up-and-up. There is a lot going on and lot to keep track of. There are events in different areas, for different interest groups, at different times, on different dates and for different reasons. Oklahoma Gazette gathers all of the information and does us a real favor by helping us keep our social shit together. It's the glue, the Oklahoma Glue-zette and I love it!
Erika Jernigan: OMG! What's not to love? Entertainment, art, music, food and festivals. I love that I can pick this up once a week and find a new place or event to attend every week. I babysit my cousins frequently. Their ages are from 5 to 17, and I can find something to do with all of them thanks to the Gazette. I love a variety of music, and I can always find a place to go and listen to whatever type of genre I am in the mood for once I open this magazine. I absolutely love the food reviews and suggestions!
Shelly Dill: I love that I can always pick up a Gazette and find something super cool to go do. It might be a festival, art event, band or new restaurant. There is always something new and fun to go do.
Terri Sadler: Happy birthday, Gazette! Great covers, great news, great ads, great events, great community support. I'm proud to have contributed to the effort for over a third of the Gazette's life. Such a great team of hardworking, dedicated folks. I love the Gazette!
Brian and Fawn Hammons: For years, my wife and I have eaten breakfast on the weekends at local diners around Oklahoma City and Edmond. Every time we walk into one of our favorite establishments, we pick up the Gazette. The articles, stories and events inside the Gazette become part of our conversation that morning and direct us to fun activities and events the rest of the month. Congrats on your 35th anniversary!
Jennifer Chadwick: It's refreshingly different than other local news outlets.
Dec. 1993 Oklahoma Gazette
Daniel Theisen: I love Gazette for reporting all sides of a story or issue. Even if I don't share the same viewpoint with your publication, at least I feel like the Gazette gives a more honest picture of truth than most other media outlets in Oklahoma City, by far. Plus, the coverage of arts and food is the best, especially new restaurants and food trends. I wish you still had movie showtime listings, but smart phones and Fandango have picked up the slack there. Thanks, Gazette!
Valencia Brown: For the past 35 years, the Gazette has been informing Oklahoma of upcoming events, places of entertainment, new places to eat and visit for kids of all ages. I personally enjoy the Gazette for these reasons and am grateful for the information this paper gives.
Danielle Correll: I love that you can always rely on Oklahoma Gazette to see the exciting events for the month and the holiday seasons, also the fantastic places to eat and try. It's always a go-to me for me each week!
Jordan Stricker: I love Oklahoma Gazette. Reading it often sends me back in time to fond memories of my youth in Norman.
Misty Wilson: Why do I love Gazette? Let me count the ways ... The Gazette is the only weekly alternative newspaper worth reading in Oklahoma. It's my go-to for happenings around OKC and Norman. I can always count on Gazette to give me an unbiased news story that is actually thought-out and very well-written, not to mention the bad-ass graphic designers and that amazing advertising director, Christy Duane, filling the paper with great advertisers. Happy 35th, Gazette!
Todd Rudat: It's free, informative, touches on all things entertainment and is a great bathroom read. Love ya, OKG!
Karen Miles: I love the Gazette's coverage of news stories with a viewpoint not seen elsewhere. I also like the Sudoku puzzle in each issue. I look forward to each Wednesday!
Mary Lalli: It's not traditional!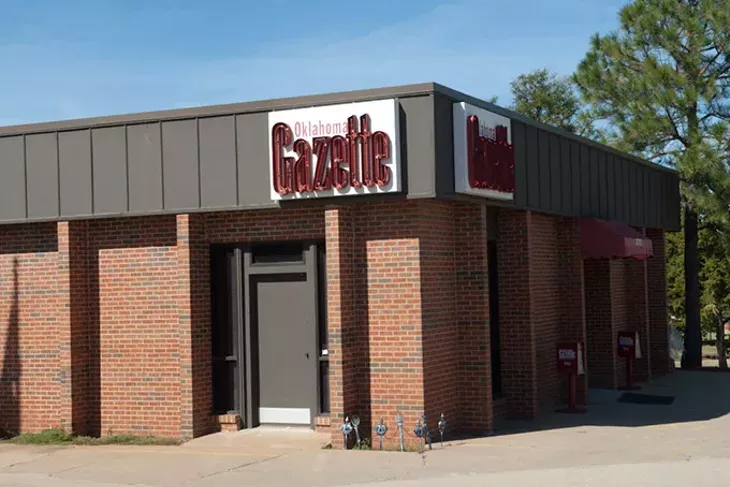 Kim Jameson: Until the web version of the Gazette became available, friends and family saved and sent me copies after my move to Tennessee. I still pick up Gazettes when I'm home and take them back with me to put on my coffee table to stay really connected to my roots. No lie: I've heard on way more than one occasion, "How did you know what's going on in OKC?" To which my answer has been, "It's in the Gazette!" Congrats on 35 great years and keeping me connected!
Ana Bloom: It is my go-to guide to what is happening around town! Whenever family and friends visit, I look in the Gazette to see where I can take them.
Lori Evans: Always an entertaining read!
Shelly Landis-Scovill: Because it tells me what is going on, simple as that.
Jacquelyn McCloskey: I love you, Gazette, because you are "the swag" of OKC! BEST reading material in town: interesting, exciting, ever-new. Everything I ever wanted to know I learned from the Gazette. It's the coolest, latest, "up-to-date" news on OKC!
Robert Jackson: It's not The Oklahoman.
Lori Gonzalez: I love the Gazette for a lot of reasons! I find out the hottest places to listen to live music; I get awesome stories about local restaurants; I get a sudoku and crossword puzzle; plus news from around the state & nation that the network news won't cover!
Dana Hunteman: Keeps me up-to-date on new things in OKC.
Bill Crosson: I love the articles and the list of places to go and see.
Douglas Finch: I love the well-rounded content of the Gazette. I look forward each week to the new issue. When I can't find an issue or I am out of town, I drive to the office and pick up past issues. I often read them more than once and share them with friends.
Raelina Harris: I love the Gazette for the food coupons and reviews.
Ryanne Kelley: Love the food section.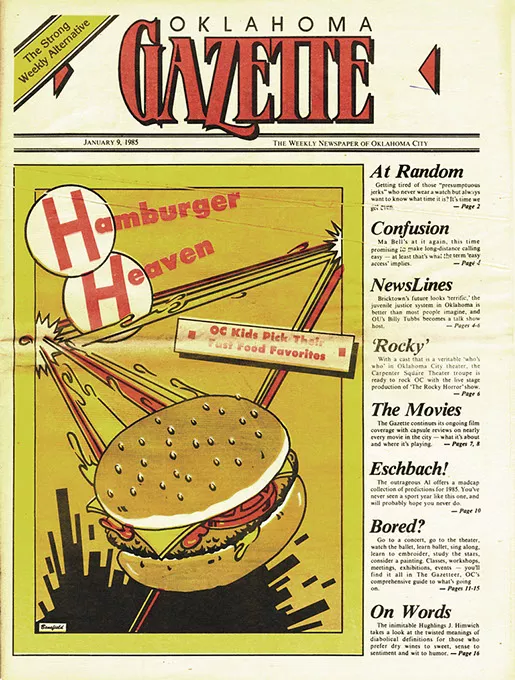 Jan. 1985 Oklahoma Gazette
Brittany Pehlke: So many helpful articles for parents. Special needs children and parenting articles have helped me feel more appreciated because you feel like you're isolated when it comes to events and such for children with disabilities far and wide. Thank you for being there for my son Kyle and I throughout the years. Look forward to many more articles in the future.
Michelle Evans: I love it for the diversity and excellent summary of what is going on in the city. It is my go-to paper.
Tiffany Cook: It's the best local newspaper around! It has everything from reviews to concert dates to the horoscope! Great job, Gazette. Keep up the awesome work!
Andrea Teter: I love the Gazette for many reasons. A few of them include informative local arts coverage and food reviews, balanced editorials and reporting and the hilarious Chicken-Fried News! I am so thankful for the Gazette and hope it's around for more than another 35 years!
Julie Cooley: I love the fun special issues you have. Love it! You guys go-go Oklahoma Gazette. Good work, you guys!
Adria Rupe: It's free, and I love the calendar of events. It has informed me of events that otherwise I wouldn't have known. Thanks.
Stephanie Thomas: The Gazette is my source of events, activities, restaurants and happenings in the OKC area! I enjoy reading the articles of locals and seeing all of the fun and exciting things going on around town. Thank you, Gazette!
Winston Exley: I read it because they focus on what is happening now and keep us in the know locally!
Linda Exley: I read it because it has all of the up-and-coming events each and every month!
Lou Rau: Thanks to the web, I don't read newspapers anymore with the exception of the Gazette. The Gazette keeps me up-to-date on new hotspots around OKC. My favorite Gazette is the Best of OKC survey issue. Thanks for all you do.
April Heil: I read it because it gives me the latest social activities firsthand!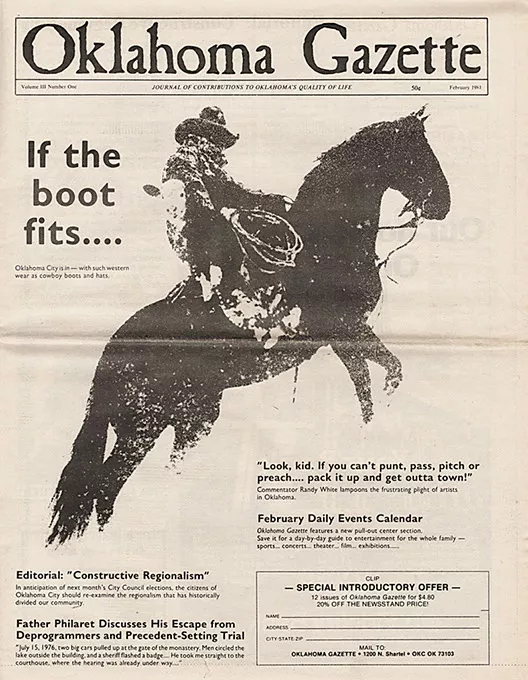 Feb. 1981 Oklahoma Gazette
Sheryl Martin: My husband and I love the restaurant reviews. We are always looking for new places to try, and the review section is a perfect place to look!
Emily Kenney: I love all the different aspects the Gazette covers. A person can tell how well-thought-out and intentional employees are to create a great issue.
Margaret Scott: I love that there is a true news source in OKC, available free, instead of the slanted tripe that is peddled as news in this city and state!
Jade Day: Your articles and features are top-notch. You cover such a broad spectrum of Oklahoma, and it is fantastic. Love, love, love Oklahoma Gazette!
Melissa Torres: You get the inside scoop on all the new restaurants in town.
Jamie Anderson: The question should be, "What don't I love about the Gazette?" The Gazette is awesome at showcasing what's great about Oklahoma. Gotta love that! Congrats on doing it for 35 years.
Hartwell Dodge: It keeps me informed of what's going on in the greatest city in the nation.
Deby Hawkins: I love the Gazette because of the sudoku, but also the event calendars.
Claudia Hoyos: The Gazette is the best paper! I love to read articles and stay informed about events in the metro area in Oklahoma. Happy birthday! Have the best celebration!
Print headline: <3, Oh, dear readers! Thank you for sharing the love with Oklahoma Gazette for 35 wonderful years.