Provided
from left After the Flood is currently in development as a TV series for Apple; Luca's Bridge/El puente de Luca is a bilingual children's book; and Voices from the Heartland, Volume II is a collection of essays written by Oklahoma women.
Oklahoma Book Festival
9 a.m.-5 p.m. Sept. 21
OKC Boathouse District
800 Riversport Drive
Free
When earth's rising oceans finally overtook Nebraska, Myra and her daughter Pearl fled to the mountaintop colonies, an archipelago where the resourceful can trade fish for supplies scavenged from submerged houses. So begins Kassandra Montag's After the Flood, a science-fiction novel set in 2130 when climate change has drowned most of the world.
Montag — a featured author at Oklahoma Book Festival Sept. 21 at OKC Boathouse District, 800 Riversport Drive — said she was inspired to write After the Flood by anxiety about earth's future.
"I have two young boys, and something I think about a lot is, 'How am I going to raise them for the future and this new landscape that we might have?'" Montag said. "They may be battling different things in the environment — heat waves, storms — that I haven't really had to experience, and it really makes me scared for them. Even though there's a lot of fear around the unknown and what will happen, I also wanted the book to have a lot of hope."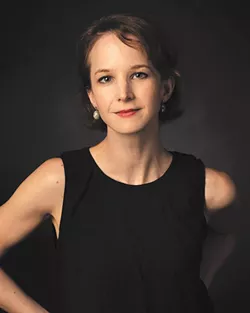 Nancy Kohler / provided
Kassandra Montag is one of more than 100 authors featured at Oklahoma Book Festival Sept. 21.
Writing After the Flood, currently in development as a TV series for Apple, required native Nebraskan Montag to research seafaring cultures in order to give the book a "gritty realism." She described her protagonist Myra, who struggles to keep herself and Pearl alive while searching for her missing daughter Row, as "forthright and confident and kind of aggressive."
"She naturally came to me flawed, and I knew that she wasn't going to be some lovely Mary Poppins character," Montag said. "She was going to be a tough badass. I do remember having moments of wondering, 'Is she too flawed? Are people going to be bothered by her?' But I knew I had to just be honest with her character. She does do some terrible things in the book. She's manipulative. She's deceitful. However, I also wanted to be true to the fact that in a survival story, people are making really hard choices. No one's going to survive by being this perfect, sunshine, moral person every second of the day."
Mariana Llanos, another featured author at Oklahoma Book Festival, also drew inspiration from maternal empathy. Her bilingual children's book Luca's Bridge / El puente de Luca tells the story of a young boy's struggle to adjust to life in Mexico after his parents are deported from the United States. As a Peruvian immigrant with children who were born American citizens, Llanos wanted to write a book that honestly addressed the complicated and difficult realities immigrants face while making the story "simple and relatable" for young readers to understand.
"There's not a green card fairy," Llanos said. "It's sad, and no one wants to think about this … but this happens more than we want to think it happens. Maybe it happened in your neighborhood and you just never found out. … My goal with the book is not to make people sad. … There is a lot of hope, and there is laughter, and the family is able to dance together … but that doesn't mean that they're not suffering because of what's happening to them."
Llanos said the book is not a political statement but an attempt to show the human lives at the heart of a highly charged debate.
"I'm not trying to tell people what to think or how they should act or what they should say," Llanos said, "but just to give them a perspective, just to show them another story that they probably wouldn't hear and to have people draw their own conclusions."
Featured author and Tulsa Artist Fellow Quraysh Ali Lansana recently published the skin of dreams: new and collected poems 1995-2018, his ninth book of poetry and 20th book overall. Lansana said his work — which also includes Our Difficult Sunlight: A Guide to Poetry, Literacy & Social Justice in Classroom & Community and They Shall Run: Harriet Tubman Poems, a book he spent three years researching — examines "how the current moment is connected to a previous moment and how that previous moment shapes this current moment and how it might inform a future moment."
Two Sisters Photography / provided
Quraysh Ali Lansana recently published his ninth book of poetry and 20th book overall.
Like Llanos, Lansana said he is also more interested in motivating readers to make up their own minds, a philosophy shared by mentor Gwendolyn Brooks, the first African American writer to receive a Pulitzer Prize.
"Art should move us to think and not so much tell us what to think," Lansana said. "We have enough preachers and politicians and pundits to tell us what to think, but art should move us to think and sometimes to act. … Historically and globally, poetry has been one of the leading art forms of social change."
Local voices
Sara N. Beam, director of the University of Tulsa's writing program, said she was motivated to edit
Voices from the Heartland, Volume II
, a collection of essays written by Oklahoma women about their lives, after she saw the reaction the original volume had in one of her writing classes.
"The students responded so much more genuinely and powerfully than I'd really seen them engage with a text before," Beam said. "A lot of the things that we have students read in an academic environment are written by people that they would never meet or people who are not even alive anymore, and this was group that they potentially could be in the same community as or literally from the same hometown or one nearby, and these were all living writers. … That helped them realize that the stories from their lives are valuable. … This is sort of a special experience to get to read something written by someone who's from where you're from and who maybe shares something about an experience in their life that people don't normally talk about, like having a relative who's incarcerated or dealing with addiction yourself or trying to navigate the small, private corners of parenthood."
She co-edited the collection with University of Oklahoma creative writing teacher Rilla Askew and Rogers State University professors Emily Dial-Driver and Juliet Evusa, who all worked to cultivate a diverse list of contributors "who would have an interesting story to tell and might be willing to tell it," regardless of whether they considered themselves writers.
"We didn't tell them what to say," Beam said. "We said, 'Please, share a story that has been valuable in your life, that you think is worth sharing and worth handing down. … This is about your actual voice, your heart language, not some sort of idea of academically formal writing.'"
In her first time as the lead editor on a book, Beam said she received valuable guidance from her co-editors.
"Out of this project, we produced this book, but we also produced a community," Beam said.
In addition to more than 100 featured authors, the festival includes panel discussions and presentations, live entertainment, children's activities and food trucks. Admission is free. For a full schedule, visit okbookfest.org.