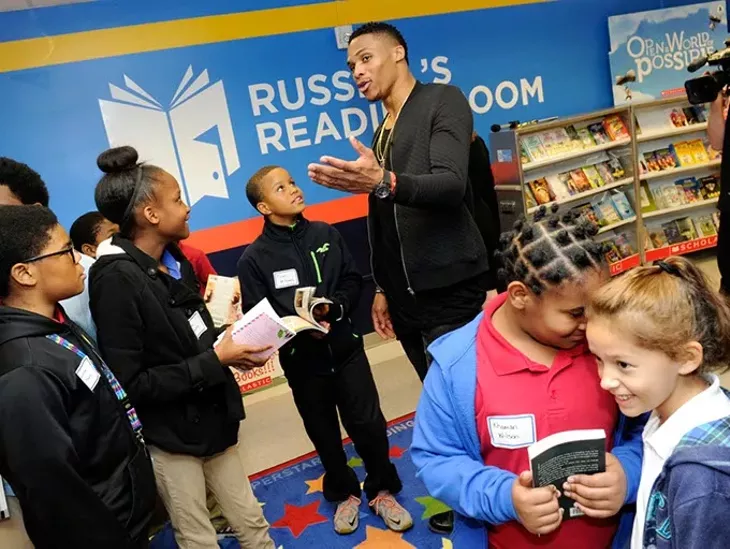 Garett Fisbeck
Russell Westbrook helps students pick out books during a book fair and opening of Russell's Reading Room at Edwards Elementary School in Oklahoma City, Tuesday, Jan. 5, 2016.
Russell Westbrook doesn't mind admitting that as a student, he picked out books, brought them home, placed them on bookshelves and never picked them back up.
Of course, that wasn't always the case for the Oklahoma City Thunder point guard.
He's a big fan of Ann M. Martin's Missing Since Monday, a mystery book for preteens. Westbrook selected that novel when assigned reports as a student in south Los Angeles. As a youth, the Goosebumps books also made his reading list.
On Jan. 5, Westbrook's taste in literature was not the topic of conversation among students at Edwards Elementary School in northeast Oklahoma City. Instead, Westbrook and about two dozen students went from bookcase to bookcase, picked up a few books and quickly flipped through several pages in each. When a student's interest sparked, the NBA star handed it over with instructions to read the book, not to forget about it on a bookshelf.
Westbrook's Why Not? Foundation is on a mission to get students reading, and that involves a large donation of a variety of children's books — from classics to books based on popular video games. Westbrook recognizes that the main reason youngsters don't read is because they cannot find books they like. This month, Westbrook furthered his mission, opening his fourth Russell's Reading Room in Oklahoma City. He supports three rooms at elementary schools in Los Angeles.
Garett Fisbeck
Russell Westbrook presents reading certificates to students during a book fair and opening of Russell's Reading Room at Edwards Elementary School in Oklahoma City, Tuesday, Jan. 5, 2016.
"As I do research on schools, I want to find schools that want to help their kids read more," Westbrook said during his visit to Edwards. "I want to find ways to impact [youth] through reading books."
Edwards Elementary joins fellow Oklahoma City Public Schools North Highland, Martin Luther King Jr. and Eugene Field with a reading room. When visitors enter, they see a life-size Westbrook decal on brightly painted blue walls. In the near future, colorful carpet and beanbag chairs will accompany bookcases shelved with elementary-school books. Westbrook, with the help of Scholastic, donated 1,200 books to the school.
On Jan. 5, the room hosted a book fair, which gave each student the chance to pick out a book and take it home for their at-home library. Westbrook said reading at home is just as important as reading at school.
Following the book fair, Russell's Reading Room will be open during school and after school hours. Principal Patrice Allen views the room as an opportunity for parents to get involved in their child's learning. The room will serve as a community resource and a point of pride for Edwards students. Westbrook's visit didn't go unnoticed by students, even those who didn't get the chance to meet the famous basketball player.
"To have someone they look up to come and inspire them to read," Allen said, "it creates a love for reading."
That was Westbrook's aim. In 2012, he founded the foundation with a mission to empower children who are at-risk, low-income and experiencing hardships. Westbrook selects projects that build confidence among youth. A student's self-esteem can rise as their reading ability increases.
"It's something I take pride in," Westbrook said.
Print Headline: Book berths, Russell Westbrook's newest reading room aids students and the community.