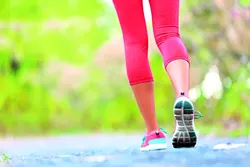 Bigstock
Woman with athletic legs on jog or run on trail in forest in healthy lifestyle concept with close up on running shoes. Female athlete jogging and training outdoors.
Those wishing to enjoy the crisp fall air this month can revel in it during a new fun run emphasizing local business in Midtown and downtown Sept. 15.
The inaugural Local Love Run organized by Red Coyote Running and Fitness begins at Fassler Hall. It will feature local businesses as raffle ticket stops, where participants will collect tickets. The farther away the stop, the more tickets are awarded. Runners have one hour to run and collect as many raffle tickets as possible, returning to Fassler Hall at 7 p.m.
More tickets means more chances to win at the post-run raffle at 7:15 p.m. Prizes include free Red Coyote swag and other surprises from participating local businesses.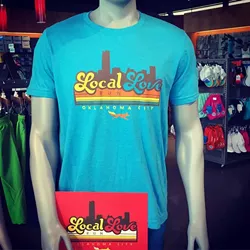 Red Coyote reveals its map of its over 20 local businesses/ticket stops at 6 p.m. Physical and digital copies are made available to runners, allowing them to map out routes. COOP Ale Works will be on-hand, providing one free beer to participating runners who are at least 21 years old.
Gran Sport Porter coming down the assembly line at Coop Ale Works. mh
Red Coyote is a locally owned running specialty store that has operated at its Classen Curve location since 2010. Preparations for a second location in Edmond this November are well underway according to co-owner Burke Beck.
Beck said that plans were in place to hold the run back in June but the store was forced to cancel due to extreme summer heat.
She emphasized that the run is not a race, meaning any and all interested individuals can participate.
"Participants can walk or run to as many ticket stops as they want in one hour," she said. "Many of the ticket stops are just around the corner from Fassler Hall."
Red Coyote also hosts other runs, including its weekly Pack Pint Run, a leisurely three-mile course that starts at its Classen Curve location. Rules for the weekly run, which begins at 6 p.m., require participants to sign a waiver, show ID if they opt to drink alcohol at the run's conclusion and avoid parking behind the Classen Curve building for safety reasons. Dogs are also prohibited if the temperature is over 80 degrees on the date of the run. Beck said Pack Pint Runs typically see anywhere between 150 to 200 participants each Thursday.
Red Coyote is also prepping for its fourth annual Runtoberfest 5K Oct. 15 co-sponsored COOP Ale Works and Fassler Hall. Like Local Love, the race will start at Fassler Hall. Online registration closes Oct. 13 at midnight. Registration is $25-$30.
"We have a beautiful new course this year through Heritage Hills and Mesta Park," Beck said. "It is a family-friendly event, and dogs and strollers are welcome."
Proceeds for Runtoberfest 5K benefit Girls on the Run of Oklahoma County.
"Hopefully with a successful race, we can provide scholarships for many girls to participate in this wonderful running program that helps build confidence, self-esteem and joy in young girls through running!" Red Coyote write on the race information page.
For more information on Red Coyote and its upcoming events, visit redcoyoterunning.com.
Print headline: Joyful journey, Red Coyote plans run to show love to local businesses.