Admittance to the Red Earth Native American Cultural Festival, a cultural hub for Native American art and tradition, will be free this year to anyone 18 and under.
Red Earth officials finalized an agreement last fall to host the annual Red Earth Festival at Cox Convention Center, 1 Myriad Gardens, for the next five years, thus allowing tickets to be sold at a reduced prices for the first time.
Eric Oesch has seen many Red Earth Native American Cultural Festivals. After nearly 17 years with Oklahoma City-based Red Earth as the current deputy director and director of communications, Oesch said he doesn't remember seeing tickets for the festival go on sale early and at discounted rates. However, this year, single-day tickets for the festival, which is scheduled for June 5-7, are now available for purchase online for $9 through May 23.
The new Cox Convention Center deal also means implementing a new online ticket sales option to Red Earth's website. Oesch said online ticket sales have, so far, been surprisingly brisk.
In years past, Red Earth sold multiple-day tickets, but there were relatively few takers, he said. This new strategy simplies ticket prices and helps get tickets into festivalgoers' hands more easily.
"You don't have to wait in line at the box office this year," Oesch said. "Just show them your ticket and you're in."
The ticket proceeds will, as in years past, fund prizes for the dancing and art competitions. The 2014 Red Earth Festival offered 36 art competition categories for adults and children and six categories of competition for adult and youth dancers.
Oesch said he projects Red Earth will award nearly $40,000 in total prize money to this year's winners. "Winning at Red Earth is quite an accomplishment," he said. "It's the only event of its kind in the country where you can win at art and dance. It's very prestigious."
Oesch said festivities begin 10 a.m. Friday, June 5 with the annual Red Earth Festival Parade. Beginning downtown and circling Myriad Botanical Gardens, the parade includes American Indian bands, floats, honor guards, dignitaries and tribal princesses and is free to the public.
The dance competition begins at noon that Friday inside Cox Convention Center and involves all dancers in an event called the Grand Entry of Dancers. Oesch said participants line up single-file, according to their age group and dance category, and dance into the arena one at a time.
This dance, which can last between 30 and 60 minutes, continues with the rhythmic music of the drums until every dancer has entered the arena.
Each dancer wears his or her own distinctive tribal regalia, the procession of which Oesch called a "kaleidoscope of colors" that, when coupled with the drums, "almost overloads your senses."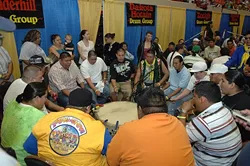 He said media members in years past have come from all over the world, including Germany, Japan, Russia and Yemen. Last year's international press delegation included journalists from Great Britain and Ireland.
Oesch spoke about a filmmaker who came all the way from Australia several years ago to visit Red Earth Festival for a documentary she was making about American Indians and Australian Aborigines and their similarities and differences.
Red Earth Native American Cultural Festival is also a positive economic contributor, Oesch said. According to statistics from the Oklahoma City Convention and Visitor's Bureau, Red Earth Festival had a $6.8 million economic impact on the city and state's economy last year.
Oesch said he and other Red Earth staff and volunteers anticipate a crowd of 15,000-25,000 at this year's festival.
USA Today readers recently voted Red Earth Native American Cultural Festival No. 9 in its top 10 list of Best Art Festivals.
Print headline: Red America, Attendees age 18 and younger get free entrance to this year's Red Earth Native American Cultural Festival.