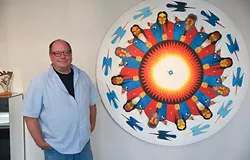 Mark Hancock
Eric Oesch, deputy director of Red Earth, with Native American artwork by Commanche artist, Rance Hood called "Peyote Men", inside their facility located in the Santa Fe Plaza in Downtown OKC, 10-2-2015.
Red Earth's annual golf tournament changed venues for its 19th event.
This year, Edmond's Oak Tree Country Club, 700 Country Club Drive, hosts the Red Earth Golf Tournament. In recent years, the tournament was held at Oklahoma City Golf & Country Club.
Eric Oesch, Red Earth deputy director, said the nonprofit is excited to take the event to a new course.
"It's a really nice place," he said. "They hosted the [2014 U.S. Senior Open] a couple of years ago, so it's a very well-respected course."
Oak Tree was specifically designed by highly regarded golf-course architect Pete Dye with Oklahoma's landscape in mind. Oesch said it preserves the character of the land while maintaining a challenge for players.
The tournament is one of Red Earth's main yearly fundraisers. Profits raised at the event help Red Earth accomplish its mission to promote Native American art and culture through education, its museum and the Red Earth Native American Cultural Festival.
It also helps keep the small nonprofit running on a day-to-day basis. It has two full-time and two part-time employees.
"We have a very small, lean staff, but we have about 300 volunteers that help us throughout the year to achieve our goal," Oesch said.
Red Earth also makes money through its annual summer festival and fall Buffalo Bash gala. The festival began in 1987 as a way to showcase indigenous art and culture. It is the largest event Red Earth puts on each year and has developed a reputation as one of the nation's premier Native American art events.
The golf tournament, Oesch said, is a tribute to former Major League Baseball pitcher and Oklahoma native Allie Pierce Reynolds. Reynolds, a member of the Muskogee tribe and founding member of Red Earth, was one of the game's most dynamic pitchers in the 1940s and '50s. He won six World Series titles with the New York Yankees from 1947 to 1953.
Oesch said Red Earth's goal is to have about 25 four-person teams participating in the tournament.
"A lot of people that get a team have done it for numerous years, but we always have room for new people as well," he said.
Registration begins 11 a.m. Monday. Lunch will be served on the course, and a 1 p.m shotgun start tees off the tournament.
Awards will be presented to top-finishing teams. Prizes also will be awarded for closest to the pin and longest drive. On two holes, special prizes, including a new car provided by Seth Wadley Auto Group and a Rolex watch from B.C. Clark Jewelers, will be given away for a hole-in-one.
The deputy director said it will likely be a beautiful spring day and it would be best to use it for a worthy cause.
"It's a great way for people to support Red Earth," he said. "We realize not everyone on Earth is in love with Native American art, but we do a lot of education, we provide curriculum for teachers to use in the classroom ... Participating in our golf tournament is a great way for people to help us achieve our goals without having to buy art."
Register online at redearth.org or by calling 405-427-5228.
Print headline: Supportive strokes, Red Earth Golf Tournament benefits a nonprofit's efforts to promote culture.